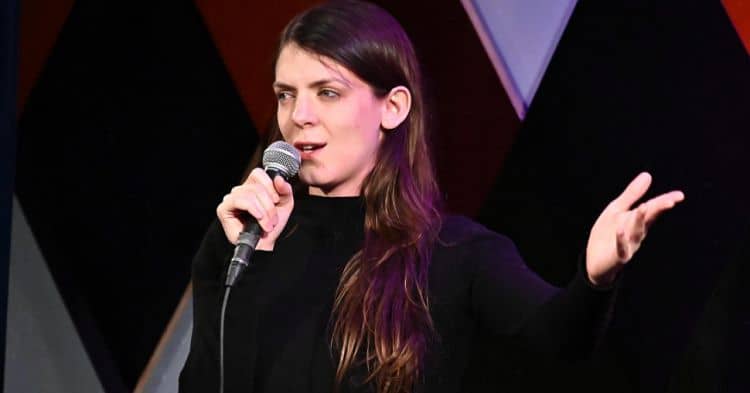 There is a certain level of fearlessness needed to have a career in comedy and Kelly Bachman has proven that she has that and then some. She gained widespread attention in 2019 when she publicly confronted Harvey Weinstein during her standup performance at a bar in New York City. While some of the people at the venue booed her and told her to shut up, footage from the night went viral and quickly launched Kelly into the world of internet fame. Although the viral moment is long gone, Kelly has managed to keep the momentum going and she's ready to make an even bigger mark on the world. Keep reading to learn 10 things you didn't know about Kelly Bachman.
1. She Hasn't Always Had The Confidence To Speak Up For Herself
Confronting someone as famous as Harvey Weinstein takes a lot of guts, especially when you're standing on a stage in a room full of people. The fact that Kelly was able to do it probably made a lot of people assume that she's the kind of person who has no issues standing up for herself. In reality, however, that isn't the case. Calling Weinstein out that night took more inner strength than most people will ever realize. During an interview with Uproxx, Kelly shared that speaking up for herself is something she's been working on over the years.
2. She Studied At NC State
We don't know the full story of how Kelly decided to pursue a career in comedy, but at one point in her life, she was on a much more traditional path. According to Kelly's LinkedIn profile, she attended North Carolina State University where she earned a bachelor's degree in communication, public relations, and international studies.
3. She Has Some Acting Experience
Kelly's work as a comedian is what has gotten her the most attention, but it looks like she's dipped her toe into the acting pond as well. Her IMDB page lists two acting credits, one for a TV show called Almost Famous and another for a short film called Boobs which she also directed and produced.
4. She Enjoys Being Outdoors
Kelly may not be a hard-core nature lover, but that doesn't mean that she doesn't like to get outside every once in a while and enjoy her surroundings. In fact, spending time outdoors is one of Kelly's favorite ways to unwind. Whether she's going for a swim or exploring the city with a friend, she enjoys being outside.
5. She's A Singer
Kelly's stand-up shows aren't the only time she likes to get in front of the microphone. She's also a singer and songwriter and she has been performing for the last several years. At many of her shows, she combines her love of comedy with her love for music and gives her fans an extra special show.
6. She's A Filmmaker
At this point, it's starting to seem like labeling Kelly as a comedian isn't even fair. In reality, she is good at so many things that it seems like there isn't one label that is fitting enough. She has been freelancing on the film scene in New York City for more than five years and she loves collaborating with other filmmakers.
7. She Struggles With Imposter Syndrome
Imposter syndrome is a term used to refer to the feeling that people get when they doubt their abilities to the point that they feel like they're deceiving everyone around them. This is a feeling that Kelly has often dealt with, especially after the whole Weinstein incident.
8. She Has A YouTube Channel
These days, trying to make it as an entertainer almost always means that you need to have a strong online presence. Needless to say, Kelly is working hard to establish hers. On top of being active on Twitter and Instagram, Kelly also has a YouTube channel where she posts a variety of videos. Although her channel has just 232 subscribers, her content has gotten more than 14,000 views.
9. She's A Rape Survivor
One of the reasons why Kelly was so adamant about calling Harvey Weinstein out is because she is a rape survivor herself. She has often dealt with guilt for not calling out her own rapist, and this feeling is at the root of her imposter syndrome. Since going public with her truth, Kelly has received lots of support.
10. There Are A Few Things She's Very Serious About
Kelly has made an entire career about turning things into jokes, but if there's one thing she's serious about it's human rights. Kelly is passionate about LGBTQ rights, ending police brutality, and fighting racism. She has made it a point to use her social media presence to shed light on all of these things.