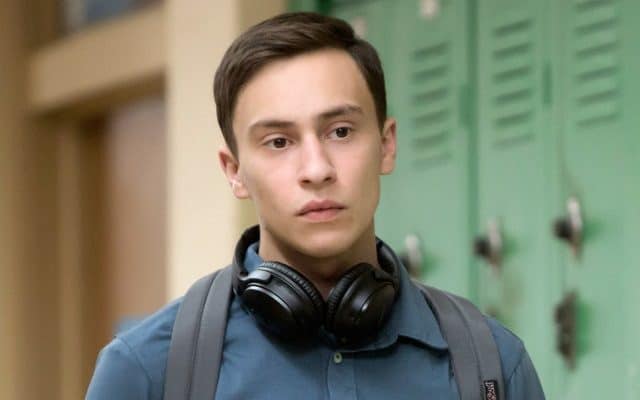 London born, Canadian raised Keir Gilchrist is a star on the rise. After coming to the public's attention as the outwardly gay son of Toni Collette in United States of Tara, he's continued to impress as the suicidal teen Craig Gilner in It's Kind of a Funny Story, the geeky would-be demon slayer Paul in It Follows, and the fiercely independent autistic teen Sam Gardner in Netflix's Atypical. With Atypical returning for its third season this November, and several other projects already in the bag for 2020, catch up on the talented actor with these 10 quickfire facts.
1. He's got a famous family
Keir isn't the only famous name in his family. The actor, who was born in London to Canadian parents Catherine (née Peters) and Ian Gilchrist, has the claim of being the grandson of Douglas Peters, a Canadian banker, economist, and politician who served as both the Liberal Member of Parliament for Scarborough East and the Secretary of State for International Financial Institutions. Peters, who also wrote "The Monetarist Counter-revolution: A Critique of Canadian Monetary Policy, 1975-1979", retired from politics in 1997 after getting tired of his Keynesian economic prescription to government falling on deaf ears.
2. He fell in love with acting as a child
Keir, who spent his formative years in London before moving with his family to Toronto, Ontario (with a few pitstops at Boston, Massachusetts and New York City along the way) developed his love of acting at a young age, and was actively encouraged by his drama teacher, who no doubt sensed this was no fleeting fancy, to pursue it to a professional level. He subsequently spent several years honing his craft at the Annex Children's Theatre.
3, His TV debut was on Queer as Folk
At the age of just 11 years old, Keir landed his first TV role as Jim Stockwell Jr. on an episode of Queer as Folk. From there, he continued to appear in minor roles on TV shows such as Doc (2004), Samantha: An American Girl Holiday (2004), 1-800-Missing (2005), Miss Spider's Sunny Patch Friends (2006), ReGenesis (2006), and The Altar Boy Gang (2007), before landing his first leading role as Josh McKellar on The Winner in 2007. Keri went on to star in all 6 episodes of the Fox sitcom; unfortunately, the series failed to win an audience and was canceled after just 3 weeks on the air.
4. United States of Tara was his breakthrough
After the failure of The Winner, Keir appeared in a few episodes of Life with Derek and The Listener before finally landing his breakthrough role opposite Toni Collette on the Showtime comedy-drama series, United States of Tara. Keir took on the main role of Collette's son, Marshall Gregson, and starred in the series for 36 episodes between 2009- 2011. The show won both critical acclaim and commercial success but was canceled after the end of its third season.
5. His big-screen debut was on The Right Way
Keir made his film debut as the Young David on the 2004 drama feature, The Right Way. He swiftly followed up the success of his debut with parts in Horsie's Retreat (2005), The Waldo Cumberbund Story (2005), A Lobster Tale (2006), Dead Silence (2007), The Rocker (2008), Just Peck (2009), and Hungry Hills (2009). His first lead role in a film came in 2009 with the part of Craig Gilner in It's Kind of a Funny Story, which premiered at the 2010 Toronto International Film Festival to positive reviews.
6. He won a Best Actor Award in 2013
In 2013, Keir's performance in Seasick Sailor was given the stamp of approval when he was awarded the Best Actor title as the 2013 Williamsburg Independent Film Festival. The following year, his performance won him a 2nd Best Actor award, this time at the Hollywood Reel Independent Film Festival 2014. Keir wasn't the only one involved in the production to be recognized, with Jeffrey Steinkamp picking up an award for Best Editing, Martin Starr winning the Best Supporting Actor award, and the whole creative team picking up the Best Dramatic Short title.
7. He'd like to have Johnny Depp's career
Although he's an actor who likes to follow his own path, if Keir was forced to choose someone whose career he'd like to emulate, he'd choose Johnny Depp. "I guess Johnny Depp has a pretty good career," he's said, before adding the slight caveat " I love pieces of their career, but it's pretty hard to look at an actor's entire career and say, 'That was amazing!' Usually, it ends on a crappy show or with no work at all."
8. His brother is Evan Gilchrist
Keir isn't the only Gilchrist to have decided on a career in acting. His younger brother is Evan Gilchrest, the star of films such as Jack Brooks: Monster Slayer (2007), Webdultery (2010), Carrie (2013) and The Cabin House (2019). Although Evan hasn't yet managed to achieve quite the same level of fame as his brother, he's worked consistently since starting in the business in 2006, and at 4 years Keir's junior, it's probably only a matter of time before he catches up.
9. His net Worth
He may not yet have the millions some of his former costars enjoy, but Keir's career is on an upward trajectory… and so is his fortune. Thanks to having worked consistently since his professional debut in 2003 (and featured in more than a dozen films in the process), Keir is worth the very respectable amount of $400 thousand. With more projects on the horizon, it's surely only a matter of time before he hits a cool million.
10. His favorite person is a dog
After leaving Toronto to further his acting career, Keir now lives in the Echo Park neighborhood of Los Angeles with his pet, a rescue dog called Lorraine who's clearly the apple of her owner's eye. "She is my favorite person," the actor told Interview.
Tell us what's wrong with this post? How could we improve it? :)
Let us improve this post!