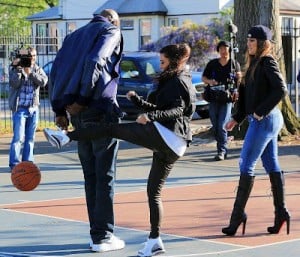 Broiling tensions in the family led the Kardashians into family therapy on last week's Keeping Up With The Kardashians; with Rob as the breakout emotional mess. Part 2 of Kardashian Therapy picks up where we left Rob sobbing at the therapist's office over his feelings of neglect. Thinking his sisters, notably Kim, get all the business support from Kris, leaving nothing or him, Rob lets it all out in tears. The therapist and Khloe who run after Rob, coax him back into the tension filled room.
The therapist wants to get at the underlying issues of his relationships with "all these women" in this family. Kris laments that while her girls are all in good place in their lives, but Rob is not, and this brings her to tears. Kim agrees that she and her sisters go after what they want, and while they do want to support Rob, he needs to be clearer in the direction he wants to follow. Kim is moved to tears as she discusses why she always sticks up for Kris when everyone is mad at her, and hypothesizes that Kris is maybe better at raising and managing girls. Perhaps if their Dad was still around, he could have been a driving force for Rob. Kim then discusses how she handled their Dad's passing. She takes a jab at her siblings when she says she didn't think any of them would have been able to speak at their Dad's funeral as she did. This prompts sneers from Khloe and Rob. She goes on to say she worked with their Dad in their office and took care of him when he was ill. Khloe puts forth that she too worked with Dad, yet Kim has no recollection of this. Right away this puts Kim at odds with Khloe. It comes out that Kim has a tendency to selfishly and conveniently forget what others actually do. The drama has ricocheted all around the room, and now Rob's individual issues are quickly forgotten.
Post therapy session, the sisters have an appearance on Jimmy Kimmel Live. Not on the best speaking terms at this point, things are awkward backstage. This is also the famous wardrobe malfunction day in Kardashian history when the back of Kim's leather dress splits open.
Kendall and Kylie are feeling the pressure of keeping up with schoolwork due to all the job opps their Mom schedules for them. They decide they want to be home schooled. Kris is against it, thinking they will regret missing the high school experience. Kendall and Kylie mentally check out of school, trying to force Kris into arranging home schooling. Kris warns them if they don't keep their grades up, she will cancel all their job opportunities. Kris gets a call from a day school in reference to Kendall and Kylie. She tells them to forget it.
Khloe meets Rob for lunch to discuss the therapy session. Kim had sent an apology e-mail to the others but Khloe doesn't think her words are sincere at all. Rob thinks it's insincere just because it's an e-mail and not a face to face apology. Kim complains to Kris that she hasn't received a response from any of them. Kris compares their situation to when a breakout member of a music group goes it alone and how it makes the other members feel. She urges her to reach back out to them.
Kylie refuses to get out of bed on the morning of a final exam. Kris knows she's not sick and it's all about not wanting to take the test. She gets her in the school but Kylie tells her she just can't keep up. Kylie jumps out of the car telling Kris she refuses to go to school. Kris gets her back her home and agrees to look into the home schooling. The girls are thrilled when their parents meet with the home schooling administrators and agree to move forward.
Kim confronts Rob and Khloe with as best of a heartfelt apology that she can muster. Still, Kim insists that Khloe confuses her and Kourtney's experiences with her own, thus continuing to invalidating Khloe's memories. Kim suggests to Kris calling their fashion empire guru to try to launch a men's clothing line for Rob.
While in New York for business, Kim wants to accompany Khloe and Lamar to his hometown, the borough of Queens. Khloe doesn't mind, but tells her she can't dress as a glamour puss. Kim says she doesn't know how, so she enlists Jonathan's help. He takes her to low brow tourist shops and they pick up some clothes. When Lamar sees Kim's "Queens" get up, he tells her no, it doesn't work. Finally she settles on leather pants and black blazer. Lamar takes them on a tour of all his favorite haunts and Kim loves it.
Rob and Scott meet with Bruno, the guy who helped launch the Kardashian Kollection. Scott is dismayed to see Rob show up in sweats and baseball cap. He is shocked Rob wouldn't know better than to dress for this occasion and thinks it will kill their chances to make a deal. Rob says he doesn't feel well when Bruno make a comment on his attire. Kris shows up and isn't thrilled with Rob's appearance either. Luckily, Bruno has some photos of Rob at various events so he can get a sense of Rob's typical style. Bruno tells him of the commitment needed, be available for fittings, meetings appearances, etc. Rob promises he is committed to do what it takes.
On next week's Keeping Up With The Kardashians, Kris goes under the knife once again and Kim forces Khloe to visit a fertility clinic. The next episode airs Sunday, September 9 at 9 p.m. (ET) on E!