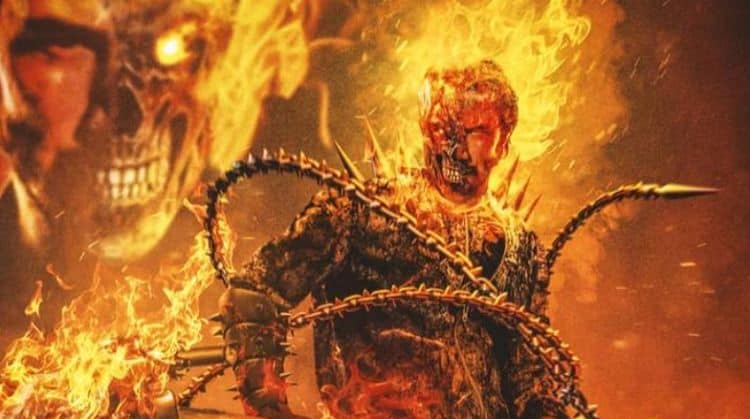 Keanu Reeves is pretty 'the guy' for a lot of people right now since we're still firmly in of the belief that for as much as he's shown us on screen at this time, he'd be a perfect Ghost Rider if someone would ask him. This fan made film is a huge mashup of movies that were pooled together to give us a look at what could possibly be and what it might be like to see Keanu step up to the plate and take on the guise of Rider, and it's not hard to think that a lot of fans might agree. Stunningly enough, Keanu isn't on a lot of lists when it comes to stating who could play this intense character and who might be best as Johnny Blaze, Daniel Ketch, or Robbie Reyes. Personally I see Keanu as an older and more matured version of Johnny Blaze that's been living with the curse for years and might be on the verge of either getting rid of it or just ending things since as those that have followed the comics know too well, Blaze struggled for a long time with the curse and had a serious desire to lose the powers after a while, though it was revealed that a part of them had remained with him. There's a long and convoluted story to the Ghost Rider that goes down many twisting pathways, but given a series of his own, it would easily be a big draw since the character is steeped in a great deal of the occult and would no doubt be of great interest to many people. The reasoning behind making Keanu into the Ghost Rider is simple, when you compare the Ghost Rider and John Wick, they're not that different apart from any physical sense.
While John Wick is a killer without a doubt he also seeks to protect the innocent at times and doesn't kill for absolutely no reason. The lethal nature of both characters is hardly in any question, but the moral fiber that both display is also just as strong. It's almost amusing to say that John Wick has morals since he is an assassin after all, but watching the movies it's easy to see that the people he goes after and the manner in which he dispatches quite a few of his enemies leaves no doubt that if you're his enemy and aren't content to leave him alone, then Wick is going to do his best to punch your ticket. Ghost Rider is much the same, as he fights for the innocent but won't stand for being attacked either, particularly if the power is being controlled by the human host. As it was seen in Civil war when the Rider took on the Hulk with a human mind guiding him things got ugly very quickly, but when the spirit of the Rider took over he just up and left since he knew that despite his war-like actions, the Hulk wasn't in the wrong, and he had no business squaring off against the green goliath. The Rider and Wick are pretty similar in the idea of 'don't want none, don't start none' since neither one of them will do much of anything to anyone unless there's a good reason. But putting up Keanu as Johnny Blaze there is the question of how would he play the role and would the writers give him the chance to fully embrace the power rather than try to harness it. In truth this is the Rider's only real weakness besides holy artifacts, his human host, as a human mind thinks far different than the spirit does and can at times hamper the ability of the Rider to function properly, meaning that the power set that the Rider comes with might be dulled down just a bit.
However, if the Rider is fully embraced and the power is accepted then there's not a lot that the character can't do, as he could take on some of the most powerful characters in the Marvel universe and end up either coming out on top or doing some serious damage before it's all said and done. Seeing Ghost Rider in his own series or even another movie would be great, but it's likely something we're going to have to wait for since right now everything is still shut down. But if Keanu was ever interested and the idea did ever come to bear, it's easy to think that fans would be more than willing to accept him since not only are both characters well-liked by fans, but they're a match that would easily surpass just about any other list that a person could throw at the Rider when trying to decide who to use in order to bring him to life once again. No offense to Nicolas Cage, but apart from his getting older, there's a lot of room for improvement when it comes to this character.
Tell us what's wrong with this post? How could we improve it? :)
Let us improve this post!