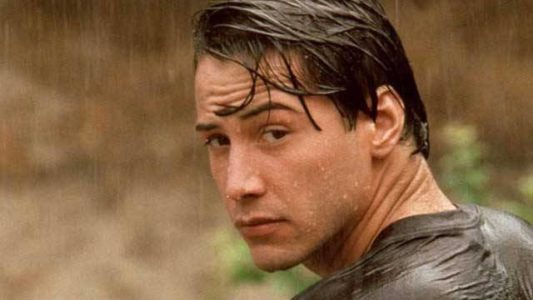 It's been brought to the attention of many, including Dan Zinski of ScreenRant and myself, that a very substantial number of fans have decided that Keanu Reeves needs and deserves to be given the distinction and honor of being Time's Person of the Year. While some folks might not think this is a high honor it is in fact something that not a lot of people have been given and for good reason. Being the person of the year isn't a door prize that's given out just because someone out-performed another person or somehow proved that they're a decent person, this is the kind of award you get because you're that inherently awesome and have done that much in your life that is worth noticing. While the reward is definitely earned and should consider Keanu in the running at least, the petition kind of begs another question that takes on a rather cynical form.
Where were these people when Keanu's career wasn't so hot?
Some folks might call this a rather insipid question but the truth of it is that in show business people get noticed all the time for doing something that seems inherently great and elevates them in the eyes of many. Keanu hasn't really changed throughout the years though as he's stayed pretty much the same person. If anything has changed it's that he's gotten a bit older and his acting talent has grown in leaps and bounds. He's still been involved in a few movies that seemed pretty subpar, but he's also still done what he could to make them work, though few if any people can rescue a dying movie all on their own. If you read an article by Jane Harkness of Looper you'll find out that Reeves has been the same type of guy for a long time, albeit one that had to grow up a bit and realize that he had to really commit to his passion before he could become this insanely famous. Where were the fans when he was coming up as an actor? Where were they when he came out with one hit and then years later another? They were likely thinking that he was a one-hit wonder up until The Matrix, and when the two sequels came out a lot of people also likely lost faith and moved on .
But that's the nature of show business and the audience that powers it. The business itself is fast-paced and always moving, always changing, while the audience is fickle as can be and always wanting more and always ready to move on if the actors they idolize aren't up to providing them with quality entertainment with every single movie. This is why the petition doesn't seem to mean as much, especially given that Keanu has never really thought about being famous. Listen to the man talk and you'll understand that he's passionate about what he does, he enjoys acting, and he's enjoying life, but he's not so full of himself as to think that the world bows at his feet or that accolades need to be thrust upon him. That's the job of the fans that make this happen, the fans that will adore one celebrity and then turn on them in the next second if they hear a single word of dissent.
Esha Iyer from Women Working is right when she says that people have fallen in love with the actor more than his characters since he does come off as a decent and very caring human being. There's no disputing that part, and there's no disputing that he should be named Time's Person of the Year, but it has to be because of more than a petition. It seems that if you asked Keanu whether or not he deserves this he might grin and shake his head while saying it doesn't matter or something similar. He strikes us as the kind of person that doesn't really look to gain a reward for what he does, other than a paycheck perhaps. And even when he gets paid he tends to help others when he can and make life better for those around him. Of course he keeps a lot of the money he makes, and gifting an insane amount to others might be easy since he makes so much, but the thought of it is more important than how much he's giving. Think about it, if you had only a dollar would you give another person fifty cents if they really needed it? There's a good chance Keanu would, so giving up a good chunk of money to someone in need doesn't seem like something he tends to balk at.
He's a good and decent person, he's a great actor, and he's quickly become the person that a lot of folks have decided to fawn over. But if he is going to win this honor it needs to be for something other than the outpouring of conditional 'love' the fans are willing to give.