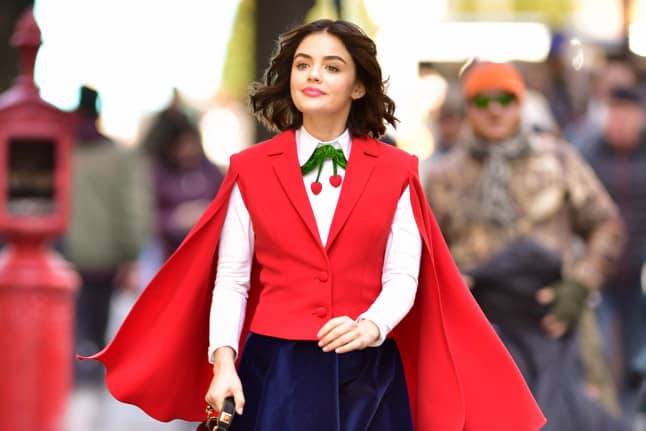 Spin-offs are considered a fun addition to keep fans entertained. Most times shows get their sequels after the parent show has done so well and viewers still want to see more of the characters in one aspect or the other. Shows such as 'Blackish' and 'The Vampire Diaries' have had spin-offs that have been quite successful. 'Blackish', in particular, was so good that it now has 2 spin-offs to it: 'Grownish' and 'Mixedish'. Well, 'Riverdale' fans should get excited as the Archie Comics Universe which the show is based on is expanding. Archie Comics has had a number of hit shows including 'Riverdale', 'The Chilling Adventures of Sabrina' and now 'Katy Keene'.
About Katy Keene
Katy Keene is an American show that rolls comedy, musicals, and drama into one. The series was developed by Michael Grassi and Robert Aguirre Sacasa. Katy Keene is based on a Archie Comics' character bearing the same name. The series details the lives and struggles of four aspiring artists who are trying to gain success in their careers. Katy Keene is an aspiring fashion designer based in New York City, while her friend Josie McCoy is a singer and songwriter. The series incorporates music into its plotlines and provides for a suspenseful story. The film premiered on the CW network on February 6, 2020.
Here are 10 lesser-known facts about Katy Keene
1. It's Timeline
Katy Keene takes place 5 years after the events at Riverdale. Josie, Katy Keene's friend, was a major role in Riverdale and the show now focuses on her life story along with others after they are all grown up and have careers to look forward to.
2. There Might be a Crossover
Although nothing is definite yet, the show's creators hinted that there is possibility of a crossover between Riverdale and Katy Keene hence fans of the former will get to see all their favorite characters together. This provides fans with a glimmer of hope as they wait to see how all the characters' lives intertwine.
3. The Show is Actually Set in New York city
A lot of shows always reference a particular city but are not always filmed in that city. Katy Keene is filmed in New York City and viewers get to see Katy navigate the city life while trying to balance her aspirations friendships and dating.
4. The Show Provides Some 'Sex and The City' vibes
'Sex and The City' has, for a long time, been a point of reference in movies. Katy Keene provides the show's vibes in a major way starting from its whole New York setting. Aguirre Sacasa, while talking to Glamour, said that he has always liked the show and they wanted it to be a New York show with 'Sex and The City' vibes.
5. There is no Dark Drama
As aforementioned, Katy Keene is a musical dramedy (comedy-drama). This means that fans get to experience a much brighter and sunny version of the events following the whole Riverdale fiasco. Katy keen not only shows off its fashion and eccentricity but also brings out a different tone to what is normal in Riverdale.
6. It References Archie Comics
Riverdale has been a major hit and viewers expect that Katy Keene will do just as well. Since Riverdale is from the Archie Comics Universe, fans will get to find Easter eggs relating to Archie and friends. Another show within the Archie Comics Universe is Netflix's 'The Chilling Adventures of Sabrina' which has been around since 2018. The show follows the life of a teenage sorceress called Sabrina Spellman.
7. Lucy Hale was the Last to Join the Bandwagon
Lucy Hale has had various roles including playing Stella Abbott in 'The Life Sentence' and in 'Truth or Dare' where she played Olivia Barron. She is, however, well known for her role as Aria Montgomery in 'Pretty Little Liars'. She was cast as Katy Keene and gets to bring the character to life. However, the casting crew took their time finding Katy Keene as they had already cast all the other characters by February 2019. Lucy Hale was the last one to be cast as Katy Keene on March 11, 2009.
8. The Music
The series infuses music to its plot. There is a blend of various cover versions as well as original songs. The original songs performed will be released as singles by the WaterTower Music after broadcast. According to Wikipedia, after the season ends, the label will produce a digital compilation of the songs performed.
9. Positive Reception
So far the show has aired 2 episodes and already critics are raving about the series. Katy Keene has received an 80% approval rating on Rotten Tomatoes. It averages at 6.92 out of 20. The show has a 72 out of 100 score on Metacritic and so far the general reviews are favorable.
10. Katy Keene has been revived more than once
The Archie Comics have been around for over 50 years. The characters in the Archie universe have received major success except for Katy Keene. According to us, Katy Keene was first published in a magazine in the 80s by a comics fan called Craig Levitt. Later on, John Lucas' imagination of Katy Keene got more popular and he was allowed to publish Katy Keene fan art. The comics got so popular in the '80s but lost favor in the 90s. Her second revival came in the 2000s and has managed to stay afloat even building up other characters such as her sister Mackenzie.
Summary
The Archie Comics Universe rarely disappoints with its characters and Katy Keene is proof of that. The show has particularly won over a number of fans and has enabled them express their artistic sides through sketches and clothing. With all the flamboyance and creative artistry portrayed by the characters, it is almost impossible to imagine the show getting negative reviews.