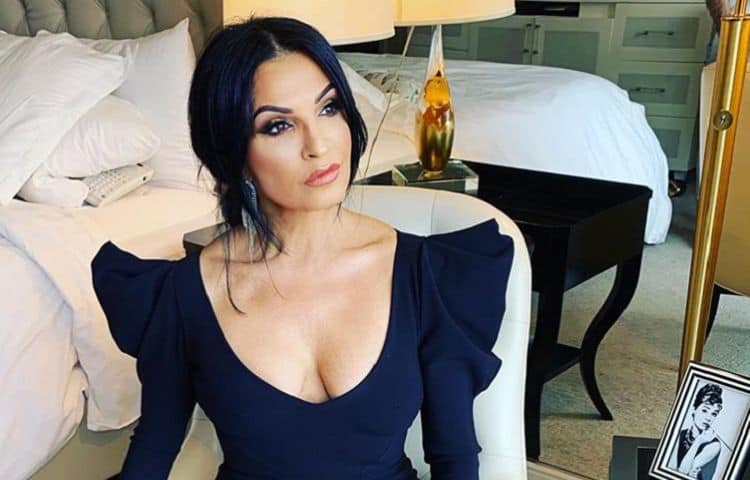 If you have watched "The Irishman," "The Sopranos" and "A Bronx Tale" one face must surely stand out; that of Kathrine Narducci. Of course, since she is Italian, she has almost always been stereotyped for the Italian mob shows, but she hopes to break away from this pigeonhole. For someone whose career started as late as when she was 28 years old, she has to be grateful for the $43 million fortune she has accumulated through her diverse roles. These ten facts will shed light on everything you might not have known about the 54-year-old actress.
1. Why she wanted to be on "Two Family House."
Some actors work only once together and end up having chemistry on the set; hence they look forward to being on the same show again. Kathrine has worked with Michael Rispoli, who has in almost every instance, played her boyfriend or husband. In "Law and Order" the two played girlfriend and boyfriend while in "Third Watch" they were a married couple. Therefore when she went in to audition for "Two Family House" and saw her on-screen significant other, she knew she wanted to be in the movie so bad and Michael shared the feeling. They were cast together again as a married couple.
2. She auditioned in secret
It is incredibly heartbreaking to cast a shadow on the path that someone wants to take instead of lighting it up, yet that is what Kathrine's friends and family did. Whenever she mentioned that she wanted to be an actress, they would tear her down, and the actress became ashamed of her dream. Still, she was determined to be an actress; therefore, she went to auditions in secret and referred to herself as a "closet actress."
3. How she wound up in "A Bronx Tale."
Kathrine knew of an open cattle call for a boy to play Robert De Niro's son in the film; therefore, she took her nine-year-old son hoping he would bag the role. There were many people, and her son was the last person to go into the audition room. Kathrine noticed that the women who had brought in their sons still stayed after her son was through, so she asked what the deal was. The actress found out there was a wife role that needed to be filled, but it was not an open call. Kathrine waited until the next day when she had been told there would be an open call and went in to try her luck; she ended up booking the role.
4. Her mother motivated her to be an actress
In her interview with Las Vegas Sun, Kathrine revealed how much of an impact her mother played in her wanting to be an actress. As a child, Kathrine and her mother would watch films till late in the night, and that remains one of her favorite memories of her childhood. Her mother would then dress her up like the characters they saw on TV and tell Kathrine to act like them. Unfortunately, Kathrine mother did not live to see her daughter fulfil her dream because by the time "A Bronx Tale" was released, she had passed away.
5. She became a full-fledged actress after "A Bronx Tale."
Kathrine being on "A Bronx Tale" was purely coincidental; she was at the right place at the right time. The actress had never been on television thus did not know anything about acting. Still, Robert De Niro told her that she beat 25 women to book the Rosina part. She must have done an excellent job because as the movie was being shot, Kathrine started receiving calls from different agents. It is at that time that she knew she had to get professional training and not rely on luck again; therefore, she joined acting classes.
6. The characters she has related to most
Her debut character as Rosina was relatable to her because she got to be the mother of a son who was almost the same age as her real son. Kathrine, therefore, knew how to act like a caring parent as she tapped from her own experience of being a mother. The actress also saw herself in Charmaine Bucco because just as the character was loyal, fiercely ambitious and a great cook, so is Kathrine as she said in her interview published on FLIPHTML5.
7. Her father had a criminal record
Most people know that Kathrine's father was killed in a mob-related incident outside his hotel in East Harlem. What they do not know is that he was a local Mafia figure with over twenty arrest records. However, despite all these records, he had never stayed in prison for more than three years, which led to some speculating that he had connections going as high up as the District Attorney's office.
8. She grew up thinking the mafia was like Santa Claus
Since Kathrine's father died at the age of thirty when she was only ten Kathrine never felt his absence because immediately, she was surrounded by lots of father figures whom she did not know were the mob. For the young girl, all she knew was that the men were the most generous people in the neighborhood and like Santa Claus, they made sure that the underprivileged also got their presents on Christmas.
9. She had a strange audition for "The Irishman."
Actors have been known to go out of their way to ensure that they got a part; Emilia Clarke was prepared to make tea for the casting crew if that could make them consider her for the Daenerys character in "Game of Thrones." However, for other actors, it is the casting directors who make them uncomfortable. Kathrine was used to going to audition rooms with the rest of the contestants but in "The Irishman" it was different. She had to go to a hotel room and meet with Marty thus was nervous because of the intimate setting. On her way up, she wondered what she would tell him to get the part, especially after seeing that she was competing with Drea De Matteo for the same role.
10. Her love life
Kathrine has kept her dating history under the wraps, and she has always been rumored to be single. However, she was previously married to Richard Arthur Ligotino with whom they have two children, Sally Prisco and Nicholas Ligotino. The husband, unfortunately, died in 2002 and the actress does not divulge any further intimate details of her family.