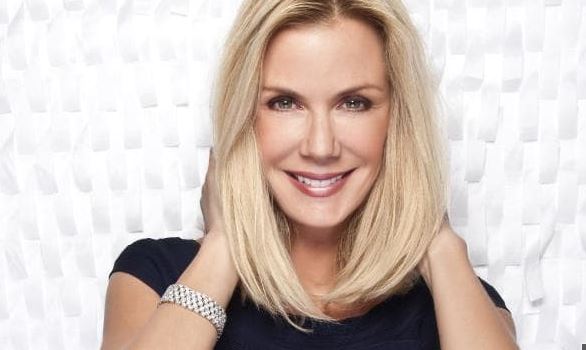 The Bold and the Beautiful fans know that Katherine Kelly Lang has been around for a long time. She's been handling the role of Brooke Logan-insert whatever last name she now has based on which husband she's married to or re-married to here since the 80s, and she's darn good at what she does. She's managed to make us all love her, even if she can't get it together. She's been married at least 800 times, mostly to Ridge, though we might exaggerate just a bit on that number. It makes us want to learn a bit more about the outstanding Katherine Kelly Lang.
1. Daughter of a Famous Father
Katherine Kelly Lang is not a newbie to the show business situation. Her father is a famous man, and you might just know his name. he is famous Olympic ski jumper Keith R. Wegeman. He's known for being one of the most prolific athletes of his generation, and he's earned numerous awards. He also taught his daughter the value of hard work and dedication.
2. Daughter of a Famous Mother
You thought she might just be the daughter of a famous Olympic athlete, but that's not the case at all. It turns out Katherine Kelly Lang is also the daughter of a famous mother. Her mother is actress Judith Lang. Oh, and did we mention her grandfather is the late Charles Lang. Yes, Charles Lang the Oscar winner.
3. Mom of Three
She's got three kids, and her first was born in 1990. Her second was born only two years later in 1992, and her third was born in 1997. She also has an ex-step daughter who was born in 1991. Her stepdaughter belongs to her former husband, Alex D'Andrea, and she became the girls' stepmother in 1997 when she was just a child.
4. She's Been Brooke on Two Shows
Did you know she was also Brooke Logan on the Young and the Restless? Not for a long period of time, but she did do a few guest spots on the show during the years. She worked alongside the very famous Victor Newman, Jack Abbott, and Ashley.
5. Twice Married and Divorced
Her character can be married, divorced, remarried, divorced, and remarried in less than six months, so she might laugh at her real record. She married her first husband, Skott Snider, in 1989. They ended their marriage in 1995. She then married her second husband in 1997 and stayed with him until 2014.
6. Never Won an Emmy
She's been nominated for a few, but she's never won. She's stellar in her role as Brooke, and this one always makes us scratch our heads in wonder. She's an amazing actress who can clearly do it all, but she's never won any of the Emmy's she's been nominated for. However, we suppose being nominated is still more than we've done, so there is that.
7. She Had a Part on the YTR Long Ago
Before she had the role of Brooke on B&B, she was Gretchen on YTR. She took on this role back in 1981, which is a staggering 6 years before she became the infamous Brooke. She's been around the soap world, that's for certain.
8. She's a Music Video Star
She was a famous face in a few famous videos. It all began with an Alabama video for "There's No Way," and she also had a role in the Beach Boys' video "Getcha Back" as well as "It's Getting Late," over the years. That's kind of a cool role to have.
9. She's Got Great Co-Stars
She might have amazing daytime guest stars, but it's her other stars that make us go "wow" when we realize what she's done. Some of her earlier projects include roles with Scott Baio as well as the late Patrick Swayze. She's had some very exciting roles in her time.
10. Graduated from a Famous School
Only some of the most famous faces and the kids of the most famous faces get to graduate from this school, and you can rest assured that everyone knows everyone around here. Beverly Hills High School is pretty upscale, and that's where she collected her diploma.
Tell us what's wrong with this post? How could we improve it? :)
Let us improve this post!