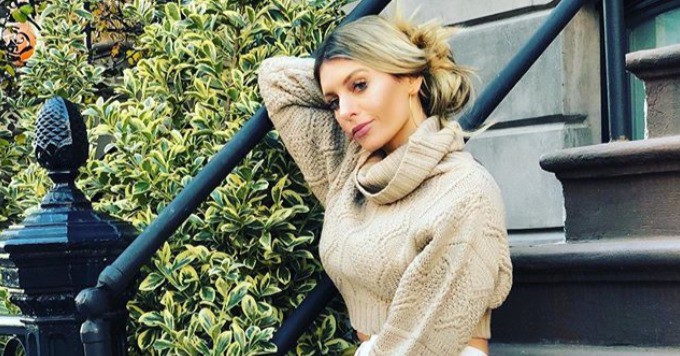 "Temptation Island" is one series that has led to the splitting of the weak couples, while others have only been made stronger. Kate Griffith may not have wanted to be on the show at first, but she has no regrets considering she now knows where she stands with David Benavidez. Before the show, she was like any other American, but now that she is in the spotlight, we might as well dig a little more about her. Here is what we have discovered so far.
1. How she and David met
Kate and David revealed during their interview with Hoboken Girl that they are both in software sales. As odds would have it, they worked in the same company, and when they were introduced to each other by Kate's friend, they hit it off. After spending a weekend together, the couple became inseparable.
2. She moved to Hoboken to make her relationship with David work
Two years may seem like a lot of time for two people to continue their long-distance relationship, but some have made it work. Matter of fact, the distance is what has kept couples like Sarah Jessica Parker and Matthew Broderick married for two decades. Kate and David, however, could not do it; therefore, after being in Miami for ten years, she was ready to give it up to be with her boyfriend in Hoboken.
3. She likes tall men with dark hair and eyes
Kate said that she never met her ideal type of guy on "Temptation Island." According to Hidden Remote, Kate finds tall men with dark eyes and hair attractive, but even if none fit the description, she found Chris Novak almost perfect. She spent a lot of time talking to him, which led her to conclude that he is one of the most intelligent men she has ever met.
4. She did not want to go to "Temptation Island"
When David told Kate about auditioning for the show, Kate's response was an emphatic "no." her memory of the show's earlier seasons made her wish to stay from the cameras, and it took a lot of convincing from David to have Kate change her mind. However, she had her doubts, and even a week before being in the series, Kate was still calling producers asking if she could get out. Unfortunately, it was too late, so she had to go. In the end, despite finding the experience challenging, Kate has embraced the friendships that have developed.
5. She prioritizes communication in her relationships
One of the reasons that most marriages fail is due to a lack of proper communication between spouses. Kate knows that communication is the key, especially in long-distance relationships. She and David had been in a long distance relationship for two years, and when they entered the show, she was reminded of how it felt not to know how David was feeling. She was right to be concerned because David also admitted that the lack of communication mentally tortured him.
6. She is a fitness enthusiast
If you can look in the mirror and like what you see, then there is nothing that can stop you from conquering the world. A positive self-image is all about self-acceptance, and Kate loves feeling great about herself; thus, working out boosts her confidence. She calls herself a "fitness enthusiast," and as part of her daily morning routine, Kate goes to the gym. Her favorite work out spots is Bum Pilates and Project Sculpt.
7. She feels her biological clock is ticking
Motherhood is a blessing that makes most women feel complete. With the scientific studies continually reminding us that the fertility age is declining, it makes sense for Kate to be worried that even if she is not ready to have children right now, she does not have much time. At 34, her fertility is on the rapid decline. Although some have conceived through IVF, if Kate wants to conceive naturally, now is the time. However, with her relationship with David being on the rocks, Kate's wish to have children may have to wait a little while longer.
8. The show has taught her to put herself first
One quote that you will always come across is that self-love is not selfish; it is necessary. Kate, however, put everyone else first, and it is only after being on the show that she has learned it is crucial to love yourself more than you love anyone else. She admitted that before, she was used to prioritizing her relationships, which led to her not showcasing the best version of herself. The minute she heard David telling a girl that he would move to Los Angeles to be with her, it must have dawned on Kate that she was the only one working to make the relationship better.
9. She loves Hallmark movies
Hallmark movies have become a favorite among Christians due to the life teachings that they all seem to carry. Since its launch in 2001, the network has led to the rise many stars with some like Dean Cain and Lacey Chabert, preferring to be cast in Hallmark Movies now. For someone who says she puts her boyfriend ahead of herself, it is no wonder that Kate has a love for the Hallmark movies that can tap into the romantic side of its viewers.
10. She was unfaithful to her ex-husband
They say once trust is broken, recovering it is impossible. In Kate's and David's relationship, trusting each other became a hurdle that they both had to jump to move on. However, their past, plagued with infidelity, had doomed them, resulting in looking for a way to try and prove that they each could be trusted. Kate had been married before and cheated on her ex-husband. David, her current boyfriend, had also been unfaithful to his former girlfriend, and the show was his way of proving to Kate that she could trust him. David has, however, proven he is not to be trusted after admitting he made out with Payton, as published on Meaww.