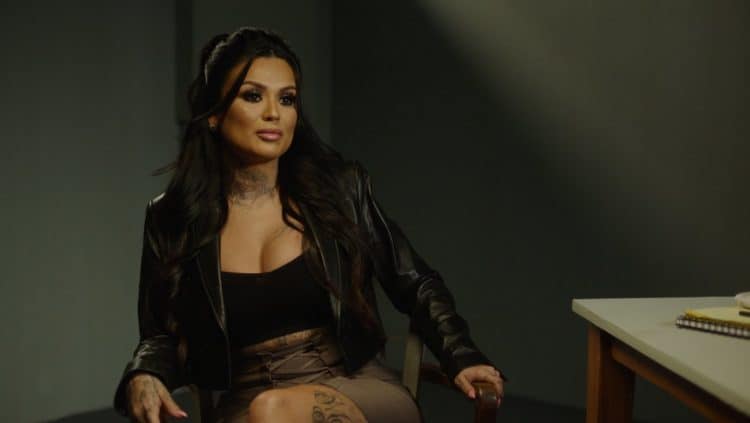 Kat Flores, also known as Tatu Baby from the Reality Television show "Ink Masters" is a tattoo artist where she came in runner up on the third season of the show; an Instagram Model and influencer, a tattoo model who owns her own tattoo studio in Miami, called Till the End Gallery, and a mother of a 2 and a half-year-old. Here are 10 things that may surprise you about Kat Flores:
1. She got her first tattoo with her mother at age 14
When she was 14, her mother took her to a tattoo studio to get matching tattoos. Looking around the studio, Kat was hooked, and she began drawing tattoo's and not long after, started tattooing friends and acquaintances. She became a professional tattoo artist at age 19.
2. She is the daughter of a Columbian family
Her parents were both Columbian although she was born in Miami, on October 28, 1987. Other websites say she was born in Columbia. According to Distractify, Tatu Baby revealed on the show "Cartel Crew" which follows Miami residents whos family who were connected to the drug trade, that her father was a big "Narco in New York. who was murdered when she was four years of age. Her mother raised her alone, and while Kat continually wants to know more about her family links, her mother wants to put things behind her, which causes tension between the two.
3. The girl isn't working for minimum wage
According to her own website, at Tattoo Baby Tattoos Kat charges $200 per hour, with a minimum of 3 hours booked, to do a tattoo. Yet she is constantly booked. Another source, Dreshare, estimates her current net worth at $1.2 million.
4. Her tattoos
It's better to ask where she doesn't have a tattoo than where she does. Although there are no "official" counts on the web, we stopped counting at 20. Photos show she has
visible tattoos on her neck, her breast, her stomach area, her crotch, her hands, her arms, and her legs. Oddly, we were unable to see one photo of her back on the net, but we are guessing there are at least 15 more from the rearview.
5. She is unmarried but she has a child
Kat, by all indications loves her child, named Deniro Roman Soto. He is nearing three years of age. According to "Cartel Crew," the father of her child, whom she never married, is Eddie Soto, a man who got involved in drugs at an early age, and who spent five years in prison. Determined to not leave her child with no connection with a father as she grew up, Kat reached out to him after his release in prison, and not expecting the two to get together again, did in fact rekindle their romance, although it has been a rocky start. Kat, notorious about her privacy, hasn't released any details about whether the two are still together or not.
6. She has over 1 million followers on Instagram
Kat has a huge following on Instagram and enjoys the kind of celebrity only movie stars had in the past. Some say there only around 3,000 people out of the 1 billion people with Instagram accounts who reach the 1 million followers mark. And the rewards for having one million followers can be huge. Many such Instagram influences get $15,000 or more for a single post.
7. She's tattooed many children
Ordinarily, you have to be at least 18 years old in most states, as in her native Florida, although with notarized consent from a parent a minor aged 16 can get a tattoo. However, exceptions can apparently be made for sick children. On her Facebook page, there is a short video of her tattooing a young boy for the
Hope vs Cancer organization, and there are also still photos of tattoos of other young cancer victims as well.
8. She's done some strange tattoos
In various interviews, Kat has revealed she's done some strange tattoos in her time. The most memorable being a client who wanted a tattoo of Pinnochio and using his penis as the nose. In fact, she revealed that she's only refused to do one tattoo, which was on a client too drunk to consent. She does draw the line, however, refusing to join the ever-growing list of tattoo artists willing to give clients "a**hole" tattoos.
9. She has a distinctly Kim Kardashian style hourglass figure
At 5 foot 7 inches and weighing 122 pounds, Kat has a Kim Kardashian like figure. Her measurements are 36-26-38. Yet she's toned and model-like, and certainly works out.
10. She is dating, but apparently not Eddie
Rumors are abuzz that Kat is dating Ceaser Emmanuel, the tattoo artist and reality star from "Black Ink."
Tell us what's wrong with this post? How could we improve it? :)
Let us improve this post!