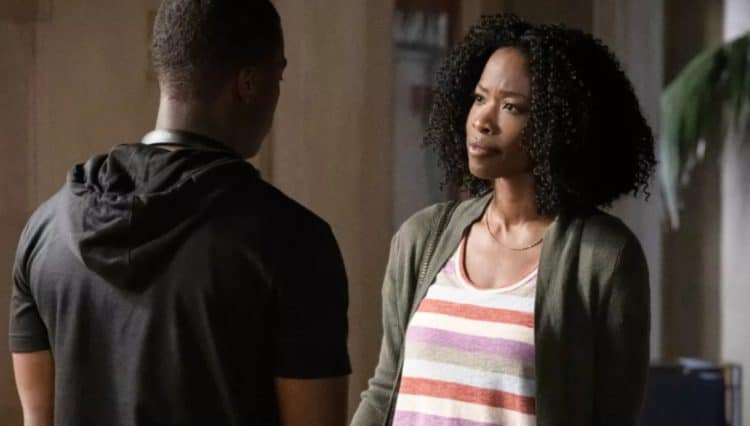 Karimah Westbrook is an actress who is known by many fans as the popular character Grace James on the new television series "All American. She is a veteran in the acting business and has grown a large base of fans from a variety of different toles that she has played on television as well as in film. We took a look into her history to learn a little more about her career and the things that influenced her to take this career path and we made some interesting discoveries we'd like to share. Here are 10 things you may not know about Karimah Westbrook.
1. She's a native of Chicago
Karimah was born in Chicago, Illinois on October 6, 1978. This makes her 41 years old as of the Fall of 2019. She's a Libra birth sign and she was raised in Chicago.
2. Karimah appeared with Johnny Depp in a film
Westbrook has appeared with a number of big names in the acting industry. Among them are Johnny Depp, Amber Heard, and Aaron Eckhart. They all worked together in the feature film "The Rum Diary. " The film was released in 2011 and this gave her a big career boost because of the popularity of the film and the talent that she was privileged to work alongside. It is always a good thing for an upcoming actor to have their names associated with those who have achieved superstar celebrity status.
3. She has stage acting experience
Prior to becoming famous Karimah performed in a variety of theatrical productions. Her first experiences were as a stage actor. This is a more challenging type of acting because it's vital for members of the cast to get their lines right the first time because it's a one-shot deal, live in front of the audience. There are no do-overs so it puts the pressure on to do it right the first time around.
4. She has received formal training
Karimah knew that she needed to get formal training as an actor. After she spent some time appearing in theatrical productions she was hooked. She decided to attend The Academy of Dramatic Arts-West, and this is where she received her formal training as an actress.
5. She crashed an audition
We learned that there was a part that Karimah was interested in landing. It was the role of Alyssa in the feature film "Save the Last Dance." She was fortunate that the casting crew allowed her to crash the audition and give it her best shot for the part. As it turned out, her tenacity won in the end because shes was given the part and the film was released in 2001. This was also her feature film debut. What this tells us about her is that she is a woman who knows what she wants and she's not afraid to go after it.
6. Her acting debut was in 2000
We're all in awe of the fact that Karimah was able to snag the role of Alyssa, but this was her feature film debut. She had made her acting debut in general in 2000. Karimah made her first appearance as an actress in the television series "Cities of Angels." This must have given her the confidence to go for the gold the following year.
7. Karima is a multi-talented professional
Although Karimah Westbrook is best known by her fans for her talent as an actress, there is much more to her than this. She is also a writer and producer. In 2009, she entered a filmmakers competition called "Lens on Talent." She became a finalist, making it down to the wire up against a wealth of other talented challengers. She believes that it's important to create your own opportunities. She produced the short drama film "Best Kept Secret" in 2006, "A Fire in a Dovecot" in 2010, "Watts and Volts" in 2009, and "Pastor Stuart" in 2009.
8. Westbrook loves a challenge
Karimah Westbrook is the kind of woman who is intrigued by a challenge and she's not one to back away. In 2005, she appeared in the film "American Fusion" with Sylvia Chang. When working opposite the international film star, Karimah learned to speak Mandarin Chinese. The film was a hit at festivals and was an award-winner.
9. Karimah Westbrook is a very giving and generous person
When we were looking into Karimah's history, we learned that she is a very generous person who is grateful for everything that she has, although it was hard-earned through dedication and effort. She believes that it is important to give back to others. She became a mentor for a Los Angeles youth center called "A Place Called Home. The organization assists young inner-city adults to become self-reliant and to find success. She has been involved in the program for several years and she continues to serve on the Leadership Council for the center.
10. KarimahWestbrook is a multi-faceted celebrity
There is a lot more to Karimah Westbrook than can be summed up in any one of the characters tht she has portrayed or any performance that she has delivered. She is a veteran actress who has appeared live on the stage in several theatrical productions, and she's also appeared in many film roles and television series appearances. It seems that she is comfortable in any form as long as she is acting. Karimah is also busy behind the scenes of the entertainment that her audiences enjoy writing and producing. These are important jobs that don't always get direct recognition from fans. There are many who are not even aware of who writes or produces their favorite shows and movies. She's even gone so far as to learn another language for a film. She is a lady to keep your eye on in the near future because she has so much to give to the entertainment industry and her work has been very well received.
Tell us what's wrong with this post? How could we improve it? :)
Let us improve this post!