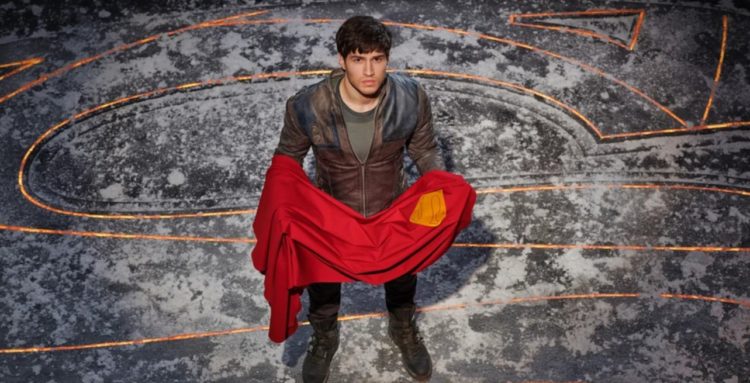 Sometimes origin stories go way beyond the normal level that we're used to and show us the manner in which the beginning of the heroes that we've revered before they even exist. This was the case with Krypton, which featured the individual Seg-El, the grandfather of the man that would one day become Superman. Throughout the story he's visited by Adam Strange, who warns him of the machinations of the villain known as Brainiac in relation to his future grandson. The biggest issue with this of course would be that the issue of time-jumping seems as though it always has the possibility of screwing up the present, meaning that anything and everything could happen if certain things are revealed and hints are given about a future that hasn't yet happened. Of course we don't tend to think of that when we're given something flashy and new to look at, right up until something happens and we have to face the reality of what we're looking at. In any case, the show has been cancelled and now people are starting to wonder just what's going to happen to Cameron Cuffe now that the show that had him as the lead character is no more.
What I feel above all is gratitude. I spent 3 years living an impossible dream. I will always be a proud son of Krypton.

Keep believing in a better tomorrow. pic.twitter.com/LqMBedxpdf

— Cameron Cuffe (@thecameroncuffe) August 16, 2019
As of right now it would seem that some, such as Grant Davis of Heroic Hollywood, are hoping that the series will be revived on another platform so as to give the show another chance to shine. The idea seems pretty sound honestly, even if there are bound to be plot holes and inconsistencies that have yet to be ironed out. The show is perhaps one of the better examples of what DC has been trying to do on TV, where it's dominated for a while now. Plus, Krypton did manage to introduce and link a few different characters on the cosmic level, making it obvious that DC is really attempting to stretch its muscles a bit in order to be competitive and possibly see what it can do in keeping pace with the MCU.
Between the two there's always been a big interest in DC when it comes to television since they've kind of dominated the venue and haven't really been challenged. That's going to change come November when Disney Plus launches their network with the many shows they already have planned, so it might be wiser for Krypton to be brought back, even if it is on another platform, just to insure that the dominance of DC is continually felt. Thus far the show hasn't been the worst and yet it hasn't been the best according to some fans. It does seem as though it might take some getting used to since despite certain characters showing up it's usually appreciated when something having to do with Superman, even peripherally, at least shows the man of steel occasionally. Obviously that wasn't a possibility here since the line of El had to be established for Jor-El to defy the council and eventually send his son to earth to save his life. But seeing how the house of El was ostracized in the first place definitely seems to give a better understanding of why the family is seen as something a little different in Kryptonian society. Cameron played his part well, but in truth it didn't seem to be enough since talk of not renewing the show was already surfacing before the second season was over.
So what's next for Cameron? Well, as hopeful as it is that the show will come back and allow him to pick up where he left off it seems likely that Cameron might move on and try to find success on another show or possibly in film if he gets the chance. It doesn't seem as though he'll sit still for long since he's already established a fan base and isn't about to just disappear. But where we'll see him next is anyone's guess since in this business there's plenty of rumor and conjecture but the facts are never entirely solid until someone signs on the line that is dotted and makes it official. The fact remains though that Cameron is a definite talent and it would be kind of a surprise if no one picked him up quickly, or at all. Talent in Hollywood might be plentiful but seasoned and experienced talent that can act on command is sometimes kind of rare since the talent pool is diverse and deep, but there are still a lot of variables that seem to indicate that he'll be one of those folks that will be sought out eventually for a role here or there. My bet is that he'll stay in TV for a while before making his way to the big screen, but we'll have to wait and see what will happen. We'll be seeing him again, that much seems certain.
Tell us what's wrong with this post? How could we improve it? :)
Let us improve this post!