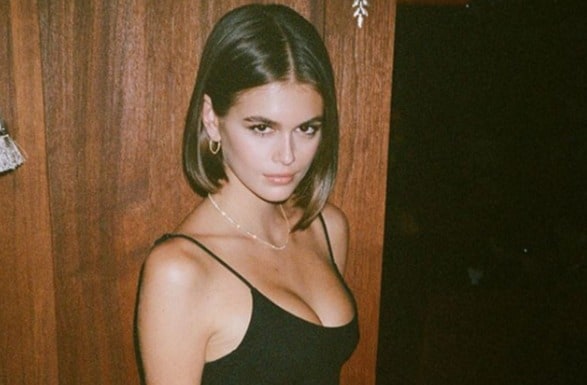 On the off chance that you don't already know this, Kaia Jordan Gerber is Cindy Crawford's daughter. Her father is the famous Rande Gerber, who also used to be a model. Also, naturally, her brother Presley is… you guessed it, a model. The super cute model family dresses up together in costumes, does photoshoots and otherwise shows the world what the power of good genetics and business sense can do for you. Here are ten things you didn't know about Kaia Jordan Gerber.
1. She's a Dog Person
They say there are two kinds of people in the world, dog people and cat people. We don't like to box people in like that, but Kaia is an animal lover. She has two completely adorable dogs. Widget and Sugar are Maltese-Yorkies. You can see a few pictures of them on her Instagram feed. They say pets help with anxiety and extend your life expectancy. With pups like Sugar and Widget around, she'll probably live to see a hundred.
2. Barely Legal
She may have been born into a famous modeling family and started her career early, but Kaia is still young. In fact, she just turned eighteen last month. Kaia is a Virgo, born on September 3rd. To celebrate her passage into legal adulthood, she threw a star-studded gala in Times Square. The theme of her party was Burlesque, and there were plenty of performances, including a very special birthday song from none other than the fantastic Amanda Lepore. Kaia showed up dressed to the nines in a stunning and very adult dress from Versace. Her fashing choice was a near clone of the outfit her mother Cindy wore to the 1992 MTV Video Music Awards. Black and bondage-esque, but lovely with a short skirt. Cindy's '92 outfit came with pants, but times change, and both generations can clearly rock that look. Cindy herself showed up dressed in gold.
3. Home Life
For the close-knit Gerber family, fame may be a part of their lives, but at home, they're just ordinary people who leave their work at the door. Kaia, whose name is derived from the Hawaiian word Kai, which means sea, was born at home. Interestingly Kaia in Hawaiian technically translates to 'this is,' and this is one girl who knows what she likes. Gerber is a notorious daddy's girl, and it's rumored that her first word was "Chocolate."
4. Food Lover
Though her mother Cindy used to feed her little bites of chocolate as a toddler, and the obviously share a love for the sweet, Kaia has plenty of other food loves. Her mother once famously said that she couldn't live without chocolate every day, but Kaia says she eats pasta daily. Her favorite breakfast is a bagel, which might surprise you if you know how many models avoid carbs like they're the plague. The youngest Gerber has also mentioned how much she enjoys Sabra Supremely Spicy Hummus. This is one runway-ready young lady who knows how to eat. We think it's marvelous to see models talk about food in a positive way.
5. Early Start
Some people are just born lucky and beautiful. Kaia gets her looks from her supermodel mother. In fact, they couldn't look more alike if she was a clone. Like many look-alike kids, Kaia didn't see the resemblance for years. She even confused her fans by posting a mother-daughter pic with a caption that said as much. Looks and candy aren't all they have in common. Kaia started modeling very young just like her mother, but more so. She was three years younger, to be exact she was 13 when she began modeling Versace Kids.
6. Fashion
When you grow up surrounded by models and clothing, you're bound to learn more than a few things about fashion. Kaia loves the retro look, especially the 70s. The young model even worked with Marc Jacobs' design team at one point to design and produce her own line of 1970s patch inspired handbags.
7. Long Term Friends
Every girl needs her friends, and Kaia is no exception. You'll see her in the company of people like Taylor Swift and other famous Millenials frequently, but she's had one especially notable friend for ages. Kaia met Bella Hadid long before Bella became the big deal she is today. You'll see the pair hanging out often. We're not sure if they're 'besties,' but they do seem to enjoy a long term friendship.
8. Self Proclaimed Dork
We all know Kaia is cooler than any person needs to be. She's down to earth, smart, savvy, rocking the runways, and all-around amazing. It might surprise you to know she thinks of herself as a 'dork.' She's goofy and a little nerdy at heart. Plus, rumor has it that she loves math and her nights off when she gets to go to bed early.
9. Getting Away From it All
Jet setting all over the world and walking runways like a boss might sound like living your best life, but it can take a toll. For Kaia, unwinding is a necessity, too, and she doesn't want to party every night. To get back to basics, she takes a little time off each year. The Gerber family has a lakehouse in Canada, and she visits every summer. Not only is it less crowded and a lot more quiet than city living, but there are some other advantages as well. A scenic lake, time to herself and, oh yeah, no internet! Kaia goes social media silent for short periods while she's away having her 'me time.'
10. Plays the Guitar
As if she needed to be any more amazing, Kaia also plays the guitar. Is she planning to break away from the family tradition and strike out on her own as a rebellious musician? We don't think so. Nevertheless, she does play for fun.
Final Thoughts
We won't say we're jealous, but who wouldn't be. At just eighteen, this gorgeous gal comes from an incredible, close-knit family. She has a real-life friends list that could be the party roster at any elite soiree on earth, and yet she seems to have a realistic sense of who she is. Playing with her dogs, playing guitar, and finding time to create designer accessories is more than we'd expect from any teenager. Whatever the Gerber family is doing, they've certainly got 'the right stuff.' Kaia is one amazing young woman, and we'll no doubt be watching her career for years to come.
Tell us what's wrong with this post? How could we improve it? :)
Let us improve this post!