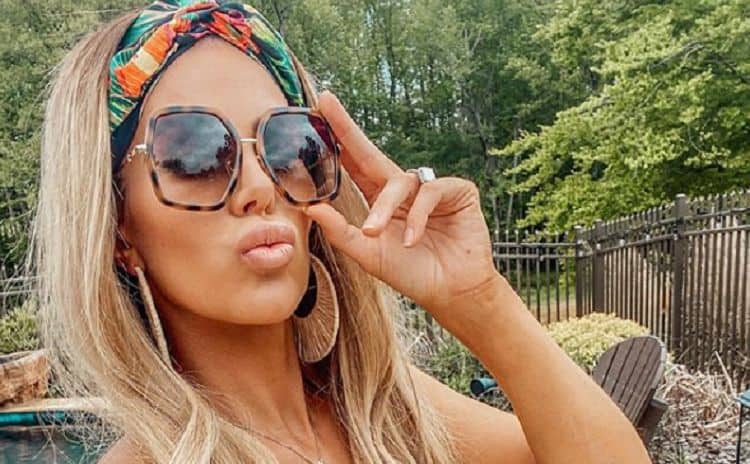 It might be safe to say that reality television is here to stay. We've seen so many shows about so many different kinds of wives in the past; we didn't think they could come up with something new. However, CMT figured one out and released Racing Wives at the beginning of the year. The show features the lovely wives of some of the biggest names in the automobile racing industry, and we'd have to admit that we got hooked. It's a much faster-paced show (no pun intended) compared to other similar reality TV types, and the characters are just intriguing to watch. Whitney Ward Dillon is one of the ladies in the show, and here are 10 things you probably didn't know about her and her life in the fast lane.
1. Austin Dillon
If you're only barely familiar with racing, the first thing you should know is that Whitney is the wife of NASCAR driver Austin Dillon. He was the 2018 winner of the Daytona 500–a big deal in that world. Interestingly enough, Austin claims that his wife actually predicted that he would win that race. We're not sure yet if it's arrogance or straight up brilliance, but all that matters in the end is the fact that what Whitney said happened.
2. Cheerleader
Sometimes it seems that the celebrity circle is a small one despite of how many celebrities there are out there. Whitney wasn't exactly a celebrity before she met Austin, but she was on stage constantly. Before becoming a "Racing Wife," Whitney worked as a cheerleader for the NFL's Tennessee Titans.
3. College
As a follow up from the previous fact, Whitney graduated from the University of Tennessee with a major in communications and a minor in marketing. It was her connection to being named as one of the Titans' cheerleader given that she cheered for the university while she was attending. She was also captain of her team during her senior year. Being chosen to be a cheerleader for the Titans was an honor that Whitney worked hard for and would be forever grateful for. She was one out of seven that were chosen that year (2012), and she was also the first ever Titans cheerleader from Chattanooga, Tennessee.
4. Marriage
Whitney and Austin have been together for a few years now, but they've only been married since December 2017. When Whitney married Austin, she also married into racing royalty. Austin is the grandson of racing titan Richard Childress, who also happens to own the racing team that Austin races for. Whitney and Austin even got married at the Childress Vineyard in North Carolina.
5. Unique taste
Whitney definitely has style–and she's got her own style at that. When it comes to jewelry, the beautiful blonde definitely doesn't hold anything back. In fact, Austin became the beloved subject of Whitney's wild affections when she got the chance to pick Austin's wedding ring. She's not the classic type of woman, so we only expected something outrageous from her. Whitney chose to put a black diamond-studded wedding ring for Austin–the type that gets noticed from far, far away. It seems as if Austin doesn't mind at all, as he proudly wears his ring for everyone to see.
6. Blogger
When she's not supporting her husband at the track or filming episodes for her show, Whitney is busy blogging for her blog site, The BFF Blog.The "BFF" stands for beauty, fashion, and fitness, and of course, it also stands for the usual "best friend forever." It makes sense because she started the blog with her longtime best friend Mariel Lane. The website constantly features Whitney and her ideas, and it's become a popular go-to for fashion and beauty aficionados everywhere.
7. Daily routine
On her blog, Whitney is pretty transparent about her life. We know the glamorous parts because of the show and her social media pages, but she also posts about what she does on a daily basis. Whitney still works a regular schedule as an executive assistant; and much like everyone else, she does her workouts after work. She'll exercise, head home, get ready for dinner, and spend time with her husband. It's a pretty normal sounding life if you take away all the wealth and fame.
8. Net worth
One of the things that we admire the most about Whitney is her desire to work for herself. Given that she's married to a race car driver that wins, she really probably doesn't need to work. But Whitney makes her own money and is actually reported to have a net worth of roughly $1 million dollars. Of course, we can assume that this amount might be more when combined with her money along with Austin, who is loaded to begin with even before his racing days.
9. Childhood
Whitney was born on April 27, 1990, which makes her 29 years old this year. While she was born in Lewisville, North Carolina, she spent most of her life in Tennessee. She grew up in Soddy Daisy, and we already know that she went to college at the University of Tennessee at Chattanooga. You should also know that she attended college on a full athletic and academic scholarship.
10. Social media
In addition to her blog, there's another way for you to get the latest updates on Whitney's life–Instagram. This "racing wife" is pretty active on her social media accounts, and she's constantly posting on what's going on with her and Austin. It's also a personal account that gives a good glimpse into her everyday life. Some of Whitney's most popular posts were from her 27th birthday and bachelorette party 2 years ago in Mexico. We'll never forget the gigantic lip-shaped cake she got for her birthday, and we'll probably never see the likes of it ever again. Only Whitney can pull something like that off.Racing Wives
Tell us what's wrong with this post? How could we improve it? :)
Let us improve this post!