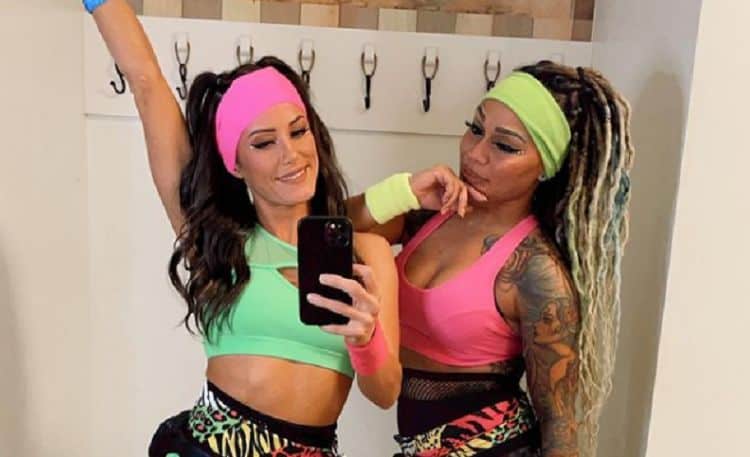 When it comes to competition, Kacy Catanzaro knows a thing or two. She eventually entered the spotlight for her impressive run on American Ninja Warrior. Despite all of the challenging obstacles she was faced with, Kacy never backed down. In 2017, she decided to switch things up and she announced that she would be entering the professional wrestling world. She made her professional wrestling debut in 2018 and has been part of WWE ever since. Kacy is known for being the kind of competitor who always gives her all, and she never fails to put on a good show. As she continues her journey in professional wrestling, there are lots of people who are excited to see what she does next. Keep reading to learn 10 things you didn't know about Kacy Catanzaro.
1. She's A New Jersey Native
Outside of reality TV, New Jersey is one of those places that sometimes gets overlooked. However, it's been home to lots of talented people, and Kacy Catanzaro is one of them. Kacy was born and raised in northern New Jersey. There isn't much information out there about her upbringing, but she does seem to come from a close family. She attended Belleville High School.
2. She Was A Junior Olympian
Kacy was only about six years old when she began gymnastics training. Although it may have started out as a hobby, it didn't take long for everyone to realize that Kacy was working with some very serious talent. In 2008, she competed in the Junior Olympic National Championships where she finished 23rd overall.
3. She Studied Early Childhood Education
In addition to the junior Olympics, Kacy's gymnastics skills have earned her other great opportunities, including the chance to go to college on an athletic scholarship. She attended Towson University in Maryland where she majored in early childhood education. However, it's unclear if she graduated.
4. She Is Passionate About Human Rights
Not only is Kacy fearless when it comes to competition, but she also isn't afraid to stand up for what she thinks is right. Kacy has used her social media presence to highlight the things that are important to her. She has shown her support for the LGBTQ+ community and she has spoken out against racism.
5. She's A TikToker
TikTok has become incredibly popular over the last couple of years, and that doesn't look like it's going to change any time soon. Although the platform is mostly used by members of Gen Z, Kacy hasn't let that stop her from being an active user. She currently has nearly 100,000 followers on TikTok and her content has gotten over 443,000 likes.
6. She Did Stunts For A Movie
Wrestling and gymnastics aren't the only things Kacy has used her physical talents for. Kacy did stunts for the 2015 movie Maze Runner: The Scorch Trials. However, it's unclear exactly which stunts she performed. At the moment, that is her only stunt credit.
7. She Loves Connecting With Fans
Even though Kacy's hard work and dedication have gotten her to where she is today, she knows that she wouldn't have the kind of career she's had without the love and support of her fans. She is grateful for all of them and she looks forward to being able to connect with them whenever she can.
8. She's Quiet About Her Personal Life
At this point, Kacy has been in the spotlight for several years. During all of that time, though, she has never been the kind of person who likes to put her private life on display. In fact, she has actually been pretty private when it comes to many of the details about herself outside of her career. Since we've never seen her get caught up in any drama, I think it's safe to say that this approach is working.
9. She Made American Ninja Warrior History
Kacy Catanzaro has gone down in history as being the first woman on American Ninja Warrior to make it up the warped wall and to finish a city finals course. When asked how she felt about these achievements, Kacy told Pop Sugar, "It feels just so unreal. Ever since American Ninja Warrior has started, the two main things [are] that no American has ever finished the course but then also, no female has even ever finished the qualifying course! That always just kind of made me feel a little bummed out…I wanted to do it for myself to prove that I could do it, but also for other women showing them, "Hey, this isn't impossible. You can do it too." You have to believe in yourself."
10. She Started To Feel Extreme Pressure While On American Ninja Warrior
Once you reach a certain level of success, it becomes stressful trying to figure out how to stay on top. After spending so much time on American Ninja Warrior, Kacy admitted that she started to feel like she was "drowning" in pressure. She eventually decided that she wanted to get back to having fun.American Ninja Warrior