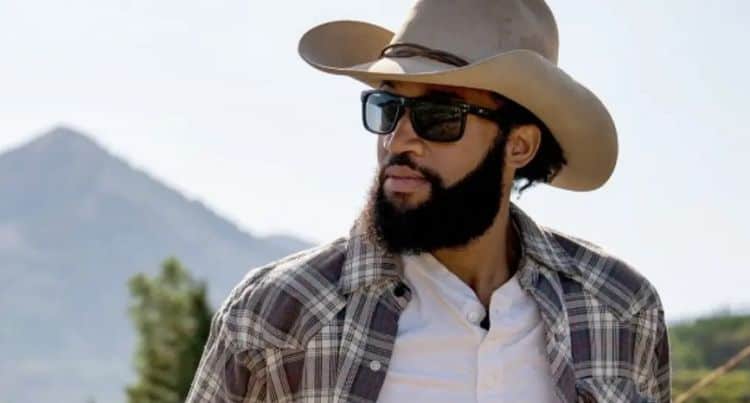 After more than a decade of being cast in on screen roles, Denim Richards is finally getting the shine he deserves. The talented actor who is best-known for his role in the hit TV show Yellowstone, has officially become a series regular. Such a promotion is every actor's dream and it's something that Denim definitely deserves. He doesn't plan on stopping there, however. Denim will also be in an upcoming film called The Chicksaw Rancher, and it's going to be a great opportunity for his fans to see him on the big screen. Even in the middle of a pandemic, 2020 is turning out to be a solid year for Denim. Keep reading for 10 things you didn't know about Denim Richards.
1. He's Bilingual
Denim Richards is definitely one of those people who continues to get interesting as you learn more about him. Not only does he speak English, but he also speaks German despite the fact that he hasn't been to Germany. He is also in the process of learning French.
2. He's A Singer
Denim isn't just someone who sings as a hobby, he's a classically trained opera singer. During an interview with Your Money Geek, he said, "I always loved singing. I was doing plays, and then the plays kind of got me into doing musical theater…I think I was probably sixteen when I started my first official opera lesson, and it was the most difficult thing I've ever done." He added, "I was crying in the voice lesson because it was so difficult."
3. He's Always Wanted To Be A Performer
From an early age, Denim knew that he wanted to become a performer. He's always loved getting the chance to not just entertain people, but to take them on a journey while telling a story. Like many other actors, he got his start in theater before moving to the TV world.
4. He's A California Native
Denim was born and raised in Anaheim, California and has fond memories of his time growing up there. He told Orange Coast that he's still very close with many of the people he grew up with. One of his good friends is Elie Ayrouth who co-founded Foodbeast.
5. He Wrote A Book
During lockdown, there were lots of debates over how people should spend their time. Denim chose to use his to do things he wouldn't be able to do otherwise, and one of those things was write a book. The book, "Mastering Your Mind", was released in May and focuses on helping people find positivity and balance amid the stress of today's world.
6. He Hopes His Work Empowers Others
Every time Denim steps on stage or gets in front of a camera, he hopes that his audience walks away feeling good. In addition to being entertained during his performance, he wants people to take something with them when the show is over. He says, "I hope that whatever you get from me, it is spiritually and emotionally fulfilling, as well as empowering."
7. He Loves Traveling
Denim has been able to do quite a bit of traveling over the years and says that what he loves the most about visiting new places is getting the chance expand his mind and spirit. Traveling outside of the country is a unique experience and it's one that he greatly appreciates. Some of the places he's been include India and Dubai.
8. He Owns A Production Company
In addition to working as an actor, Denim has also become an entrepreneur. He is the co-founder of a production company called Lazer Focus Productions which was started in 2012. Through this company, he has the opportunity to give other talented actors a platform to showcase their talents.
9. He Likes To Spend Time Outdoors
Like his character in Yellowstone, Denim is truly an outdoors kind of guy. For him, spending time outside is a chance to be at peace and enjoy the beauty of nature. Some of his favorite things to do when outdoors are go swimming, hiking, and exploring on different walking trails.
10. He Started A Nonprofit
Denim also loves working with young people and has started a nonprofit with them in mind. The organization is called Youth Empowering Success and according to his LinkedIn, it "focuses on giving youth a positive voice through the arts – singing, acting, dancing, public speaking, and or filmmaking." Denim is a strong believer that children truly are the future and he believes in offering them love and guidance. On top of running the nonprofit, he also mentors young children.