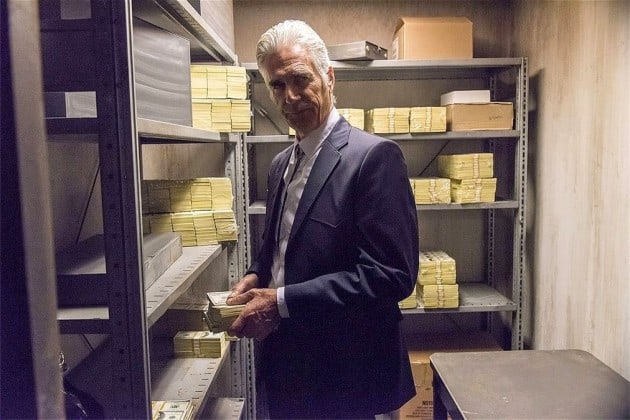 As Justified inches closer and closer to its series finale, the show's characters, more than ever, are looking towards the future, and for most of them, that means a way out of Harlan County. But as Ava tells Raylan near the end of tonight's episode, "the past and the future are a fight to the death"; can any of these people really head towards the future without first escaping the clutches of their past?
"Dark as a Dungeon" confronts Raylan with his past at both the beginning and end of the hour, as he sifts through Arlo's things in the opening moments of the episode (and burns most of them) and then has a conversation with the specter of his father in one the night's final scenes. I'm still not sure how I feel about how all of this was handled (I loved seeing Raymond J. Barry back, especially because his presence on The 100 this season has only reminded me just how great he was in his time on Justified), but I've never been a big fan of protagonists literally talking to the ghosts of friends or relatives–lacks any sort of subtlety or nuance, in my opinion.
Still, though, both Barry and Olyphant were fantastic in the very quiet and muted scene that they shared together, as Raylan discovers that his imagined version of his father may been worse than who the man truly was, and it's certainly important for Justified to have Raylan deal with all of his father issues not only before he leaves Harlan (if he makes it out alive) but before he becomes a true parent to Willa. As Ava tells Raylan during their heated conversation in "Dark as a Dungeon," he could have just as easily become an outlaw instead of a lawman, but it was his hatred for everything his father was that drove him to become the latter. He must reconcile the fact that Arlo, while certainly not a good person, may not have been the absolute monster that Raylan believed him to be and the possibility that, if Raylan had seen this other side of Arlo, he could have become just like Boyd instead of the man he is today.
And speaking of Boyd, while he's not having any type of ghostly visions, he is falling victim to past habits–his always present desire to go for the biggest and best instead of accepting the safe and more secure option. He can't just be satisfied with the $100,000 that he receives from Markham, especially when Raylan ensures that he sees the $10 million sitting in Markham's vault underneath the Pizza Portal.
Boyd's always wanted more than what he's been given, always had that need to not settle and strive for something greater, which we've seen with his countless elaborate plans throughout Justified's five-plus seasons. As much as he loves Ava and wants to go away with her, she and that small pile of money (well, small to Boyd anyway) just isn't enough for him. He can't change the man he has always been; his past self and his future self are the same: the constant opportunist, seeking and searching for the biggest payout possible, no matter the risk.
Throughout "Dark as a Dungeon," the only character who really seems settled in Harlan is Avery Markham, who still plans to create his weed-growing empire in the area, despite Boyd's best efforts to stop him from buying up any and all land. But while Markham seems, for the most part, comfortable in the present and hopeful for the future, it's his past with Katherine Hale and her husband Grady that may end up destroying him if he truly is the snitch that Art thinks he might be. I'm still not sure if Markham's lying or if Katherine's the one telling the tall tales, but I find the possibility of both of them not knowing anything about Grady and Simon Pool's deaths to be incredibly unlikely.
While only one or two scenes a week are being dedicated to that old investigation, I'm predicting that it will play a crucial part in this final season's endgame. Whatever happened all those years ago in the past certainly seems like a "fight to the death" between Markham and Katherine. The only question that remains is who will come out on top.
Other thoughts:
– Raylan realizes at the end of the episode that Ava, who tells him how Boyd and his men plan to get into the basement of Pizza Portal and go after Markham's vault, has been burned and informs Rachel. I wonder how long Raylan will play along with Ava in next week's episode, or if the Marshals will try to send her back to jail before the season is over.
– Back-to-back weeks with Art scenes, and they've been brilliant in both episodes. More Art in these final five episodes, please, Justified.
– Raylan was finally open with Boyd about what's keeping him around Harlan: it's taking him down. Now that Raylan has been straight-up with Boyd about his pursuit of him, I wonder how much darker and more dangerous the pair's encounters will get. I just hope it gives us more scenes between Timothy Olyphant and Walton Goggins, because, as always, the two of them were excellent together tonight.
– Raylan and Tim's whole "you're welcome" conversation as Markham got on the radio to offer the $100,000 reward was one of the funniest moments of the whole episode, right up there with Boyd telling Raylan "you in love with my balls."
– Garret Dillahunt did some really solid work throughout this final season and truly made Ty Walker into a layered, compelling villain. I loved that his final words to Raylan before he died were about how this wasn't simply about the money for him. As we saw with how he did his best to protect Choo-Choo, he did care about his fellow mercenaries and considered them his brothers.
– "I gotta admit there's a small part of me that's going to miss this when it's over." Replace the word "small" with "big," and you have Raylan expressing the feelings of all the Justified fans out there. God, I'm going to miss this show when it ends in a few weeks.
What did everyone else think about tonight's episode of Justified?
[Photo via FX]
Tell us what's wrong with this post? How could we improve it? :)
Let us improve this post!