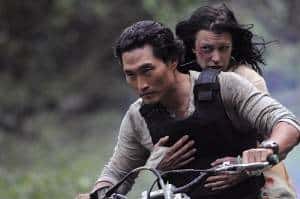 It may have taken a short break, but Hawaii Five-0 has returned to our TV screens and there'll be an episode each week from now on (at least for a little while). Last night's episode, '˜E Malama,'spends a substantial amount of its time set in the jungle and, in my opinion, does a lot of what makes this cop show more worthwhile than others in its genre, by taking advantage of what the location of Hawaii has to offer. This week, Chin-Ho and Danno get to play a lot of great individual scenes, but as the team is quite separate, Steve and Kono are shifted to the sidelines a little.
'˜E Malama'is one of those rare sorts of episodes where I find the side-plot just as interesting as the main one. (I possibly found the side-plot even more engaging this time.) I really did like both stories this week, where the main plotline of the hour was about protecting a witness before an important trial, and the other being about a carjacking that involves Danny's ex-wife and daughter.
The 'protect-the-witness-whilst-running-around-the-jungle'story (which was mostly focussed on Chin Ho and Steve) provided some pretty gripping stuff, and even if it was a predictable plot, at least it set up some really cool action scenes. Mariana Klaveno played Julie Masters, a very important witness in the murder trial of a drug dealer (so important that the prosecution wouldn't have a case without her). The remote FBI safe house where Julie was staying in witness protection is attacked, leaving her on the run in the jungle. The subsequent story, which involved Chin Ho and Steve tracking down the bad guys, allowed for Steve to impart knowledge about tracking (which sort of reminded me of Lost) and do some exciting fight scenes whilst Chin Ho kept the witness safe and beat up the remaining bad guys. Sure, there was some silly stuff too (such as Steve taking a phone call from Danno whilst setting up a trap) but when it's this much fun, I tend to overlook those things.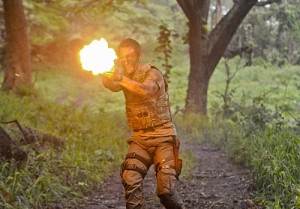 Five-0'˜s other story for this offering was perhaps a little more compelling as it served as a showcase for some high-quality acting from Scott Caan. Early on in the episode, Danno's ex-wife (Rachel) and daughter are involved in an armed carjacking, leaving him on a mission of payback against the people who put his daughter in danger. When it becomes clear that the carjackers were trying to send a message to Stan (Rachel's husband), I immediately thought that he'd turn out to be someone with a shady past, or at least doing something illegal. As it turns out, Stan had just found himself caught up in something bigger, and Danno effectively channeled his, very understandable, anger towards those responsible. Scott Caan did a great job with this plot, and I found his scenes really convincing and engaging.
Unfortunately, Kono was the character most left out from the action (although I thought Steve ended up doing a lot less than usual too) and even Grace Park's super-awesome fight scene at the episode's end didn't fully redeem the fact that she'd spent the majority of the episode controlling the Five-0 supercomputer. (She also got a slightly annoying scene in which she purposely antagonized the defendant – I've never got why anyone thinks that's a good idea.) As I said earlier, the episode had its predictable and less effective moments, but it was predictable in a way that puts you in a comfortable position to enjoy the ride, rather than spoiling it. Overall, this was an episode of Hawaii Five-0 that embraced a sense of fun and, sometimes, that's all I need from this show.