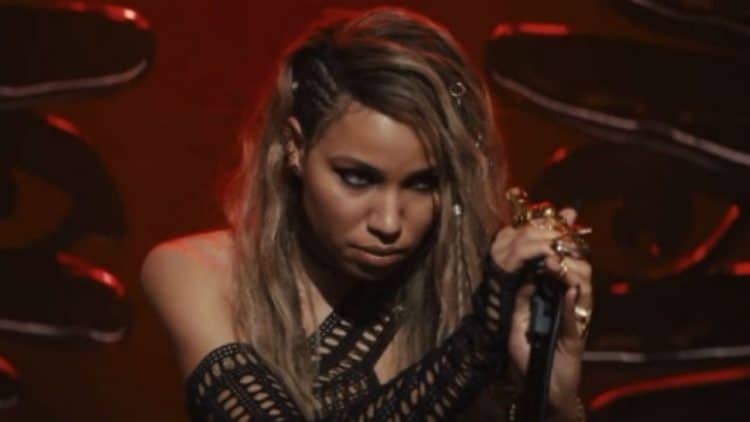 Sometimes you can look at an actor and think that you've seen them somewhere before and you're completely right but you just can't place where. Jurnee Smollett-Bell is one such actress since by looking at her resume you can see that she's been in plenty of shows and movies throughout her career but she's almost always been a supporting character or someone that's stuck behind a few other people as their support. That's not such a bad thing since being in the production is what matters, getting to the front where the camera can see her is a matter of proving that she needs to be up there. To be honest she seems to shine right where she's been though she does seem as though she could take on a stronger role without being intimidated at all. Perhaps one of these days she'll find such a role but until then she's had a rather successful career.
Here are a few things you might not have known about her.
10. She describes herself as 'blewish'.
This has to do with her father being Jewish and her mother being African-American. It's more of a clever play on her biracial status than anything and considering that she's the one that said it there shouldn't be anyone that can get too offended, hopefully.
9. She had her first child at age 30.
The longer a woman waits, on average, to have their children it's been said that childbirth can become increasingly difficult. 30 isn't exactly old but it's enough to realize that by the time your kid is grown up enough to move out and have their own life your younger years are going to be well behind you.
8. She started her career in sitcoms.
Jurnee went full-bore into the acting life when she was a child and didn't seem to feel the need to take the time to try out the stage or even commercials though it's likely that she did a few here and there. Otherwise she was in it and she was going forward without pause.
7. She was in The Gridiron Gang.
Her character in this one is in love with a young felon that gets sent up to a youth camp after shooting his mother's boyfriend in her defense. He loses everything but her, as she doesn't stop believing in him, though her father does. Her role is kind of small but it's still important since she gives Willie something to hope for.
6. Her career started in 1991.
It's interesting to realize she's been around a lot longer than people think, but then she started out as a kid so it's not all that hard when you really take a good look at it. She's just about grown up in the business in some sense.
5. She is very active in HIV/AIDS causes.
Jurnee had to witness this when she was still very young and ever since she's been involved in the struggle to help those afflicted and to figure out a way to stop the disease from killing others. It's a noble endeavor that she's taken to heart and that's rather inspiring.
4. She was in True Blood.
True Blood is likely going to stand as a favorite among vampire shows for many individuals but it still seems like an odd premise since vampires living among humans without any secrecy about their activities seems to fly in the face of all monster movies ever made. Maybe that's why it was popular.
3. She's going to be on Birds of Prey.
Though the project isn't slated to come out until 2020 it would seem that she's going to be playing the part of Black Canary, which will be interesting to see. She's got the talent for it, but whether or not she'll be the right person will be kind of intriguing to watch.
2. She was in Full House.
Remember her now? She was one of Michelle's best friends back in the day when she was past her baby years and was participating as a cognizant member of the cast. She showed up quite a bit actually if you can recall.
1. She's 32 years old.
Jurnee really isn't that old and has a lot of career left in front of her as she has the skill and the drive needed to make herself into someone that people can look to and claim that she is in fact worthy of a lead role and can bring a great deal of experience to any project.
Jurnee should be good to go for quite a few more years if she really wants to see her reputation soar. There's nothing holding her back, and in fact unless something did happen the only probability of her taking a break would be to have more family time, which is always reasonable. If that's not an issue though then she's got the sky to aim for.True Blood
Tell us what's wrong with this post? How could we improve it? :)
Let us improve this post!