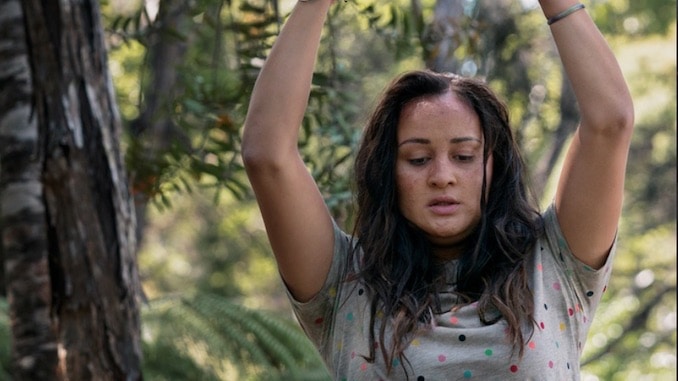 In the entertainment industry, all it takes is one opportunity to come along and change everything. That opportunity has finally come or Jenna Clause and she's enjoying every minute of it. The talented up and coming actress plays a main role in the new Amazon Primes series, The Wilds. Despite being very new to the industry, Jenna's confidence shines through on the screen. Her ability to keep viewers engaged doesn't go unnoticed either. She doesn't have any other projects in the works at the moment, but she's shaping up to have a career full of success and opportunity. Continue reading for 10 things you didn't know about Jenna Clause.
1. She's From Canada
There are some sources that have reported that Jenna is from New York. In reality, however, it appears that she was born and raised in the Fort Erie area of Ontario, Canada. In fact, Jenna is indigenous Candian and a very proud member of the Cayuga Nation Wolf Clan.
2. She's Always Loved Acting
Discovering the thing you're passionate about in life is a journey that can take some people their entire lives. Jenna is one of the lucky few who found her calling at a very early age. She's known that she wanted to act since she was a little girl and it didn't take her long to get enrolled in acting classes.
3. She Auditioned For The Wilds In 2018
The process for filming The Wilds ended up being a much longer process than anyone could have anticipated. She told the Toronto Guardian, " I originally auditioned in 2018 in Buffalo NY, and sent in my 3 scenes. Months later, I received an email for my first ever screen test! I screen-tested over Skype with the writer and other casting directors and I again did my 3 scenes for the role. Months go by and one day, I was sitting on my porch and out came my family with confetti and their phones recording my reaction as they told me I got the role of Martha in 'The Wilds". The pilot episode was filmed in 2018, but a whole year passed before the show was picked up for a full season.
4. She's A Lacrosse Player
Acting isn't the only thing Jenna is passionate about. She is also a talented athlete who has been playing lacrosse for many years. Jenna even has an entire highlight section in her Instagram stories that is dedicated to the sport. When she isn't busy with work, you can usually find her on the lacrosse field.
5. She's Close With Her Cast Mates From The Wilds
Not only has The Wilds been a great experience for Jenna professionally, but it's also been positive on a personal level. Jenna formed a tight bond with her cast mates while filming and they spent a lot of time together away from the set. The connection all of the actors have in real life comes through naturally on screen.
6. She's Not A Teenager
Jenna isn't really a teenager, she just plays one on TV. She is actually 21 years old, but her youthful face means that she could easily pass for someone who is around 16-years-old. Jenna isn't the only cast member who is playing someone much younger than they are in real life.
7. She Likes To Stay Low Key
For many years, people who work in the entertainment industry were known for putting their business out in the world for everyone to see. That trend seems to be changing a bit, however. Like many other young entertainers, Jenna prefers to keep a more low profile. She enjoys her privacy and doesn't appear to have any intention on sharing every detail of her personal life with the world.
8. The Wilds Is Her First Main Role
Being cast in The Wilds is truly an opportunity Jenna will never forget – for more reasons than one. Although it wasn't her first on screen opportunity, it is her first major role and her first time in a TV show. With the way things are looking for Jenna so far, it definitely won't be her last.
9. She Loves To Read
Jenna loves to learn new things and reading is one of her favorite ways to do that. During an interview with Tribute Movies Jenna shared that she loves to read. Since she has had more time on her hands during the pandemic she has been using it to catch up on reading.
10. She's Excited About The Future
Now that Jenna has officially gotten her foot in the door, the possibilities are truly endless. She has gotten lots of positive feedback for her work in The Wilds and the show has already been renewed for a second season. There's no doubt that Jenna is looking forward to the many opportunities that will be coming her way in the future.