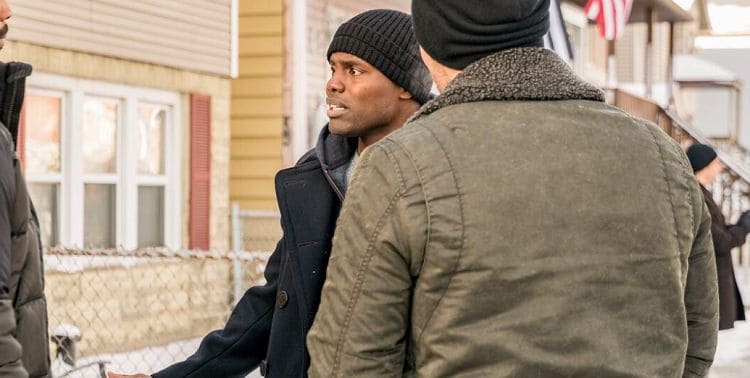 Cleveland Berto may seem like a new person on the scene when it comes to the acting world, but the truth is he's been putting in a lot of time and effort to get to where he is today. He made his on-screen debut in 2010 and he's been working his way up ever since. It was recently announced that he's been added a series regular to the popular show Chicago P.D. As a part of the show, he will likely appear in crossover episodes with Chicago Fire and Chicago Med. Prior to joining the cast of Chicago P.D. , Cleveland had roles in shows like Shameless and Fresh of the Boat. He was also in the Lifetime biopic, Salt-N-Peppa. Keep reading to learn 10 things you didn't know about Cleveland Berto.
1. He Comes From A Family Of Fighters
Cleveland appears to be the only actor in his family, but he certainly isn't the only one who's made a career out of keeping people entertained. Several of his family members are professional fighters including his father and his brother, Andre, who was an Olympic champion for Haiti.
2. He Is Dating Someone You May Recognize
Being in a relationship with someone who understands what you're passionate about is very important, and it looks like that Cleveland has found that. He is currently dating actress, Jennifer Holmes. Some people may recognize Jennifer from her role as Laurel on the hit series This Is Us. We don't know exactly how long the couple has been together but things seem to be going very well between them.
3. Family Is Important To Him
Cleveland doesn't appear to have any children of his own, but family is one of the most important things in his life. Based on his social media activity, it's clear that he has a very close relationship with his loved ones. Not only does he support their accomplishments, but they are supportive of his as well.
4. He Likes To Stay Active
Cleveland may not be a professional fighter like some of the other people in his family, but that doesn't mean he doesn't like to stay active. He is serious about keeping himself in good shape and he spends a lot of time working out. If he's ever cast for a role that calls for some shirtless scenes he will most definitely be ready.
5. Chicago P.D. Fans Are Already Loving Him
Despite being the new guy on Chicago P.D., longtime viewers are already taking a liking to him. Several fans of the show have taken to Twitter to comment on Cleveland's performance on the show. A user named bvfsqre tweeted, "Great episode, and
@ClevelandBerto was AMAZING, he should get an Emmy for that performance tonight. He was so nuanced and intense. He made me see and feel his internal pain and conflict. That was some lyrical acting."
6. He Is A Football Fan
Going to the gym isn't the only way Cleveland likes to incorporate exercise into his routine. He is also a football fan who enjoys getting out and playing whenever he gets the chance. We weren't able to find any information to indicate that Cleveland has ever played football competitively.
7. He Is Not Really Into Social Media
As someone who is young, good looking, and talented, Cleveland has the perfect ingredients to build a large social media following. Surprisingly, however, he doesn't really seem to be that into social media. He has accounts on both Instagram and Twitter but he isn't as active as you might expect.
8. He Has Almost Two Dozen On-Screen Credits
Cleveland may not have the longest resume in the industry but he's doing pretty well. He currently has 21 on-screen credits which includes two projects that he currently has in production. With the way his career is going, he's going to have plenty more credits to add to his resume in the future.
9. He Is A Private Person
Even though his star is beginning to rise, Cleveland seems to be interested in keeping his private life out of the spotlight. There isn't much information online about his personal life including details about where he's from. He also hasn't appeared to do any interviews just yet.
10. It's Unclear If He's Had Formal Acting Training
While it's clear that Cleveland has a lot of talent, what we don't know is whether or not he has any formal acting training. There's no information on if or where he attended school. Either way though, things have worked out nicely for Cleveland so far in his career and his future is looking very bright.
Tell us what's wrong with this post? How could we improve it? :)
Let us improve this post!