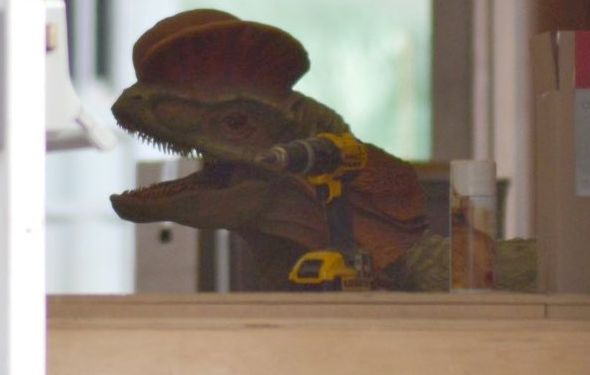 There are some movie franchises in the world that you know are so ridiculous and yet you keep coming back for more. Technically after the very first Jurassic Park it pretty much should have ended there. However, the thought of scientists creating a second site for testing purposes actually makes a decent amount of sense so we let that slide. In the third installment it started getting a little ridiculous because well, shouldn't anyone have learned by that point? However, despite the insanity, Jurassic Park 3 was considerably better than Lost World and didn't even have Spielberg directing.
But bringing back the entire franchise is just obscene, yet here we are, shelling out our money to see ANOTHER Jurassic Park. Jurassic World was the park that "got it right." No it didn't. It got nothing right. It created an even more dangerous dinosaur that terrorized the park and its customers. But hey, why stop there? Let's create even MORE dinosaurs with a Jurassic World sequel. And yes there appear to be WAY more dinosaurs coming in Jurassic World 2. I've never seen a franchise where you know EXACTLY what's going to happen every single movie and yet we all pay to see more. Take a look below at some new photos.
P.S. despite how ludicrous all of these movies are after the first, yeah, I'll still go and see it because I'm a sucker like the rest of us.
Most of the images are of a Dilphosaurus, which long-time fans of the Jurassic franchise will probably remember from the original movie. If you recall, this is the dinosaur that sprayed down Nedry in the Jeep, after he'd lost his glasses. The use of the Dilphosaurus could be a great step toward taking the franchise back in the direction of the first film.
https://twitter.com/sickkgirl_/status/851862240873635842
Here we go! A clear pic! Thanks guys for those who were able to help brighten it and make it look good. #JurassicWorld2 pic.twitter.com/vz2e3X2D6p

— 🎢🦕🦖 Sonny 🦖🦕🎢 (@sonnykbell) April 11, 2017
The second dinosaur pictured is the Apatosaurus, but it's much harder to make out. In the photo, you can see the long-neck bending down on the left side, appearing near its large trunk-like legs.
Apatosaurus #JurassicWorld2 pic.twitter.com/I1hklCKl5l

— 🎢🦕🦖 Sonny 🦖🦕🎢 (@sonnykbell) April 11, 2017