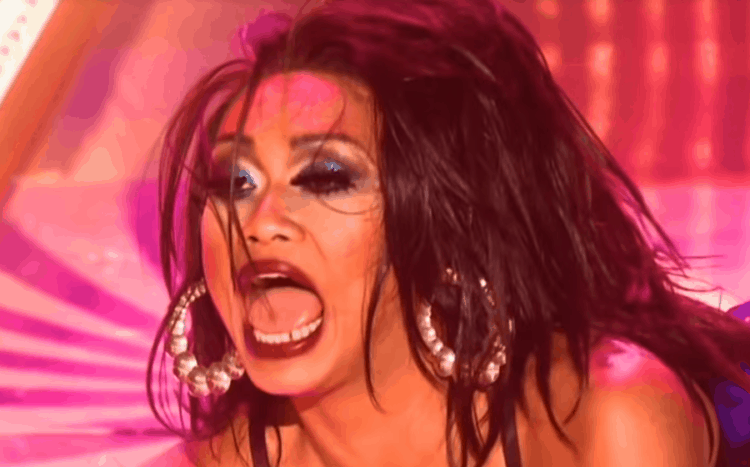 Since appearing on the second season of RuPaul's Drag Race, Jujubee's career has taken off. Even a decade after being on the show, Drag Race fans still have fond memories of Jujubee. Her vibrant personality, flashy style, and gorgeous makeup have helped to make her one of the best-known queens. Despite her fame, Jujubee remains humble and continues to stay on her grind. She was recently cast as a fashion expert on TLC's new series Dragnificent! and fans are very excited to see her back on TV. Keep reading for 10 things you didn't know about Jujubee.
1. She Has Struggled With Addiction
Dealing with addiction isn't an easy thing to talk about – especially when your life is in the spotlight. However, Jujubee has opened up about the challenges she's dealt with over the years. She told Stranded Hotels, "I'm an alcoholic and addict and that's me. I'm so happy that I get to finally come to terms with that." However, as of 2018, she was beginning on her journey to sobriety.
2. The Name Jujubee Came From Her Her Drag Mother
Lots of drag queens pick their own names, but Jujubee's was sort of a surprise gift. In her interview with Stranded Hotels, she recalled the moment she was given the name: "at a competition, they announced the winner as Jujubee…None of the girls were Jujubee. And then the host was like, "Girl, that's you." And I was like, "That's not my drag name." And she was like, "It is now." My drag mother didn't tell me what my name was until I won."
3. She Began Doing Drag At 16
Jujubee first discovered her love for drag when she was a teenager living in Boston. She says she dressed up in drag for a Halloween party and quickly fell in love with the elements of creativity that went into developing a new persona.
4. The Movie To Wong Fu Changed Her Life
When the film, To Wong Foo, Thanks for Everything! Julie Newmar, was a game changer when it came out in 1995. The movie featured Wesley Snipes, Patrick Swayze, and John Leguizamo as drag queens from New York City who embark on a road trip to California. Jujubee said seeing the movie initially made her feel uncomfortable as a child, but ultimately it has changed her life and become one of her favorites.
5. She Has Laos Ancestry
Although Jujubee is from Boston, her family is from Laos. In 2013, she spoke with Out Magazine about taking a trip to Laos and said, "I'm going to try my best to at least touch the dirt there. That would be my Whitney Houston-going-to-Cape Town moment."
6. She Likes To Sing
Entertainment is one of the biggest elements in drag. Although lip syncing is very common during performances, Jujubee likes to let her own vocals loose every once in a while. At one point, she was even working on her own studio album.
7. Paula Abdul Had Her Starstruck
Everybody has at least one person they'd be starstruck over if they ever got the chance to meet. For Jujubee, that person was Paula Abdul. Jujubee referred to Paula as an "icon" and said she will always be a big fan.
8. She Loves Fried Chicken
Of course Jujubee is in the business of keeping that body snatched, but that doesn't mean she can't enjoy a good cheat meal every once in a while. Fried chicken is one of her favorite foods and she says she keeps some around at all times.
9. She Likes To Give Back To The Community
Juju bee is all about using her platform to help others. Over the course of her career, she has worked with charitble organizations including Out Metro West (OMW). According to the website, the organization's mission is is to build "communities where LGBTQ+ youth thrive." Jujubee feels a special connection to this organization because she wishes she had a place like OMW when she was younger.
10. She Was In A 12 Year Relationship
Jujubee was in a 12-year-relationship with a man named Chris who was also her manager. The two were engaged by eventually decided to call it quits. They initially tried to be friends but decided to end that relationship as well. Jujubee said, "it's kind of hard to get out of a 12-year relationship and then jump into a friendship. And then you know when you break up with somebody it seems as though everybody who knew shit now start telling you? That's what happened."