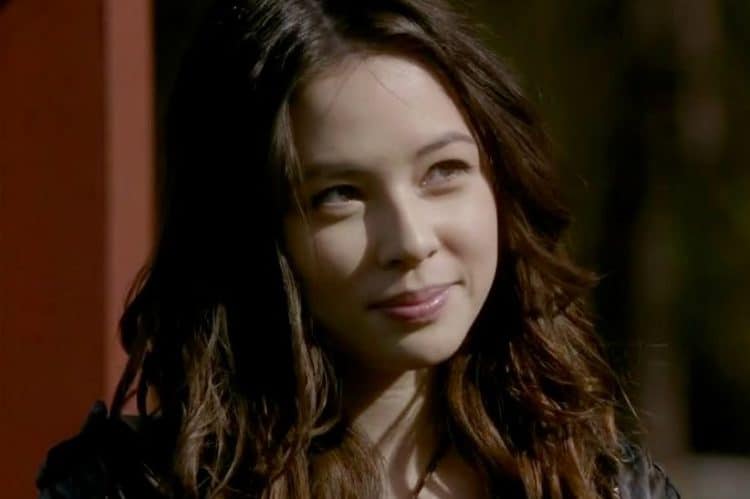 Malese Jow is one of those actors you definitely know if you watch the CW. She's no longer on the network but the fans that have followed her for a while could attest that she was one of the most well-known and favored actors on whatever show she happened to be on at the time. Her career has stretched for just over two decades now and she's still going strong as she hasn't really slowed down to take a breather yet. Some of the roles she's played so far seem like they might be a bit forgettable but others are no doubt cemented in the minds of her fans as she's put a lot of effort into what she does and tends to bring her A game to the set most times.
Here are a few things you might not have known about her.
10. She loves to sing.
Malese loves to raise her voice now and again in song and is also labeled as a songstress. Whether she really intends to keep going with her singing career or will allow her acting career to overshadow it is unknown but it's always nice to see that people with a true talent for song keep up the hobby just for the heck of it.
9. She's into reading Harry Potter, Twilight, and The Hunger Games.
A lot of actors are avid readers to be quite honest, but getting the time to read seems to be the problem sometimes since a lot of them are so busy that you can easily imagine that they don't always get the time. Malese seems to know what she likes though and is very partial to the Hunger Games.
8. She had a role in the Vampire Diaries.
The show is pretty much what it sounds like and is a big-time love story that has to do with vampires. In some ways it's almost like a TV version of Twilight, but don't tell that to fans or you might have a serious argument on your hands.
7. She had a part in Big Time Rush.
Big Time Rush is a Nickelodeon show about four guys that get into a series of misadventures and get the chance to meet several celebrities that join them in their adventures or are just there to make the show something a little more special.
6. She had a very important part in the Shannara Chronicles.
The character of Mareth is important since she's the one that has to take up the mantle of the Druids after Allanon is gone. This is a very big responsibility and throughout the show it's seen that she takes it quite serious and yet doesn't know if she's up to the task. While the show is deviating quite a bit from the books it's still staying exciting enough to keep a lot of fans interested and coming back for more.
5. Her career started in 1997.
There's a reason why she's been able to amass this kind of resume and it's not just because she's that busy all the time. Malese has been around for a while and has learned a few things no doubt about the industry. This could be why she's got an impressive resume but not one that is overly packed with credits.
4. She has a part in The Flash.
It's kind of amusing to watch anyone take on the Flash and bring him down even if it's staged. Dr. Light is a different character indeed but one that seems to have been a super-villain first before becoming a hero of any sort.
3. She had a crush on Aladdin at one point.
A lot of us could possibly admit that we had crushes on Disney characters at one point right? Malese had a crush on Aladdin before she even knew what a crush was. It's safe to say that she grew out of it, but who knows?
2. She loves to travel.
She's always wanting to go new places and see new things, exhibiting a lust for life and for new experiences that's very refreshing and enables her to fully enjoy the places she gets to go and immerse herself in the culture as much as possible.
1. She loves to meet with fans and hear them talk about how certain characters inspire them.
It's nice to see when actors actually enjoy talking to people. A lot of them tend to get overwhelmed or say that they love talking to people but don't ever show it. The life of an actor has to be somewhat stressful but they touch the lives of so many that's nice to hear that some of them will actually take the time when they can to talk to people and find out how much they've been inspired by the work they've done. That's got to give them a warm feeling at least.
By that it's meant that both the actors and the fans walk away feeling somehow inspired.
Tell us what's wrong with this post? How could we improve it? :)
Let us improve this post!