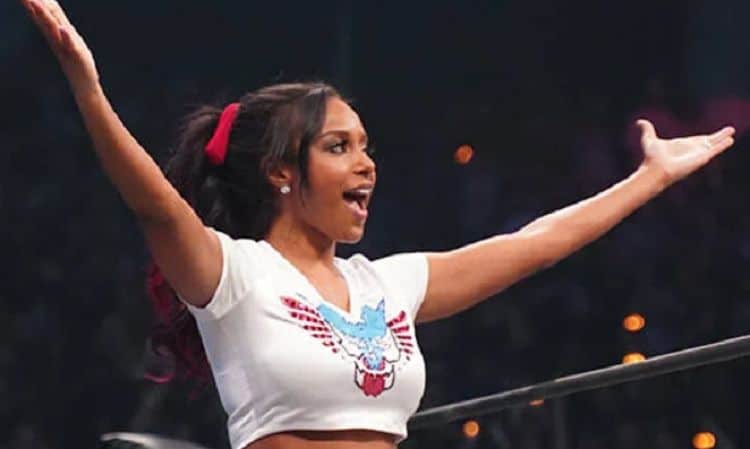 Perhaps you've heard of Brandi Rhodes. She has been a ring announcer and competitor on many professional wrestling networks, including WWE, TNA, and the British promotion WCPW. Plus, she has been married to Cody "The American Nightmare" Rhodes since 2013 (Cody is the son of Dusty "The American Dream" Rhodes). In recent news, she is a central member of the cast of WAGS Atlanta, a spin-off series about the wives and girlfriends of sports superstars. The show follows the personal and professional lives of several women who either are or have been involved with famous athletes. Brandi Rhodes is going to bring her distinct personality and showmanship to WAGS Atlanta, making this series one to remember.
Outside of the ring, Brandi Rhodes has found success in various fields, including modeling and television. She is also an excellent marketer and has a solid stage presence. So, if you're planning to catch this season of WAGS Atlanta, you should read on to learn about five things you didn't know about Brandi Rhodes.
She Was a Figure Skater
Brandi Rhodes started ice skating at the age of four, and skated competitively for seventeen years. She attributes her affinity for the ice to her expertise in "all things stretchy". This definitely applies to her wrestling career as well — Rhodes' moves require a lot of flexibility and agility.
Her Television Career Started on Local News
Ever since she was young, Brandi Rhodes knew that she wanted to work in television. Her career started off when she was living in Michigan, reporting and anchoring for a local news station. After her move to Miami, she anchored University of Miami TV (UMTV) for some time. This gave her invaluable experience in building up a media presence; this training would serve her well later in her career.
She is Well-Educated
Brandi Rhodes holds two degrees. She initially received a bachelor's degree from the University of Michigan, and then pursued a Master of Arts in Broadcast Journalism from the University of Miami (this was during her time anchoring UMTV). Even though Rhodes could have pursued many career paths, she chose the adrenaline and showmanship of wrestling over anything else. This only proves her commitment to the ring.
She has Her Own Line of Swimwear
In 2015, Brandi Rhodes decided to share her stylistic sense with the rest of the world. She started Confection Swimwear, and began selling swimsuits for women that were all made in styles that she personally approved. There are currently five custom styles offered from Rhodes' company.
She Won the Ironman Heavymetalweight Championship
This wrestling championship, hosted by DDT Pro-Wrestling, started back in 2000. It is known as a comedic event — title holders include a trio of elementary school girls, several famous cartoon characters, an invisible wrestler, and even the title belt itself. In March 2017, Brandi Rhodes defeated Joey Ryan — even after being dropped on thumbtacks — and took the Ironman Heavymetalweight Championship title. She was the 1217th holder of the Championship, and didn't even hold the title for a full day.
So, are you planning to watch the newest rendition of WAGS? It premiered on January 3rd on E!, and should deliver another great experience. Who do you think will be your favorite girl?
Tell us what's wrong with this post? How could we improve it? :)
Let us improve this post!