It may be some time yet before we know exactly where the blame for Justice League falls. Was it just Warner Bros' constant, heavy-handed interference during and after the movie's notoriously troubled production? Was it that Zack Snyder was perfectly unsuited for a franchise that was (at its best) never supposed to be as dark as he clearly wanted to take it? Was it Joss Whedon, who took over for Snyder after the latter dropped out of the film's post-production and had a drastically different vision for what the film should look like? Or was it simply that it was the inevitable end-point of a consistently rotten franchise that could never quite escape from the shadow of Christopher Nolan's Dark Knight trilogy?
Regardless of where the blame rests, the film's opening credits seems like a scathing indictment of everything that went wrong with the project over its now infamous production. And the fact that Joss Whedon was the man responsible for that, at least, makes total sense.
For those of you who haven't seen the movie — or who, like me, have trouble remembering anything from that disjointed mess of a blockbuster — it opens with Batman bating a Parademon out of hiding by scaring some poor, low-level goon on a Gotham rooftop. What follows is a depressive montage of a world without Superman. Foaming-at-the-mouth bikers are dragged out of a small, minority-owned grocery store after assaulting the owners. Stacks of newspapers proclaim "A World Without Hope." A homeless man hold up a sign that simply says "I tried." All the while, a dour cover of Leonard Cohen's "Everybody Knows," which details how the game (of life) is fixed and all the heroes have already lost.
On the surface, this seems like a Snyder move. It fits his existential, gloomy outlook that he's brought to nearly every one of his films, especially his DC canon. Whedon's the happier seeming of the two men: whose filmography is colorful, playful and, above all else, fun. He's the man behind Buffy the Vampire Slayer, Dr. Horrible's Sing-a-long Blog and The Avengers.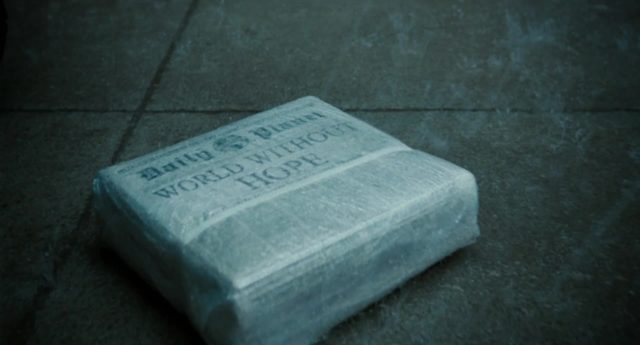 The fact that Whedon directed that sequence, and pushed for that song in particular to play over it, seems to be his pointed summation of this moment in DC filmmaking. What should have been a monumental coming out for the world's premiere superhero team — one that, by all rights, should have trounced the Avengers, given the absurd amount of talent and money that went into this project — was instead long-overdue funeral service which opened with a suitably fatalistic dirge.
Everybody knows the dice are loaded. Everybody rolls with their fingers crossed. Everybody knows the war is over. Everybody knows the good guys lost.
Tell us what's wrong with this post? How could we improve it? :)
Let us improve this post!