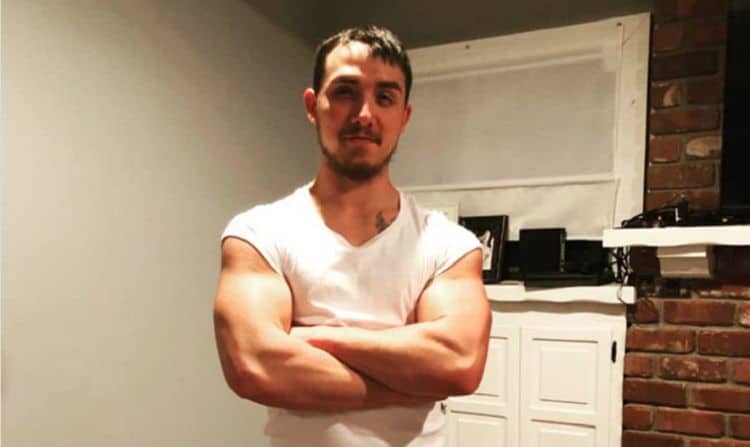 If you're a Teen Mom: OG fan, you've probably gotten pretty familiar with Mackenzie's husband, Josh McKee. Since Mackenzie joined the show in the 8th season, Josh has also become a fixture. Although he isn't technically a cast member, he has played a large part in Mackenzie's storyline. Unfortunately for Josh, his portrayal on the show hasn't always been positive. Not only did he cheat on his wife, but his lack of empathy after her mother's death left a lot of viewers shaking their heads. Despite the ups and downs he's had on the show, Josh seems to be trying to turn things around. Continue reading for 10 things you didn't know about Josh McKee.
1. His Faith Is Very Important To Him
The topic of religious hasn't come up much in Mackenzie's story line on the show, but faith is something that is important to both of them. Josh is a devout Christian whose belief in God has guided him throughout his life. However, it's unclear which denomination he belongs to.
2. He's Really Into Fitness
Staying healthy and fit are at the top of Josh's priority list. He spends a lot of time in the gym and he and his wife often create couple's workouts. In fact, they have created a 30 day dumbbell challenge under Mackenzie's Body by Mac brand. The challenge is being sold for $15.99.
3. He's Been Accused Of Cheating Again
After Josh's first cheating scandal, it seemed as though he and Mackenzie were going to work things out. Recently, however, Mackenzie went on Facebook and accused her husband of cheating on her again – this time with her cousin. According to Mackenzie, she discovered the alleged affair after going through Josh's phone and seeing he and Amanda had been communicating quite frequently. This was clearly the straw that broke the camel's back. Or at least, it would have been if it were true. Shortly after the accusation, Mackenzie said that she was an "idiot" and that Josh hadn't been cheating.
4. He Is A Real Life Cowboy
We've all heard stories and seen movies about cowboys, but to most of us that's all they are – characters in a story. However, Josh McKee is an actual cowboy who competes in bareback riding competitions. Unfortunately though, his cowboy lifestyle has caused problems in his relationship with Mackenzie.
5. He's Used Social Media To Put His Wife On Blast
For the most part, Josh is a pretty low key guy. Despite the issues he's had on the show, he really seems to be the type of person who wants to avoid drama as much as possible. However, that didn't stop him from airing his wife's dirty laundry on social media in 2017. At the time, Josh was convinced that Mackenzie was cheating on him and he went on Facebook to share his thoughts.
6. He's Appeared On His Wife's YouTube Channel
For the last 5 years, Mackenzie has been uploading videos on YouTube. Her channel, Life with Mackenzie, features an glimpse into the family's life outside of what is shown on Teen Mom. Josh has appeared in several videos on his wife's channel, and he appears to enjoy being in front of the camera.
7. He's An Involved Father
During his segments on Teen Mom, Josh doesn't always come across like the most involved husband or father. However, judging by his social media, Josh is actually very involved with his children's daily lives. The father of three spends as much time with his kids as he can, and he enjoys teaching them new things.
8. He Attended Community College
According to his Facebook page, Josh attended Fort Scott Community College. The school is located in Kansas which means that he temporarily moved away from Oklahoma at some point. His profile doesn't mention what he studied or whether or not he earned his associates degree.
9. He Likes To Hunt
Josh is what lots of people would call a 'man's man'. He loves to spend time outdoors and doesn't mind getting his hands dirty. One of his favorite hobbies includes hunting. He also likes to go fishing which is something that he enjoys doing with his oldest son.
10. He Owns His Own Company
Have you ever watched Teen Mom: OG and wondered what Josh does for money? Apparently, he's an entrepreneur. He owns a business called 5M Drywall. Through his business, Josh does construction and other projects including renovating old kitchens and bathrooms.
Tell us what's wrong with this post? How could we improve it? :)
Let us improve this post!