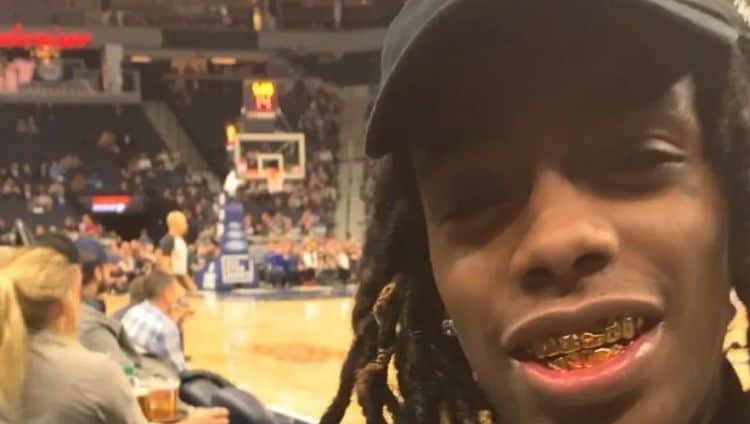 There's a lot of stereotypes that are associated with rappers, and YNW Melly is one of those rappers who unfortunately fits that bill. He's in a gang, he's been in prison, and he's had a hard life on the streets. These are the kinds of things that many rappers are characterized to have lived by, sing about, and say they grew up with…..but this is a guy who actually did. He's young, he's got a lot of music out for people to listen to, but he's not had an easy life. It's one that's been made more difficult by the fact that he's made some poor choices about his own life, too, and we thought we might get to know more about him.
1. He and His Mother Are Both Young
YNW Melly is actually Jamell Maurice Demons. He was born to Jamie Demons and Donte Taylor. He was born on May 1, 1999. His mother was 14 when she had him, and she was just starting her first year of high school. This means that the rapper just turned 21, and his mother is only 35.
2. His Mother Raised him Alone
His father was not part of his life growing up. We don't know how old he is or was when he got YNW's mom pregnant, but he didn't stick around to be part of his son's life. His mother struggled being that she was only a new teen and a new mom at the same time. They didn't have the money to afford the things that they needed, and he grew up quite poor.
3. He's Been to Prison
He's been to prison, and he is still in prison. His first prison stint was when he was only 16 after he was found guilty of shooting at students near Vero Beach High School in Florida. There were several other counts associated with this shooting that landed the juvenile in jail for many months.
4. He's Got Drug Issues
He was arrested again in 2018 in Fort Myers after police found drugs and drug paraphernalia on him. I was marijuana, but he also had a gun and ammunition on him. Since he was a convicted felon at this point in his life, he was not permitted to have those items on him. He was also arrested in 2019 for drug possession.
5. He's Been Accused of Murder
In 2019, he was also charged with first-degree murder (two counts of it). He was accused of being part of a shooting that killed two of his associates, both of whom were close friends of his at some point in his life. He was connected to their 2018 deaths, and arrested for that. Additionally, it was released just a few weeks later that he was – and still is if we are not mistaken – a suspect in the shooting death of a police officer in Indian River County.
6. He's Had COVID-19
He made the announcement in April 2020. He told his fans through his management team that he had tested positive for the virus and that he was seeking release from prison for health purposes. He was denied the ability to get out of hail because of it.
7. He's Got a New Grill
A friend just released a video of him on a FaceTime call with his imprisoned friend, and the rapper just had to show off his new diamond teeth. Many fans and others are wondering how he ended up with a new grill made of diamonds while in the middle of prison? And why he is making FaceTime calls with friends in the middle of jail?
8. Many Wonder About His Prison Treatment
Another incident that has people wondering what is going on in in the prison where he is was the time that he was shown showing off his new Versace kicks. Who gets a new pair of Versace sneakers to wear in jail? It doesn't make much sense to many, and they're asking a lot of questions.
9. He Thinks He'll Be Out in 2020
We don't know much about his case or how things work, but we know he's yet to go to trial. We don't know if this means he can come home at some point prior to this trial or if things will simply be dropped, but he told someone in an interview that he will be home in 2020.
10. He's in a Gang
He was only a young boy when he made the decision to join a gang. He's part of the Bloods, which is a gang that is primarily located in Los Angeles. Despite he fact that he is a Florida native, he managed to join and spend most of his young years in the gang. We don't know if he's still part of it, or how that even works.