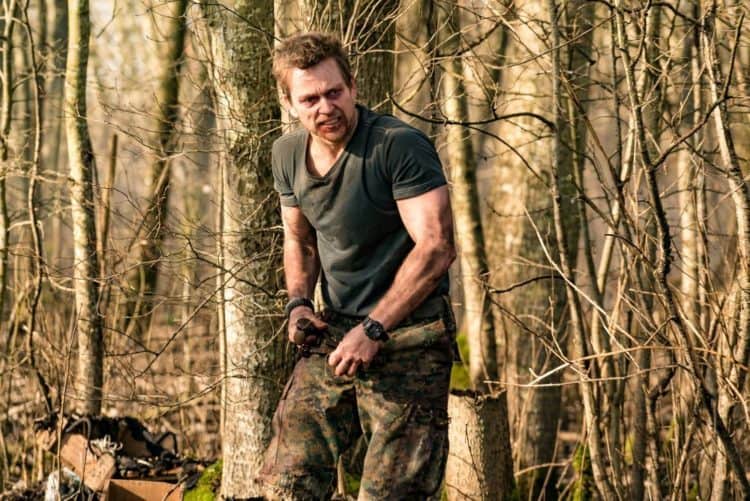 Jonathan Scarfe's face is one that you've probably seen on your screen dozens of times throughout the years. Since making his on screen debut in 1993, Jonathan has gone on to earn a wide variety of acting credits in all sorts of movies and TV shows. His ability to act across genres has served him well over the years and his work appears to a very wide audience. No matter what you've seen Jonathan in, you'll probably agree that he put on an unforgettable show. Most recently, he has gotten attention for his role as Axel Miller in the TV series Van Helsing. As the show gets ready for its fifth season, viewers everywhere are looking forward to seeing Jonathan and the rest of the cast back in action. Here are 10 things you didn't know about Jonathan Scarfe.
1. He He Dropped Out Of High School
American viewers have seen Jonathan so much throughout the years, that most people probably think he is from the United States. However, Jonathan was actually born and raised in Canada. He dropped out of high school when he was 15 and began to develop an interest in acting the following year.
2. He Isn't The Only Actor In The Family
Most would agree Jonathan's decision to become an actor was somewhat inevitable since a love for performing runs in his family. Both of his parents, Alan Scarfe and Sanfra Botsford, are professional actors. His step-mother, Barbara March, is also an actress.
3. He Has Lots Of Behind-The-Scenes Experience
Being in front of the camera is what most people know Jonathan for, but that isn't the only thing he's done during his career. Jonathan has also gotten a lot of experience doing things from the other side of the camera. He is a talented writer, director, and producer who has worked on a handful of projects.
4. He's A Husband And Father
Jonathan's profession isn't the only thing he's devoted a lot of time and energy to. He is also a devoted family man who enjoys spending as much time with his loved ones as he can. Jonathan has been happily married to actress Suki Kaiser since 1998. The couple has two children together.
5. He's An Avid Skiier
Jonathan is a very adventerous person and he also likes to stay active. Skiing has become the perfect way for him to tap into both of those things. He loves to go skiing as often as he can and he has even traveled to other parts of world to enjoy some of the best slopes.
6. He's Sailed Around The World
Skiing isn't the only way Jonathan likes to express his adventurous side. He also likes to travel, but he doesn't do just any ole' kind of traveling. Several years ago, Jonathan took a break from acting and spent two years sailing around the world with his wife and children. Hell on Wheels was his first role after returning.
7. He's A Low-Key Guy
With all of the time Jonathan has spent in the entertainment industry, most of his fans would expect to know a lot more about him. However, he has never been the type to share a lot of personal information with the public. Instead, he seems to enjoy living his private life away from the spotlight.
8. He Has Almost 100 Acting Credits
Being a professional actor can be very inconsistent. So any time someone is able to build up a solid resume, it's definitely something to be proud of. According to his IMDB page, Jonathan currently has 92 acting credits. If he continues working at the pace he's been going at, there's no doubt he'll eventually reach well into the 100s.
9. He's Open About His Political Beliefs
Despite the fact that Jonathan is a private person, his political beliefs aren't something he's been quiet about in most recent years. He's made several social media posts displaying his disdain for former president Donald Trump. He has also made posts showing his stance on sexual assault.
10. He Was A Shy Kid
Initially, Jonathan didn't think he'd have a career as an actor because he was a very shy child. During an interview with Sci Fi and TV Talk, Jonathan said, "I was a very shy kid and never thought I would ever be an actor. My parents were both actors, and everyone always asked me if that was what I wanted to do, and I always told them, 'Absolutely not.' I actually wanted to be an ornithologist. I was kind of a math geek and heavily into Dungeons and Dragons."
Tell us what's wrong with this post? How could we improve it? :)
Let us improve this post!