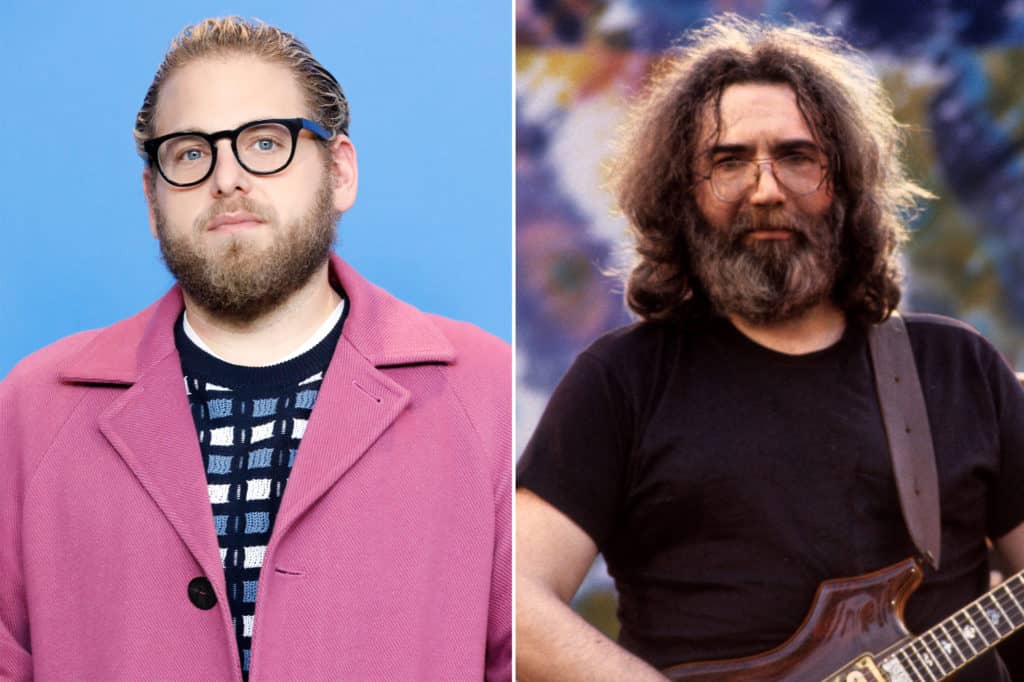 There's no production date set for this upcoming movie yet, but the excitement is already there for the chance to see what Martin Scorsese and Jonah Hill can do to bring a story about The Grateful Dead to the small screen as they'll be teaming up to bring this project to Apple TV+ at some point. The first reaction when seeing the pick to play Garcia is that Hill will no doubt be fully capable of making this work. Personally, Jonah Hill is not a favored actor of mine, but practicality tends to win out over favoritism at times since he is still an effective and talented actor that has many roles that have he's taken on over the years that have been more than a little memorable. So thinking that he's going to nail this role is easy to admit since looking at the two side by side in an image might make a lot of people feel the need to criticize, but it's also easy to think that with the right wardrobe and after he's done in the makeup chair, Hill will be able to become Garcia for the purpose of this movie.
Even better is that it sounds as though the remaining members of The Grateful Dead and Jerry Garcia's daughter will be overseeing this movie, which means that the band name can be used and, hopefully, Scorsese will be sticking to the facts as much as possible. That's kind of tough to tell since when it comes to who gets the last say, a director such as Scorsese tends to get the last word, though a lot of times he does manage to tell a great story that is capable of being enjoyed by the fans and those that the story is based upon. It might be a while until this movie is released, but there's bound to be plenty of talk about it in the days to come since this is a fairly big deal to many people since The Grateful Dead is one of the many bands that people would like to see showcased in a manner that is befitting their status as musicians and entertainers.
That being the case, one has to wonder how many liberties Scorsese will attempt to take, and how his efforts will be viewed by the band. Scorsese has shown a penchant for stretching the truth or fabricating it in a few of his movies, as has been seen in features such as Gangs of New York and The Wolf of Wall Street, as Jonah Hill's character in the latter movie was based very loosely on a real person, even if the real person wasn't represented as he really was. In other words, not everything that's placed in a movie based on real people and events is bound to be as true as it might appear to be. One can probably expect a few things to happen in the movie that won't be true to life, but then again, one can also expect that it will be the diehard fans or the 'deadheads' who will be able to say whether or not something happened the way it did, since there are plenty of people out there that have followed The Grateful Dead for so long that they likely remember things that he band members don't.
When think of Hill playing the part of Garcia though it does make a lot of sense as the idea that Hill could step up and become Garcia for this role isn't hard to fathom, nor does it sound like something that might be the fever dream of someone that happens to adore Hill. There are those times when an actor simply appears to be the right fit for a role, either because of their looks, their attitude, or their overall skill set. This would be a combination of all three, though it does feel as if Hill might need to tone down on his otherwise acerbic sense of humor for a bit to really nail the part of Garcia since in quite a few movies Jonah has become well-known for his ability to crack a joke and come back with a biting comment from time to time.
This is a part of Hill's regular act that he has managed to dial back when he needs to, but tends to come out either thanks to the dialogue or the fact that this appears to be his default setting. It's bound to happen at least once or twice in the movie since every actor will go back to their comfort zone now and then when they feel the need, or they'll slip into it by habit and need to work to get out of it again. Whatever happens, it does feel that Hill will make this work and that this movie will be worth watching at least once.