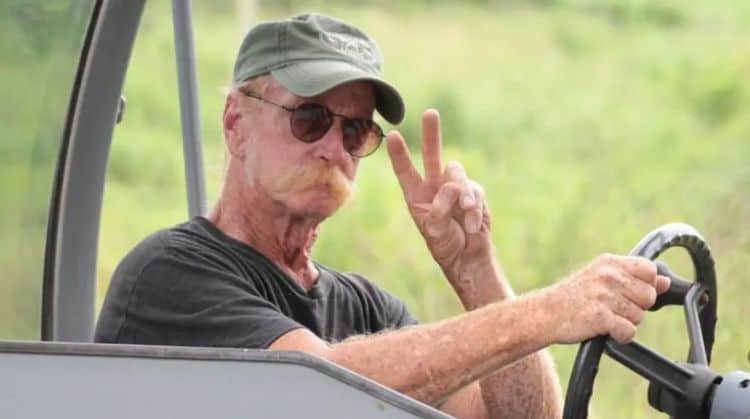 Fans love "Barnwood Builders," and we can see why. The show is such a unique concept that allows people to get a glimpse into the lives of contractors who travel the country looking for old barns that they can change up. Aside from the fact that the show is so interesting in terms of how different it is than other DIY shows, the cast is a lot of fun. Johnny Jett is a man who fans want to learn more about. He's been around, but he's not much of an over-sharing kind of guy. Fans can't learn enough about them to satisfy their desire to know more, so we did some digging.
1. He's in His 70s
It might not come as a surprise to anyone that he's a bit older, but he's still as spry as they come. He keeps himself busy, which keeps him active. Being active at his age keeps him young and healthy. Johnny was born on April 24, 1949. He's going to turn 72 in 2021.
2. He is Not from West Virginia
It's a fairly common misconception due to the fact that the show is based there, and so are many of the cast members. He might live there now, but Jett was actually born and raised in a big city. He hails all the way from Chicago, Illinois. His desire to get into this line of work is what brought him to West Virginia.
3. He's Got the Key to Success
It's a simple key, too. He always says that the way he achieved the success that he did in this line of work is his experience and his practice. When you spend years doing something, you just become good at it. It's something he's always worked hard to achieve, and he's not slowing down on his hard work anytime in the near future.
4. He Enjoyed the Four Corners
Not the game your kids play in elementary school physical education on a rainy day when they can't go out. The actual area where four corners of four states meet allowing people to be in four places at one time. It's a cool concept, and he was pleasantly surprised by it. He didn't think he'd enjoy seeing it nearly as much as he did.
5. He's Very Private
As a person, he's very private. He shares next to nothing about his family. We believe he has a grandchild, a boy, but we know almost nothing about his kids and his wife. He's been able to keep things very lowkey, but he also comes from a generation that doesn't use social media nearly as often as the younger generations use it.
6. He's Got a Website
He's got a website of his own, and it's where he sells his artwork. He doesn't speak of his family on there. He doesn't share anything about himself on there, but he does use the internet to do his work and to promote his art.
7. He's Always Been into Heavy Machinery
It shouldn't come as a surprise to anyone, either. He's a man who loves machinery and equipment, and he has since a child. He knew he'd find work one day operating something large and impressive, and he did just that. He's not the only person to grow up with the dream of wanting to be in charge of something like that, and he won't be the last.
8. He Was Thought to be Dead
There was a time when someone posted to the internet that he'd passed away, and the news surprised him. Imagine finding out last you died, right? He didn't, of course. The rumor began because there just so happened to be another man by the same name who died, and someone found his obituary and thought it was the reality star's obit.
9. His Net Worth is Impressive
Many people imagine that you don't strike it rich operating heavy equipment on a construction crew, and you wouldn't be entirely mistaken. However, Johnny Jett has an estimated net worth of approximately $400,000, which is a lot of money. He's not doing too badly for himself, and he's probably not complaining.
10. He's Paid Well
We don't know what his everyday salary working machinery looks like, but we know that he's earning around $50,000 for his show. We aren't certain if that is per episode or if that is per season, but we would venture a guess that this is per season. He's been on the show for many years now, so we know he's done well with this side job of his.