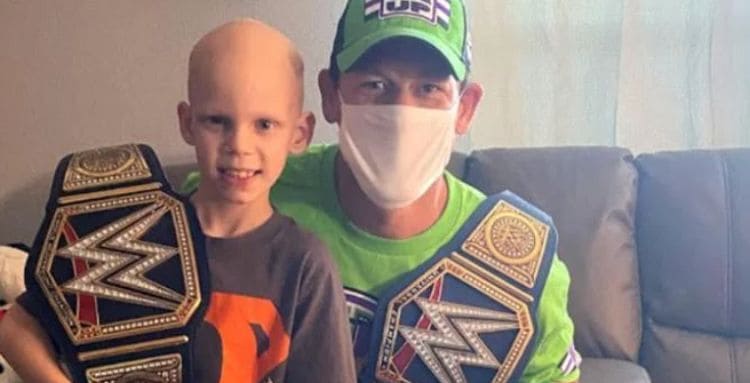 It's not every day a kid gets to meet their hero, but when and if it happens that moment is likely something they're going to remember for the rest of their life. The hope here is that young David Castle will get to grow up and remember the day that WWE star John Cena, his hero and inspiration, was able to come and help him celebrate his birthday in a special and very appreciated moment. As Jeremy Dick of MovieWeb so rightly states, Cena has been the kind of celebrity that takes the time and makes the effort to reach out to fans as he's fulfilled more wishes from the Make A Wish Foundation than any wrestler, ever. While this alone doesn't necessarily make him the greatest guy in the world, the fact that he's gone way above and beyond when it comes to what any celebrity is expected to do has in fact made it pretty clear that he's a guy that cares. It would take a true cynic to say that John's only doing this for his image since to be fair if he was worried more about his image than actually making people happy it's not likely that he would have taken the wish-giving this far since he's been a busy man in and out of the ring. Those that want to focus on his relationship issues are kind of missing the point since Cena might not be the best guy when it comes to women, but he's likely not the worst and he's still the kind of individual that is willing and able to go about making kids' dreams come true as much as he can.
Case in point, David was found to be in stage four when diagnosed with a Wilms tumor, a type that is apparently prevalent in kids, and has already undergone many tests, painful surgeries and procedures, and has only more to look forward to before all is said and done. How many adults would look at that and simply say "I'm done." ? David is to be commended to be certain since he's been hanging on like a trooper and doing what it takes to try and get better, and with his family at his side and helping him as much as they're able the household has needed as much help as they can get. While John didn't come bearing a massive check to help out he did something even better, he simply showed up and spent some time with David to cheer him up and give him a pleasant surprise on his birthday, which is more than a lot of kids could expect as it's hopefully going to be a memory that David will look back on and remember with a big smile on his face. The Make A Wish Foundation is something that gives uncounted kids that are sick and disabled a chance to meet their real-life heroes and experience for a few moments what it's like to simply talk with the people that inspire them and have a memory that's going to last for years on end. When thinking of the reason why these stars are going out to touch these kids' lives in such a way it's a bit saddening since the ailments that we as adults take on and deal with from time to time are often expected as it's a measure of getting older, our bodies start to break down and the ills of the world and the lifestyle we choose might finally get to us. But seeing children suffer in such a way makes the point that life is unfair stand out even more, and it becomes yet another reason we need people like Cena and others in this world, just to have someone that's willing to offer a bit of kindness at the right time.
Other WWE stars have been seen to visit kids during their time in the Make A Wish Foundation as well, and for many happy children the day that they get to meet their favorite wrestlers is often a joy since otherwise it might never happen. But when it comes to the sheer number of kids that have been visited, Cena definitely tops them all as he appears to have made it his personal mission to make sure that he meets with as many kids as he can, providing that he's the wrestler they want to see of course. But given that he's been the face of the WWE for so long, it's fair to say that a lot of kids have looked up to Cena and have been smiling just as big as David when they Cena coming around the corner. He's definitely one of a kind, and he's made it abundantly clear that he's there to inspire these kids for as long as he can. Here's to hoping that David's recovery continues to go well.