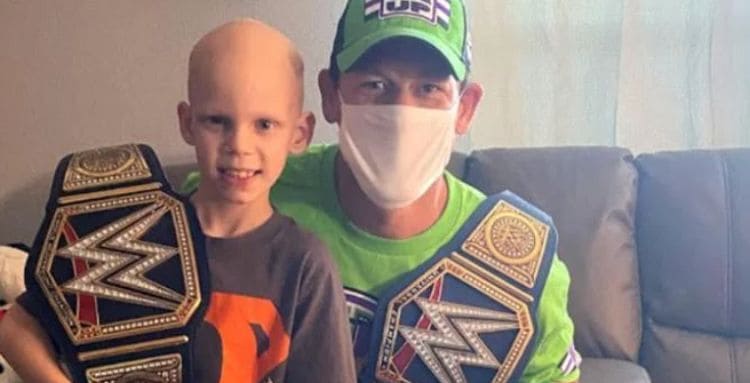 When Heroes Show Up: John Cena's Birthday Surprise for Young David Castle
It's a rare and magical moment when a child gets to meet their hero, and when it happens, it's a memory that will likely last a lifetime. This was the case for young David Castle, who had the chance to celebrate his birthday with WWE star John Cena, his hero and inspiration. As Jeremy Dick of MovieWeb points out, Cena has consistently gone above and beyond to reach out to his fans, fulfilling more wishes from the Make A Wish Foundation than any other wrestler in history.
John Cena: A True Champion for Kids in Need
While Cena's dedication to granting wishes doesn't necessarily make him the greatest guy in the world, it does show that he genuinely cares about making a difference in the lives of his young fans. It would take a true cynic to argue that Cena is only doing this for his image, as his actions speak louder than words. Despite being a busy man both in and out of the ring, Cena has made it his mission to bring joy to as many children as possible.
David Castle was diagnosed with stage four Wilms tumor, a type of cancer prevalent in children. He has already undergone numerous tests, painful surgeries, and procedures, with more to come. David's resilience is commendable, and his family's support has been invaluable. While Cena didn't come bearing a massive check to help out, he did something even better: he showed up and spent time with David, giving him a birthday surprise that will hopefully be a cherished memory for years to come.
The Impact of the Make A Wish Foundation
The Make A Wish Foundation has given countless sick and disabled children the opportunity to meet their real-life heroes and create lasting memories. It's a bittersweet reminder of the unfairness of life, as children face challenges that most adults would struggle to cope with. This is why we need people like Cena and other WWE stars who are willing to offer a bit of kindness and inspiration at the right time.
Other WWE stars have also visited children through the Make A Wish Foundation, bringing joy to many young fans who might never have had the chance to meet their favorite wrestlers otherwise. However, when it comes to the sheer number of kids visited, Cena undoubtedly leads the pack. As the face of WWE for so long, it's no surprise that many children look up to Cena and are overjoyed when they see him coming around the corner.
John Cena is truly one of a kind, and his dedication to inspiring these young fans is nothing short of remarkable. Here's to hoping that David Castle's recovery continues to go well and that Cena's heartwarming gesture will be a source of strength for him and his family.
Tell us what's wrong with this post? How could we improve it? :)
Let us improve this post!