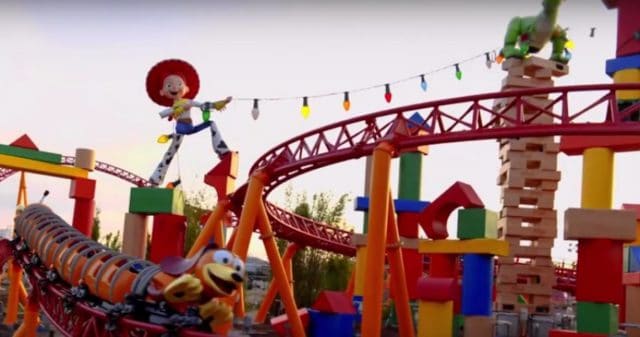 If you thought the fun at Disney World had reached their peak yet you haven't been paying attention since Toy Story Land is going to be opening up this June. Visitors are going to think that they've been shrunk to the size of a toy as they enter this fun-filled land that's going to take up around 11 acres of the park and offer up its own level of fun that comes right out of the movie. Slinky Dog Dash is the roller coaster you see above, and Jesse, Woody, and Buzz will be big attractions for the park along with the rest of the favorites and many other toys you've seen in the movies.
This already looks like it's going to be lot of fun since up until this point this kind of park hasn't been released yet and it will give kids and their families one more thing to do and lots more to experience. Toy Story Land is an idea that seems like a long time coming since they've been around so long that you would have thought that they might have developed something like this years ago. But given the technology and the amount of work this took to accomplish it's not too hard to think that this has been in the works for some time. Obviously it's been kept pretty hush hush from most people that were rightly surprised by it, but now that it's almost here you can imagine that some families will be buying tickets well in advance to get their chance to walk into the giant toy land.
For those that have followed the movies for a while now this is going to be the culmination of their childhood and quite possibly a chance to pass something on to their children that they'll remember for a lifetime to come. When you think of what amusement parks used to be like and the simplicity that came with them as compared to now, it's simply amazing to see what continuing generations of engineers, designers, and other support crew have been able to accomplish. The kind of amusement parks a lot of us remember as kids were technological marvels at the time, but they still don't measure up to what's being presented to the public in this current day and age.
One thing you should be able to assume however is that it's not going to be cheap to get into this place. It looks like a lot of fun and personally I'd want to be front and center just to say I'd been there, but chances are that unless your family has money to burn this is going to be a costly trip. It'll be worth it though since memories like these are the kind that tend to stick around until old age thanks to the wonders that are able to be seen in this day. Just think of what it might be like in the next ten to twenty years. The times are a-changin'.
Tell us what's wrong with this post? How could we improve it? :)
Let us improve this post!