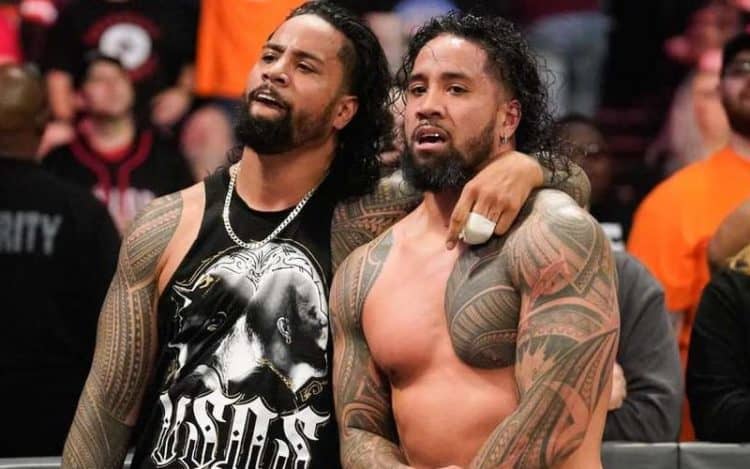 If you're not familiar with the name Jimmy Uso, it's all right. You're probably more familiar with him and his brother when they are together. They are the Usos, and that's how many people know them. They are a wrestling team, and they are doing what they do best on a daily basis. They're twins, they're brothers, and they're good at what they do. They live their lives in the spotlight, and they do it together. However, growing up a twin and then going into business with your twin in a way that magnifies your twin status makes it hard to find an identity of your own. We think this means it's time to get to know Jimmy Uso for himself.
1. He's Not Really Jimmy
He and his brother go by names that were given to them for the job they do wrestling. This is not uncommon at all. His real name is actually Jonathan Solofa Fatu, and his twin is actually Joshua Samuel. They simply go by Jey and Jimmy Uso for work.
2. He's in His 30s
He and his brother were born in the middle of the 80s. Their official date of birth is August 22, 1985. They just celebrated their 35th birthday in the middle of a global pandemic, so we aren't sure if they had some bigger plans or not before this all went down.
3. He's From California
He and his brother were born in California, but they didn't live there over the course of their entire lives. They were born in San Francisco, but they didn't stay long. They grew up living elsewhere, but they do get to call themselves native to California, which is such a beautiful state.
4. He's the Older Brother
Trust me when I tell you that this is important to twins. My own twins love to talk about this – well, the one who is a little older than her brother. Jimmy Uso is a solid eight minutes older than his brother, and we can assure you that this played a major role in some petty fights and some wicked insults when they were younger (if they are anything like my own twins, that is).
5. They Lived in Florida for High School
When they left California, they moved to another state that's known for warm weather and sunshine (not that this is what they get in San Francisco, of course). They moved to Florida. They lived in Pensacola, which is also where they graduated from high school. They attended Escambia High.
6. He's Athletic
In high school, he and his brother both played football. He was good enough that he also got to play in college, which is not easy to do. He played for a season for the University of West Alabama in 2003. He only played for one season, but we don't know why he only played for a season. His brother began playing in 2003, also, but he played through 2005.
7. He's Married and Has Kids
He is a man off the market, ladies. He's married to another wrestler. Her name is Trinity McCray, and they tied the knot in 2014 right as the year was beginning. They do not have any kids together, but he was already a father of two before he met and married his wife.
8. He's Got Some Legal Issues
He's had a few situations in which he's suffered some legal problems. He's been arrested in both Michigan and in Florida for things like DUI and a dispute with police officers. He doesn't speak of his issues with the law, but the dispute with officers in Michigan also allegedly had to do with drinking and driving.
9. He's Dealing with Injuries
We do not know the extent of his injury, but he announced at the beginning of 2020 that he would be out because of a knee injury. This was something that was announced as the pandemic was just getting started, and it looks like he might be coming back to work soon despite his knee issues. They seem to have improved significantly, though we guess it's been six months since this was announced.
10. This Was His First Injury
This is what really gets us. Even with a football career in college and a long time wrestling, his 2020 knee injury was the first injury he's ever sustained. This means he's not sure how to go about healing, and he's learning as he goes. This cannot be easy, but we assume he is doing a careful job of it.