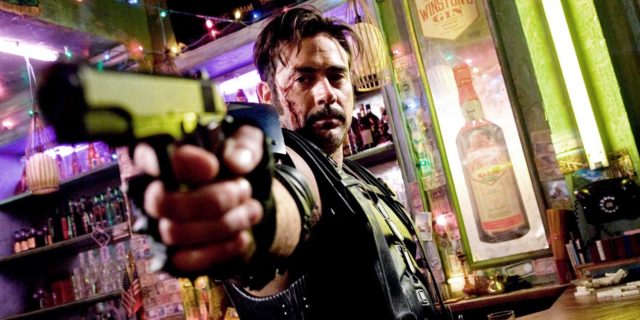 Jeffrey Dean Morgan stating that Watchmen was ahead of its time makes you think, and wonder. He does have a point really, since some people absolutely loved the movie and others just about hated it. In many ways it wasn't like other superhero movies since it was a lot more violent and didn't make any apologies for it. But in a way that was great since if anyone reading comics has known for years and years, comic books are not the nice, touchy-feely stories we read as little kids when people might get boo-boo's and then get taken to big-people jail because they needed a time-out. Comics were down and dirty and just plain old nasty when it came to dealing with the bad guys. Watchmen really only pushed the envelope during its movie representation considering that most superhero movies at that point hadn't really gotten this full on bloody yet. Even the X-Men, which had gotten violent at times, didn't manage to go to this level.
Plus, the heroes just had a different feel. When was the last time you remember a hero semi-retiring? They were set to lead lives away from the media circus that had given them so much attention during their run, ready to enjoy a quieter life that was well away from the action and danger that they'd experienced in their younger days. The Watchmen were heroes that had a shelf life, unlike a lot of others that have been dragged back over and over again into the fray, somehow always staying young despite that they were created long, long ago. A comic writer seems to be the best way for any character to stay young or alive since it all hinges on their ability to make the story plausible. But the Watchmen grew old, they died, and unless something really changed in the comics they stayed dead. It seemed kind of odd to see Morgan get flung out of a highrise window so early into the movie, but he came back during the flashbacks so it was okay.
But there were no easy answers for the Watchmen. Things didn't just fade to black when it came time for the hard questions to be posed. That's why they were ahead of their time. The level of violence was bound to come, but the matter of dealing with serious issues is something that many comic book movies never really did. Oh they would gladly tackle issues that were involved with saving the world or stopping the bad guy. But any issues in their personal lives were things that were often left unsaid in the movie. Not in Watchmen. They made it known that these people were flawed in various ways and wouldn't hide it from anyone. The Comedian, who was probably one of the most flawed of the bunch, turned out to be one of the best characters of all since he was quite simply the most human.
Sometimes people want to know that heroes have their issues too.