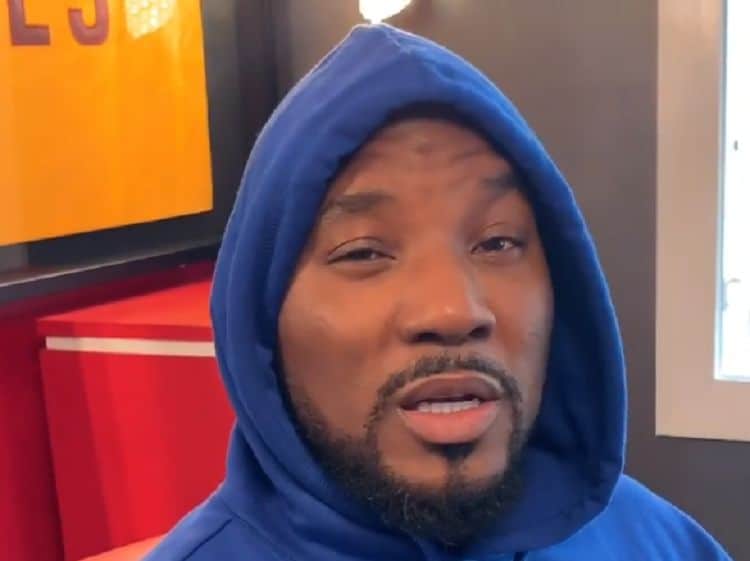 Getting the right name in the music industry can be a bit of a challenge. First, there was Lil J, then Young Jeezy now it is Jeezy. Although he has kept changing his name, Jeezy has not compromised in the quality of music he makes. Maybe he will still change his name when he grows older since it looks like he bases the changes on age. Until then, learn more about the rapper who Jay-Z knew was an excellent addition to his team of talented artists.
1. He is dating Jeannie Mai
Nothing stays hidden forever so even after Mai having earlier said that she and Jeezy were just friends, they confirmed they are an item on Instagram. The two have been spending time together, prompting the public into speculating on what the relationship status was. Mai said she could not define what it is that they were doing, but it seems like now she knows it is love and not just hanging out. It must be serious for her to confirm it since Jeezy is the first man she has been involved with after divorcing her husband, Freddy Harteis.
2. He falsely imprisoned his son
No matter how tough the relationship between parents and their children gets, one thing we always assume is that parents have the best interest at heart for the children. Jeezy's parenting skills are questionable as revealed by a case in 2012 when he allegedly beat up his son and threatened to kill him. According to WTLC, Jeezy was involved in an altercation with his son. He went to the extent of choking him and saying if he could get away with murder, he would kill him.
3. He founded a non-profit
Jeezy's incident with his son may portray him as an irresponsible father, but he has a caring heart, as proven by his non-profit. In 2001, Jeezy founded Street Dreamz Foundation, and as the name suggests, it aims to encourage youths at risk to tap their talents and achieve their potential. It also teaches them to become responsible adults by fostering respect for others and independence. Jeezy held an inaugural SnoBall for the foundation on August 22, 2019, in Atlanta where other rappers including T.I supported him.
4. He left Def Jam for Jay-Z and Roc Nation
Jeezy comes off as a loyal artist who has stuck with Def Jam from 2004 till now after releasing the last installment of Thug Motivation. Jay-Z signed Jeezy to Def Jam when he was the label's president and then Jeezy signed up again with Roc Nation in 2013. It looks like it was a good move for his career since he is on a meteoric rise.
5. He was once engaged to his baby mama, Mahi
They say people fall in love only three times, and each time serves a purpose. Jeezy seems to have felt lucky to find the woman of his dreams; at least in 2016 that is what he thought. Mahi, the mother to his two children, was one lucky woman when in December 2016, Jeezy proposed not just with a diamond ring, but with a new Range rover too.
6. He has three children
Although there is not much about his children since he prefers keeping his family life out of the media, Jeezy loves his children. In 2015, he went all out to celebrate his daughter's first birthday by dressing her in a custom-made African dress. As for his son, Jadarius, Jeezy surprised him with a Mercedes Benz G-Wagon for his 21st birthday. His other son Shyheim, whom he had with Tynesha, also seems to enjoy having Jeezy as his father. Back in 2008, the two were pictured having fun at a holiday as published on BCK. However, he once was sued by Tynesha Dykes for child support with Tynesha seeking an increase to $20,000 from $178 a month she was receiving.
7. He had an "empty" childhood
It is the joy of every child to spend time with his parents. So many times we have been advised children are not interested in the presents we give but our presence. Jeezy was unfortunate in this regard because as a toddler, his parents separated. As a result, Jeezy kept moving from one house to another since he lived with many different relatives. With the lack of permanence, Jeezy felt his childhood was empty, according to Wikipedia.
8. He almost lost his life
Some people are unlucky. Take, for instance, Tracy Morgan; five years ago, he almost died in a car crash. After paying $2 million for a 2012 Bugatti Veyron, Tracy was involved in another accident in June 2019. Jeezy suffered the same fate in September 2007, also with a Bugatti Veyron. Jeezy was making a left turn outside of Justin's Atlanta when a taxi passing traffic hit him. The accident gave Jeezy a new perspective on life, and he does not take it for granted that he is alive.
9. He has been arrested several times
It has been noted that most artists have made good album sales after their arrests prompting people to think that the arrests are publicity stunts. Such artists include Jay-Z and Lil Wayne who made off-the-chart album sales when they were arrested before releasing their albums. Jeezy, whether for publicity or due to a don't-care attitude, has been arrested a few times. The most notable incident is when he beat up his son, followed three weeks later by cursing at cops and failing to identify himself. He was also arrested in 2014 concerning a shooting at Wiz Khalifa's concert, for possessing an assault rifle according to CNN.
10. His music career
Jeezy's music career has been on the rise, and the sky is the limit for this star. He began pursuing music in 2001 as Lil J and released his first album. He has gone platinum with some of the albums including his debut album, released in July 2005. While that album sold 172,000 copies in the first week, it is his second single "Soul Survivor" that made him a household name by becoming the highest-charting single. His musical talent has not gone unnoticed, and Jeezy has been nominated for various awards, which some he won.