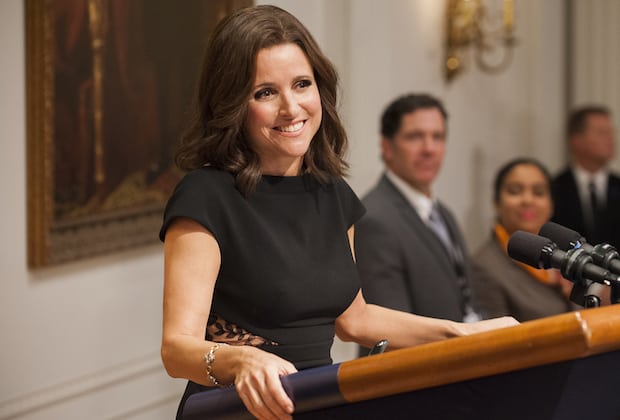 Armando Iannucci is well known as the creator of "[easyazon_link identifier="B073HL5DW4″ locale="US" tag="tvovermind00a-20″]VEEP[/easyazon_link]." He's also spent years contributing to the comedy world in Britain. He has tons of credits in his professional portfolio including "On The Hour," "The Day Today" and others. His creative flair for television and radio has entertained viewers and listeners world-wide for the past few decades. While we may be able to recognize his fingerprints in countless scenes that he has himself written, how much do we really know about Iannucci? We think that people need to know more about this talented writer ans producer, so we're sharing some interesting things that you didn't know about him.
1. He believes the end of the world is near
Iannucci was discussing his take on the current political climate in the United States, and the entire world in general. He believes that the current administration is led by a satirist who has surrounded himself with a group of people in important positions in our government, that basically creates a parody. He reflects back on the George W Bush administration and feels a small degree of affection, but not total agreement. He referred to it as "the golden age of politics," because of his ability to firmly take the reigns and surround himself with competent and serious professionals who could get the job done. He also had ideals that Iannucci agreed with. In his mind, he believes that the chaos we're experiencing is edging us closer to the "end of the world."
2. He didn't know where to go next with VEEP
This was quite an admission for the creator of the popular series to make. He turned over the controls to David Mandel and stepped down. He cited his reasons as not knowing how to respond the the situation in American politics at this point. His viewpoints would definitely affect the show and it isn't something that he wanted to inflict on the series. This shows how sensitive he is as an artist and creator. He would walk away from a successful venture before putting it in any kind of jeopardy. He was the showrunner for the first four seasons and he is truly owed a debt of gratitude for his tremendous contributions.
3. He has an opinion on youth in politics
This is one thing about Iannucci that many people would never have guessed. He has spent a lot of time actively campaigning to encourage young voters aged 18 to 24 to turn out at the polls. He believes that it is very important for them to cast their vote. While he is passionate about this belief, he has another thought about their role in government. The thought of anyone who is still in their 20s being placed into advisory roles in government frightens him. They may be recent college graduates who have interned or put countless hours into think tanks, but they lack the life experience that an older advisor would bring to the table. He shared that he believes national advisors should be more seasoned to tackle the weighty matters of running a country or municipality.
4. He considered becoming a priest
Iannucci studied 17th century religious language. This was a part of his graduate work and he was particularly drawn to "Paradise Lost" by Milton. The left his studies to pursue his dreams of becoming successful in comedy. It would appear that he fulfilled his desires, from his major success.
5. He is Scottish-Italian
Many of his fans do not know that Armando was born in Glasgow, Scotland, but his family was originally from Italy. His father, who has the same name, came from Naples, Italy and came to Scotland in 1950. His mother's family were Italians who moved to Glasgow, where she was born.