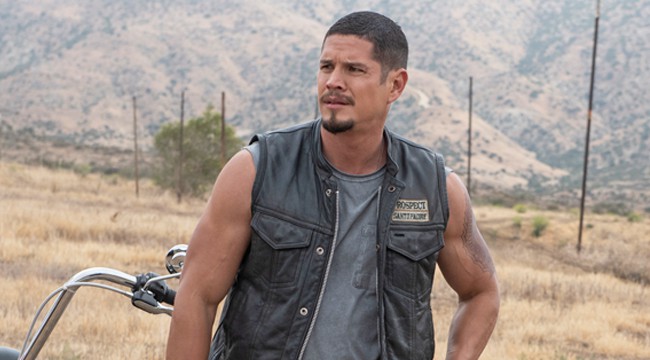 Who is JD Pardo anyway? Well, he's one of the stars of one of TV's most exciting shows, now in its second season, "Mayans MC". In a nutshell, "Mayans MC" is the second chapter in the well-known and wildly popular saga of "Sons of Anarchy". It takes place in a world that exists in SoCal after the death of Jax Teller. DJ Pardo plays Ezekiel "EZ Reyes" who is released from prison due to a deal with the Feds and becomes an undercover "prospect" in the Mayans motorcycle club charter located at the California/Mexico border. EZ is the extremely gifted son of a proud Latino father played by the very talented Edward James Olmos. He's also the show's most sympathetic character as well, always being forced to do bad things but for the right reasons. The entire cast of Mayans MC is truly amazing but Pardo still stands out among the best of them. He seems to get a big chunk of the on-screen time every week as well and we're glad he does!
So, now that we're totally enamored with the considerable acting talents (not to mention the many physical attributes) of JD Pardo, here are ten things you didn't know about him:
1. He's a California Boy
According to Wikipedia, Jorge Daniel Pardo was born in Panorama City, CA, on September 7, 1980. He's 5′ 11″ tall and, according to TV Guide, he actually started his career as a model for Tommy Hilfiger, Gucci, and Skechers.
2. He's a Music Lover
According to Zap2It, his fave websites are iTunes and Guitar tabs. He says that music is his passion and he's always listening and learning.
3. He's a Huge Soccer Fan
He really loves soccer, probably because his father's from Argentina and mother is from El Salvador, so he grew up as an avid watcher of Argentinean soccer. He says that it's in his blood.
4. He Has a Time Phobia
His one phobia is that he's terrified of missing his call time. Because of that phobia, he has to check his alarm a number of times prior to falling asleep.
5. His First Acting Role Was in 2001
Pardo actually began his acting career on television in 2001. At that time, he had a rather small role in a television series called "Titans". Since then, he has starred in a wide range of TV and film roles.
6. He Starred In "Revolution"
He played Nate on the NBC thriller, "Revolution". The series had quite a cast, which not only included Pardo but also Giancarlo Esposito and Billy Burke from "Zoo". Because of it, Pardo was included in Zap2it's Ones to Watch-Fall 2012.
7. He was in "The Twilight Saga: Breaking Dawn – Part 2"
He played Nahuel in the insanely popular "The Twilight Saga: Breaking Dawn – Part 2". Nahuel was a 150-year old Chilean human/vampire hybrid who was raised by his Aunt Huilen following the death of his mother in childbirth. Alice and Jasper enlist his help with their cause, which involved Renesmee and the Volturi.
8. He Had Several Other Major Roles
He was also one of the stars of "90210", "American Dreams," and "Drive." And one of the most interesting roles that he's known for was in Lifetime's "A Girl Like Me: The Gwen Araujo Story." In it, he played a young transgender woman who back in 2002 was brutally murdered. Being a consummate actor, he even went out in public dressed up like a woman for the purpose of better understanding the role. He also had roles on The CW's "Hidden Palms" and FOX's "Drive". And, he played Young Santiago in a 2008 film entitled "The Burning Plain". In that one, he starred opposite some pretty heavy-duty female star-power, namely Kim Basinger, Jennifer Lawrence, and Charlize Theron, but he held his own. Last but not least, he played a drug cartel member in "Snitch" and also starred in a CW television series called "The Messengers" during the 2014-2015 season.
9. He Has Award Noms Under His Belt
In 2007, Pardo was nominated for an Imagen Award for Best Actor/Television. The nomination was for playing a transgender woman in "Girl Like Me: The Gwen Araujo Story". The show was made for TV and aired in 2006. He was also nominated for best actor in a digital drama.
10. Net Worth and Marital Status
According to ArticleBio, Pardo's net worth could be approximately $2 million and he's reportedly earning around $53,000 annually for his acting roles. He's married to Emily Frlekin and currently lives in Los Angeles, California. He's a very private person and reveals little about his personal life.
I'm sure I'm echoing the sentiments of Mayans MC fans worldwide in saying that I hope Kurt Sutter's recent firing by FX won't result in the cancellation of the hit show. We'll all miss it if it is and will especially miss seeing JD Pardo's handsome face on the screen every week during the season run. One thing nobody will miss is the new version of the Mayans theme/opening song "Nunca". It was so gritty and excellent during the first season and was performed by David Hidalgo & Los Refugio Tiernos but the Season 2 version is sung by Diana Gameros and truly misses the mark. Although she has a lovely voice, she must be somebody's girlfriend or something because the original version from season 1 gave you chills like the theme songs from shows like "True Detective", "True Blood", and "Animal Kingdom" or that haunting ending song on "SOA". They need to go back to the Season 1 version for sure if there's a season 3.
Tell us what's wrong with this post? How could we improve it? :)
Let us improve this post!