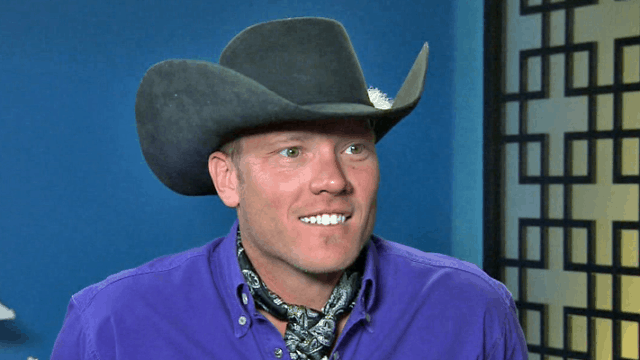 As if Big Brother doesn't have enough to deal with in this season regarding low ratings and possibly the worst cast in the history of the long running show, one houseguest takes it just a little too far. Meet Jason Dent, a rodeo clown from Humeston, Iowa. There's really nothing charismatic about this guy who claims a bull to be his best friend, yet that's how he describes himself on most occasions. Jason Dent has been the subject of online scrutiny and stoning due to some wildly inappropriate comments he continuously and repeatedly makes on the show.
Just not too long ago, CBS' Twitter feed was flooded with pleas from fans all over the nation begging the network to reprimand the 38-year old houseguest. While talking to Alex Ow, another houseguest in his game alliance, he reportedly joked about raping the wife of a fellow houseguest, Kevin Schlehuber. He did this without recoil or remorse or any other sense at all. Dent said he would do this when he leaves the show if Schlehuber breaks their alliance in any way. He also added that he would tie up all of Schlehuber daughters and make them watch in the act. If that isn't sick enough, he got Alex Ow laughing along with him.
Other houseguests were shocked by the proclamation but didn't say anything towards Dent or his comments. However, we saw the reaction of the entire nation soon after on social media and various forums. CBS didn't do anything.
And so the child keeps on making the same mistakes. On the show's live feed just this past Wednesday, Dent was heard telling his fellow housemates a story about how he once told cops that he was going to a nursing home to rape a bunch of women. While the story couldn't actually be heard on the feed because Alex Ow, again, was laughing so hard this time, Alex repeated the story later on. Again, although the houseguests looked uncomfortable by the conversation, no one said anything. This is maybe because Dent is the reigning head of household on the show at the moment, and of course, no one wants to leave Big Brother for showing up, right?
All of these actually started earlier in the season when Dent made a comment about how he would hold down one female houseguest just so the other male houseguests can 'backdoor' her. We're pretty sure CBS caught that comment too, but if they didn't do anything at that point, how can we expect anything from them now?
Any rape joke is tasteless and just indecent. Multiple rape jokes are just ridiculous and fans are infuriated that the network is not doing anything about the situation. There's a good possibility that they like the publicity the show is getting with all of this, as even people who don't normally watch the show are commenting about Dent and his berating remarks. If it's just a ruse to get ratings up, it's a ghastly one. To say the least, Dent should be kicked off the show immediately. We're sure the general public won't make it too easy on him once he's back out.
Tell us what's wrong with this post? How could we improve it? :)
Let us improve this post!