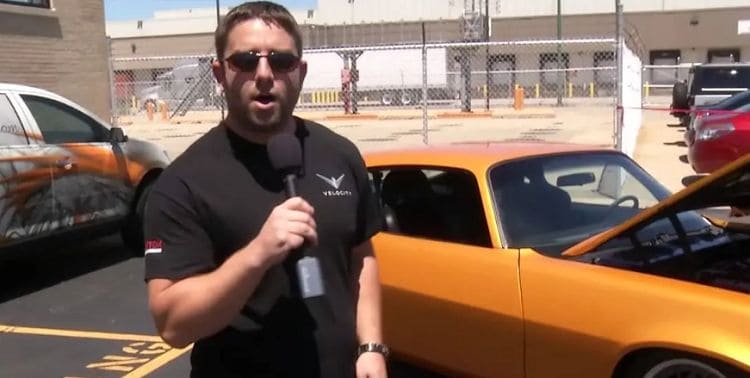 When the TV show, Car Fix, first aired in 2012, car lovers everywhere were excited. However, during the show's most recent season, fans suddenly noticed that the original hosts, Jared Zimmerman, and Lou Santiago, were nowhere to be found. Although it's fairly common for people to leave shows and be replaced, it's usually not done so abruptly. While we might not be able to uncover the mystery of why Jared left the show, we can certainly give you a closer look into who he is. Keep reading for 10 things you didn't know about Jared Zimmerman.
1. CarFix Wasn't His First Show
Jared Zimmerman is best-known for hosting CarFix, but that wasn't his first time having a show. He and Lou Santiago began their TV careers together with the show MuscleCar which originally aired on Spike in 2000. Jared seems to genuinely love sharing his knowledge about cars with viewers. Hopefully, this means he will return to TV at some point.
2. He Has Some Behind The Scenes TV Experience
According to his IMDB page, Jared's experience as a host isn't the only TV experience he has. He has done some behind the scenes work as well. In 2012, he worked on a video short as a camera grip. In 2017, he also a technical producer on a show called All Girls Garage.
3. He's Been Quiet On Social Media
One of the things that has deepened the mystery of where Jared Zimmerman has gone is the fact that he is no longer active on social media. Up until the fall of 2018, Jared was fairly active on Twitter and Instagram. However, he hasn't posted thing on either platform in almost two years. Nothing about his most recent post indicates that he was planning on taking a break.
4. He Has a Duck
Jared is definitely an animal lover. An old post on his Instagram account revealed that he befriended a duck who had been hanging around in the pond by his shop. He named the duck Reggie and said that she liked to come in and spend time in at the shop.
5. He's A Dog Dad
Jared doesn't seem to be married or have any children, but he is a proud pet parent. He has a cute dog named Cali who also likes to spend time at the shop. For all of those who were wondering: yes, Cali and Reggie seemed to get along nicely.
6. He Has A New Job
According to a Facebook page created by fans of CarFix, Jared may have returned to the Illinois-based shop, Rad Rides by Troy where he has worked previously. Jared is even involved in helping Rad Rides create new content for their Amazon Prime series.
7. He May Have Had Issues With The Production Company
The fan Facebook page also suggests that Jared may have left CarFix due to issues with the production company. If this is true, it certainly wouldn't be the first time a person has decided to part ways with a project due to issues from production. Some fans are hoping that Jared and Lou will be able to return to the show if these alleged issues are resolved. It'll be interesting to see if Jared and/or Lou ever decided to speak out with their side of the story.
8. He Leads A Private Life
Jared's privacy seems to be very important to him. Despite gaining popularity on TV, he has never been the type of person to share much information about his personal life. Even when he was on social media, his posts mostly consisted of work related content. His love for privacy may be one of the reasons he's chosen not to address why he is no longer on CarFix.
9. He Has A Supportive Following
Thanks to his work and deep knowledge of cars, Jared gained the trust and respect of countless fans. Now that he is no longer on the show, his fans still continue to support. Fans have expressed their disappointment in Jared suddenly no longer being on the show and some have even decided to stop watching. Many are hoping that he and Santiago will eventually be able to return to the show.
10. He's Worked With The Soap Box Derby
Full-size automobiles may be his thing, but Jared also knows a thing or two about building soap box cars. In 2018, he teamed up with the Soap Box Derby to demonstrate how to successfully build a high-quality soap box car.
Tell us what's wrong with this post? How could we improve it? :)
Let us improve this post!