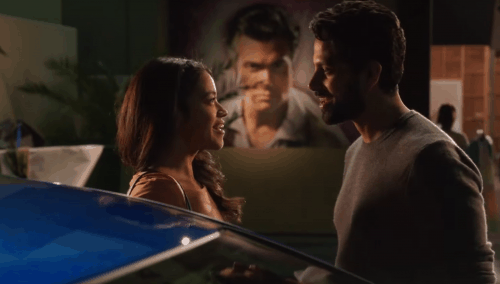 In all of the whackiness that is Jane the Virgin, it's good to remember what the core of this show is about: love. Sometimes it's romantic love, sometimes it's love for family, but it's always what holds the fabric together. With Valentine's Day around the corner, it's only fitting everyone gets in a little loving.
After having that steamy dream about her advisor Jonathan Chavez, Jane can't stop thinking about him. Her nighttime dreams turn into daydreams until she eventually slips up and mentions his name during a particularly steamy reading of her work. Jonathan brushes it off, and even asks Jane if he and his mother, a huge Rogelio fan, could visit Rogelio's set. Jane takes this opportunity to assess the waters to see if Jonathan could be interested in her. The set visit goes really well, but the attempted awkward kiss is just awkward. The resulting awkwardness is the stuff everyone wishes they'd left behind in high school. The bigger realization for Jane is that she risked her writing career because of her intense physical attraction to Jonathan. Jane decides that it may be time to reevaluate her big promise to God, right before Jonathan asks her out on a date. The shipper in me wants so badly for Jane to wait, but the realistic side of me knows it has to be her choice.
Rogelio wants to make a big spectacle out of Xiomara's 40th birthday. Xo isn't really all that enthusiastic because she doesn't feel like she is in the place she wanted to be by now, career-wise. Rogelio promises a big surprise, most likely in the form of the ring Liliana gave him last week. Xiomara accidentally finds the ring and Jane confirms that Liliana gave her blessing for Rogelio to propose. However when the women are caught with the ring, Rogelio offers it to Jane as a family heirloom (at which point I cry out in shock and outrage).
If this doesn't alarm Jane, leaving Mateo with her father alone for the first time should. Jane has nothing to worry about, until Mateo accidentally swallows the diamond Rogelio was planning to have set for Xiomara's engagement ring (cue sigh of relief, at the proposal anyways). Jane is furious with Rogelio when Mateo is rushed to the ER and she lays into her father about not being ready for the responsibility. Eventually she cools down and works things out with her Dad. In the meantime Xiomara is completely unaware that Rogelio plans to propose and so blows off his party to work. She is convinced that she has to put her career first. Rogelio decides to support her completely and proposes. Unfortunately in this moment, Rogelio and Xiomara realize they may be on different pages in terms of what they want for their future. Rogelio wants a big future raising children, but Xiomara wants to focus on her dreams. They both have to ponder if their futures include each other.
The fallout from the public realization that Rafael's mother is a criminal is hurting the hotel financially. Petra is freaking out that the hotel is losing clients left and right, but Rafael does his best to reassure her. They decide to go to the opening of an art exhibit for an influential artist who could turn things around for the Marbella. Unfortunately, this particular artist once worked as a barista at the Marbella and was fired by Petra. Petra desperately tries make things better with the artist, which only makes things worse. With Rafael's help they eventually set things right. Amidst all of this are some really nice flashbacks to the early years of Petra and Rafael's relationship. They were actually really happy, and kind of cute together! It brings them closer than they've been in year. Petra's been burned before though, so she puts the brakes on anything happening with Rafael since she knows he's still not over Jane.
Michael and Susanna's continued search for Rose and Elena yields zero results, but when they stop looking at the two as separate cases they find gold. A deeper search into Elena's life reveals that Rose is actually her stepdaughter! Luisa is deeply disturbed at this revelation, but agrees to help the police find them both. She does this by trying to trick the criminal duo's former driver so that Rose will make contact. This trap makes Susanna realize that Luisa is not over Rose, so now is not the time for them to test the waters with each other.
So as much as I would like to say that love is in the air, it seems that all that's on the menu this Valentine's Day is heartbreak.
Do you think Jane is ready to lose her virginity?
Jane the Virgin Season 2 Episode 11 Review: "Chapter Thirty-Three"
Summary
Love and heartbreak abound in this week's episode of Jane the Virgin.