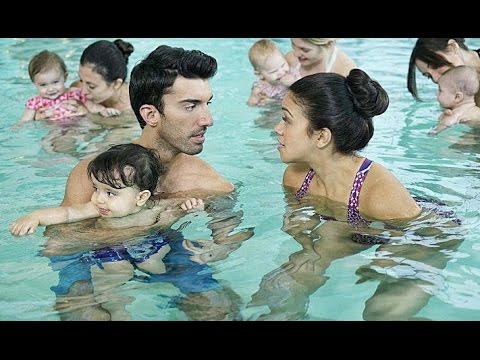 This week on Jane the Virgin, everyone has to force themselves to take that first big step. Now that everybody's learning to let go, they have to get on with an equally difficult task-moving on. Jane is the only one who is fully comfortable committing to this, but it's not that easy.
Jane and Michael spend the whole night catching up after so long being apart. It's amazing how they just fall back into that great comfortable place where they can tell each other anything. It's as if they are back to who they were before. Except that Jane now has a baby with Rafael, which they can't ignore. Jane decides to pick up a couple of shifts at the Marbella, which gives her the perfect opening to bring up Michael with Rafael. Spoiler Alert: it doesn't go well at all. Jane and Michael are in a deliriously happy bubble when they are alone together, but Rafael has no intention of making nice with them. He is absolutely jealous, but he also makes the point that Michael has made decisions that put Rafael's family in danger and not bothered to tell them. Michael's solution is that he should quit his job. He loves Jane enough to make that sacrifice.
After watching Rose die, Luisa's sober streak has ended. When Lena is accused of stealing from the bar, she and Jane decide to catch the real liquor thief in the act. Jane is surprised and sad when she catches Luisa red-handed. She takes care of Mateo's aunt and leaves her in Susanna's capable hands. Susanna, who really cares about Luisa, asks her to go to rehab so they can go out on a proper date.
Petra is nesting, so this is the worst possible time for her to be tackling a scathing Marbella ad. With little time until her babies are born Petra is determined to have a spectacular new commercial in place before she goes into labor. She puts all of her energy into a new glitzy commercial with an old Hollywood synchronized swimming theme. Since Petra is in nesting mode she also has no time for Rafael's drama with Jane. More than anything Petra wants to make sure that Rafael is still going to be there for their daughters. After being rejected by Jane, Rafael thinks this means he should be with Petra and their daughters. Petra refuses, which pushes Rafael into his old pickup habits.
Xiomara and Rogelio have broken up, but have decided to remain good friends. They don't actually act like they have broken up though. Rogelio is still holding onto hope that Xiomara will change her mind about kids, but she won't. They discuss taking some real time apart and seeing each other less so that the break-up feels real. Rogelio is going to need Xiomara, he just doesn't know it yet. It turns out that Rogelio's long-ago prison pen pal was just released and she made a rather swift beeline for Rogelio. She's gotten herself hired as his new assistant under the fake identity Paola. After a few days immersing herself in his life, Paola, whose real name is Lola, takes Rogelio hostage. #SaveRogelio
Kudos to the old Hollywood swimming montage! Who is going to save Rogelio, and everyone else for that matter?
Jane the Virgin Season 2 Episode 13 Review: "Chapter Thirty-Five"
Summary
Everyone has to take the first big step to moving on in this week's Jane the Virgin.