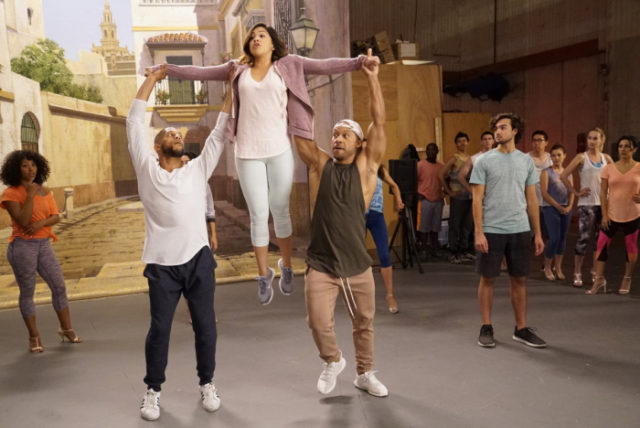 Dearly Beloved…this Jane the Virgin season finale wedding did not happen without a heck of a lot of drama. After all, Jane is the minister/matron of honor/all around fixer. At least she tries. What Jane comes to realize is that destiny gets its own way no matter how prepared you think you are. That includes matters of the heart. Whether it's managing her parent's wedding or rediscovering her heart's desire, whatever Jane feels is left up to fate. Fate has a twisted sense of humor.
You know the number one thing that can derail a wedding? It's not a hurricane, it's not ill-rehearsed wedding dances, or even the minister having no idea what to say. There is only one thing in the history of weddings that truly has the power to derail a wedding: The Ex. Darci returns, or as the case may be, waddles, back into the Villanueva orbit. Seven months pregnant with Rogelio's child, she doesn't mind telling Rogelio so long as she gets to make all of the decisions. A year ago this would have ruined Xiomara and Rogelio's relationship. Now they know they are meant to be, and so will go against Darci as a united front. Xo and Ro are perfect for each other. They've loved each other since high school, neither one of them can stand for someone dancing out of rhythm, they borrow each other's foundation and their names rhyme!
Per Alba's instructions, Jane consults powers not ordained by the Internet for help with her sermon. The priest gives Jane homework like he did before her wedding, but between readjusting for a hurricane and baby mama drama, who has the time for homework? Ironically, it's everything going wrong which inspires Jane. In one of the sweetest moments under the worst circumstances, Jane and Rafael end up back on the bus! It's such a deja vu moment, but this time Jane's name is on the bus advertising her new book. Something Rafael says removes Jane's writer's block. By the time her parents stand in front of her in a last-minute substitute dress, borrowed foundation, and with an audience of stranded hotel guests, Jane knows exactly what to say. She knows her parents had to choose to fight for their relationship this time around. Just because they make sense together doesn't mean it's supposed to be easy. Loving someone means choosing to fight for them.
Petra and Rafael seem like the perfect match to each other. They have children together, they believe in each other, and they both have sisters who need to be incarcerated or in a mental hospital. But do they belong together? Jane's words, not to mention her obvious stirred feelings for her ex, make Petra question if Rafael would choose her over Jane. Chuck pointing all of this out without being underhanded doesn't help Petra's confusion. Right now at least Petra and Rafael choose each other, or at least they try. It's hard to find happiness when you have #TwistedSisters.
Whether you're Team Petra or Team Jane in this triangle, we can all agree Rafael and Petra drew short straws in the sibling department. I can sort of understand Anezka being upset with Petra for her role in Scott's death, but that's no reason to point a gun at your twin. (BTW, the real Eileen killed Scott to cover for Rose. Not that anyone really cares at this point.) I'd be happy that Luisa has finally asserted herself, if it wasn't against Rafael. He had every right to do whatever was necessary to throw Rose in jail when his children's safety was at stake. Luisa's blindspot for that woman endangered Mateo once. It is Rafael's job as a father to make sure that never happened again.
Though it's pleasantly surprising to know that Xiomara would be on board with Jane and Rafael this time around, fate has other plans. Michael's memory will always be present in Jane's life. One has to wonder if he has a hand in the latest twist in Jane's story. We all remember Michael's vows. How could we not? The man memorized and recited them in fluent Spanish! What we didn't see was the hours Michael spent rehearsing those vows with Alba. Unbeknownst to Jane, Michael wrote her a love letter before their wedding that she never received. Three years after his death she finally receives it–from her first love Adam (Teen Wolf's Tyler Posey). Jane is a good writer, but I doubt she would have thought to write this romantic twist.
We'll see what becomes of Jane's love life, Rogelio's baby mama drama, and the Twisted Sisters, when Jane the Virgin returns this fall.
Save
Jane the Virgin Season 3 Episode 20 Review: "Chapter Sixty-Four"
Summary
Jane the Virgin ends Season 3 with a wedding, a baby, twisted alliances, and an old love rekindled…but not the one you think.