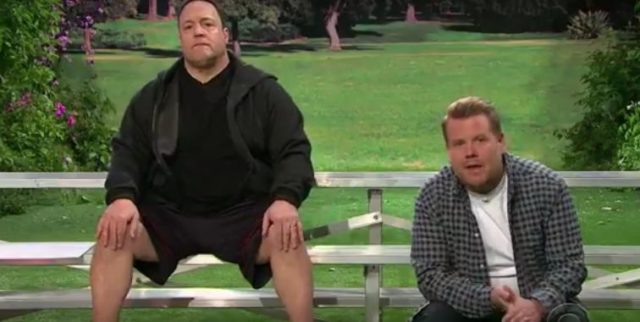 If there's one thing I've noticed a great deal about late shows it's that they've been doing way more skits than I used to remember. While late shows aren't sketch comedy shows there's certainly a lot more of that these days don't you think? Am I just being off base here? I feel like most skits on late shows of the past were actually done on set and not in an SNL type format. P.S. there's nothing wrong with this at all. In fact I like it and it's a welcomed addition to the late show format. It's just an observation.
Speaking of skits, James Corden had a surprise guest during one of his skits last night. When Kevin James and James Corden show up to the same soccer game to cheer their sons on, their competitive instincts take over and they each attempt to one-up their expressions of support.
The resulting expressions of support turn into what's become a very popular segment on The Late Late Show: a singing related battle. Both men cheer on their sons and when verbal jabs don't work, they resort to heinous ways of proving that their own child is the best. Nothing spells competition on the soccer pitch like a full on karaoke battle.
Check out the video below:
https://www.youtube.com/watch?v=uDfjIx6_QTI
Save
Tell us what's wrong with this post? How could we improve it? :)
Let us improve this post!