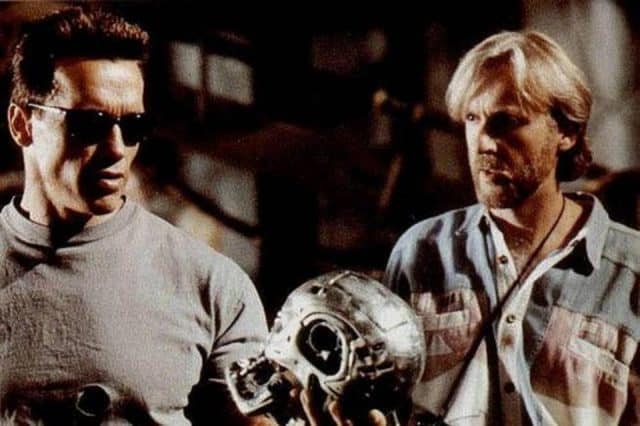 This cannot be true can it?  Is James Cameron really talking about a Terminator reboot with Tim Miller (Deadpool)?  Considering the horrible reception that Terminator Genisys received you would think that the franchise would be left alone.  However, you have to believe that if anyone could bring The Terminator back to life it would be James Cameron, the original director of the 1984 sci-fi classic.
According to Deadline,  none other than James Cameron himself will be bringing the character back from the dead.  The Avatar director will regain certain rights to The Terminator in 2019, and the outlet reports that he will be "godfathering a new iteration of the film that might finally get it right in drawing a close in the battle between humans and Skynet."  Joblo says:
As Cameron will be busy with the many Avatar sequels for the next several years, he's begun talking with Tim Miller (Deadpool) about directing a "reboot and conclusion" to the franchise. Which is it? Skydance CEO David Ellison still holds many rights to Terminator, and he'll be putting up the dough for an "exploratory effort that includes engaging some top-flight science fiction authors to find the movie creatively."
What's also interesting to note is that despite its poor reception, Cameron was actually in praise of Terminator Genisys, leading some to believe that was the reason he considered a reboot.  As for other details it's pretty hazy.  No one knows any plot lines.  No one can confirm if the movie would be a continuation of T2, a reboot of the entire franchise altogether, or some kind of continuation of Genisys.
As I stated before, if there's one thing that is certain, James Cameron would certainly be mine (and probably anyone else's) pick to resurrect a franchise that has frankly been downhill ever since Terminator 3.    What do you guys think about this?  And what about the potential for Tim Miller to direct?  I'd prefer Cameron to be behind the camera but how could you not want that?
P.S. How awesome was this scene?
Save