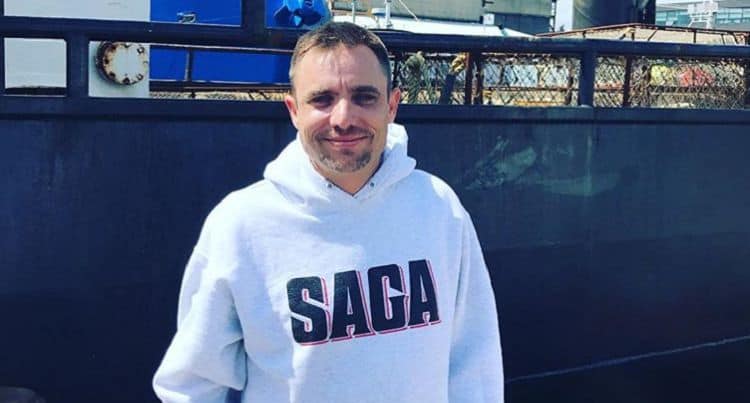 In 2007, Jake Anderson joined the crew of the fishing vessel, Northwestern, as a greenhorn. That same year, he made his debut as a reality TV star on Discovery Channel's Deadliest Catch. The series, which premiered in April 2005, depicts the trials and tribulations of life aboard for the fisherman of the Bering Sea. Anderson quickly developed into a fan favorite, becoming as well known for his personal life as for his professional career as a crab fisherman. Originally from Forks, Washington, Anderson is a fourth- generation fisherman who began fishing in Bristol Bay, Alaska, when he was just 17. Since then, his life has taken in multiple highs and lows, including drug addiction, marriage, family tragedy, and his own line of sneakers. Read on to find out more.
1. He's written an autobiography
In April 2014, Anderson proved himself more than just a fisherman when he published his autobiography, Release, with Coventry House Publishing. The book told the story of Anderson's trajectory from humble greenhorn to captain of the Northwestern, as well as sharing details of his varied and occasionally tragic personal life. Release was incredibly well received by fans and critics alike and would quickly become a bestseller.
2. He has a net worth of $2.5 million
Few fishermen can claim a fortune that runs into the millions, but then again, few fishermen can claim to be a bestselling author, reality TV star, boat captain, or sponsored by DVS Shoes. Thanks to the exposure of Deadly Catch, Anderson has earned a very healthy fortune over the past 2 decades. As of 2019, the enterprising fisherman is worth a reported $2.5 million… not bad for a man who catches crabs for a living.
3. He's Married
The handsome fisherman hasn't just been lucky in his career, he's been lucky in love as well. On 12th May 2012, he tied the knot with long term girlfriend Jenna Patterson. Three years later in January 2015, the couple welcomed their first child Aiden Benn Arthur Anderson into the family. In June 13, 2017, the pitter- patter of tiny feet was heard once again in the Anderson's Seattle household, when 2nd son Cadence completed the family line up.
4. He has a tattoo in memory of his sister
Anderson has endured several tragedies in his life, not least the unfortunate death of his sister, Chelsea Dawn Anderson, in 2009. Anderson was on board the Northwestern when he was told the news of his sister's passing, while viewers learnt the sad news themselves during the heart wrenching season five episode of Deadly Catch, Bitter Tears. According to reports, Chelsea is believed to have died after suffering complications from a bout of pneumonia. Anderson was clearly devoted to his sister, as shown by his emotional tribute to her- a tattoo of her face accompanied with a halo.
5. He suffered a second family tragedy in 2010
Within a year of the sad passing of his sister, Anderson suffered another blow when his father, Keith A. Anderson, vanished on January 6, 2010. The Anderson family reported him missing when he failed to return home from a trip; two weeks later, his phone and truck were found abandoned in a remote area of rural Washington, with no sign of the missing Keith. Anderson was informed of his father's circumstances during the season six episode of Deadly Catch, Blown Off Course. After months of uncertainty, Keith's death was confirmed in 2012 when his remains were found by a hiker about a mile from where his truck had been found 2 years earlier.
6. He's a former drug addict
Anderson has battled much worse than gales and waves in his time. During an interview with Dr. Drew Pinsky in 2012, Anderson opened up about his history of drug addiction and alcoholism. Anderson's problems started at 19, when he began self-medicating with alcohol and marijuana after breaking his ankle. The problem quickly escalated, and soon, he was regularly using harder substances such as cocaine and methamphetamine. Anderson eventually managed to kick the meth habit, but his addiction to painkillers proved harder to overcome. The death of his sister in July 2009 gave him the impetus he needed to clean up his act for good, and he has now been almost 10 years sober.
7. He's a keen skateboarder
When he's not busy sailing the seven seas, Anderson love nothing more than whiling away the hours at his local skate park. Anderson's passions were ignited at the age of 13, and by 19, he was skate boarding for local shops. The transition from skateboarder to fisherman may seem a little unusual, but as Anderson explained to ESPN, it was for a pretty obvious reason: "I couldn't skate anymore (after a broken ankle) and couldn't pay my bills. (Fishing) was my plan b".
8. He's sponsored by DVS
In 2010, Anderson partnered up with California-based DVS Shoes to create a special edition skate shoe. The sponsorship deal with instigated by Tim Dowling, a mutual friend of Anderson and DVS co-founder, Tim Gavin. "Last year Tim calls me and says, 'Hey, I got the opportunity to be a filmer on the Deadliest Catch,'" Gavin revealed to ESPN. "Jake noticed [Dowling wearing DVS] and told him he skated and they established a relationship, and it led Jake to us."
9. He met his future wife at a music festival
Anderson first met future wife Jenna at a music festival in Ballard, Seattle. Anderson was already a famous name by that point, and spent a large part of the festival signing autographs for fans, one of who turned out to be Jenna. "Jenna came up", Anderton would later recall to Screener. "Her family had jumped off the boat to come and get autographs from us. I autographed [to her], 'You're beautiful". The rest, as they say, is history.
10. Sig officiated at Jake and Jenna's wedding
Anderson's 2012 wedding was officiated by none other than Northwestern's Captain and Anderson's longstanding mentor and adviser, Sig Hansen. Anderson titillated fans by tweeting "You'll never guess who is officiating the wedding …" on May 9, 2012, before breaking the news 3 days later with the follow up: "Yes, Sig is officiating wedding. Yes I'm hurting from bachelor party and woke up with green hair. ? yes I hope everyone has a great weekend! ;)"