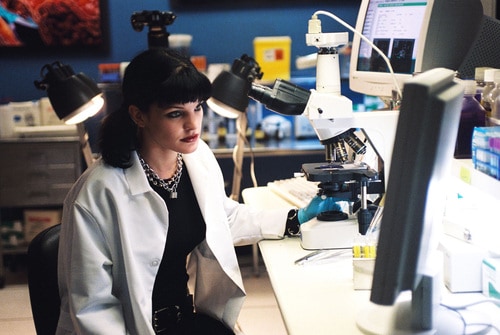 If you've ever watched the hit show NCIS then you've likely seen Pauley Perrette assume her lovable Goth persona, Abby Sciuto. It's hard not to truly appreciate the different level of comedy, drama, and overall spontaneity that Abby seems to bring to the show, but in real life there are a few things that many people don't know. Here are five things you might not know about Pauley Perette.
5. She is a very big advocate for animal rights
This should come as no real surprise to fans of the show. Perrette's character is a huge animal lover and has expressed a deep and abiding love for all creatures big and small. In fact Abby has been seen to come as close as she possibly can to defying her superiors when it comes to insuring the safety of any animal under her care. The mere fact that Perrette is in fact a very staunch supporter of animal rights no doubt lends a great deal of veracity to her character.
4. She was very broken up about Michael Weatherly's departure from the show
Considering that NCIS has been on the air since 2003, that makes it well over a decade that these actors have been working together. The common thread is that many actors simply can't stand one another and only continue to work with each other for a paycheck. Perrette was quite distraught and went on Twitter to offer her fellow actor a heartfelt goodbye as she and the others prepared to move on without him.
3. She's one of the few actors on the show that has been in every single episode
If you go way back to the beginning of the show you'll see that there are only three actors that have been in every episode since the beginning. Perrette joins her co-stars Michael Weatherly and Mark Harmon as the only actor on NCIS to have stayed the course and participated in every airing since its inception, which is quite impressive considering that the show has run for over 300 episodes. She has developed an impressive fan base and ranks as one of the all-time favorite television stars in the modern era.
2. She co-owns a bakery in New York.
In 2011 Perrette helped to open Donna Bell's Bake Shop in New York City. She went into the business with friends and has even published a cook book of the same name in 2015. It's rumored that she pops in from time to time to work behind the counter, but with a schedule like Perrette's and the slew of activities she's involved in there's a good chance that the co-owner of the bakery says this more or less to keep people interested.
1. She's a natural blonde
This one might throw many fans for a loop considering that Perrette has been shown with black hair on the show for years now. There was one Halloween episode in which Abby dressed up as Marilyn Monroe and showed off her natural hair color, but deep down those roots are all blonde. The role of the Goth-loving forensic scientist wouldn't be quite the same however if she showed off her true, golden locks. Perrette has stated that thanks to a severely allergic reaction to hair dye she is forced to use black hairspray and other natural innovations to keep the character of Abby from being exposed as a natural honey-blond bombshell.
Final Thoughts
Many actors choose not to show or tell everything about themselves to add to their mystique, while others simply don't want people knowing their business. With Perrette the reason why her personal facts seem so elusive is quite simple: fans like to think of her as Abby, and no one else.
Tell us what's wrong with this post? How could we improve it? :)
Let us improve this post!