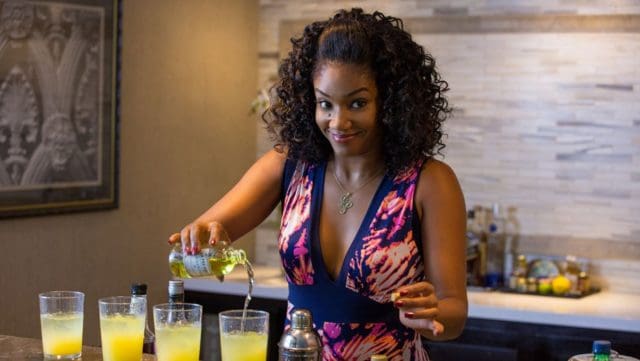 Before the movie "Girls Trip," Tiffany Haddish was sort of like a well-hidden secret within the comedy world and Black culture. She was raw, and she was "real." Girls Trip introduced Tiffany to the world and the world embraced her. The Girls Trip star has been launched into a level of stardom that she could not have possibly imagined. She is scheduled for two new films, a stand-up comedy tour, and she has released a new book entitled The Last Black Unicorn.
You would think that achieving all of this would satisfy Tiffany's thirst for success, but she is still dreaming. Tiffany was recently a guest on the Ellen DeGeneres Show where she shared that she has a dream of building a farm with Oprah. Okay, for those of us who have known Tiffany for some time, this can easily be misconstrued as just another one-liner, but when you listen to the depth and detail of the dream that Tiffany has, you immediately gain an understanding that she is absolutely serious.
She sort of views Oprah as her auntie, which those who understand Black culture would understand. In Black culture, we claim everyone close to us as relative. We have sisters, cousins, aunts, and uncles that have no blood relation but fit perfectly into our family structure. Well, if Tiffany is going to claim an aunt, Oprah is the one to claim. She said that she would rename Oprah, Auntie O.
Tiffany is also aware of the fact that Oprah has an exceptionally well-kept and productive garden and she believes that she and Auntie O can work that garden together. She also understands that Oprah has a huge yard, which in her mind means that there is a lot of land on which to expand this garden from her dreams.
She then says that she and Oprah will start a co-op that will eventually lead to them opening a booth at open markets like the farmer's market. She was very vivid, and it seems that she had really thought this thing out to the smallest of details. The thing is that if you don't know Tiffany or at least have some familiarity with how she operates, it can be easy to get pulled into this entire thing. Yes, she is a dreamer and she is driven, but she is also a comedian who happens to be very quick on her feet when it comes to creating funny and interesting content.
The problem is that you cannot know when she is serious or if she just made up something on the spot. If you could have seen Ellen's face when Tiffany was sharing this story, you would literally pass out from the laughter.
Okay, back to the vision. Tiffany somehow integrated a national tour into this garden idea that morphed into a farm idea somewhere along the way. According to Tiffany, she has not met the billionaire media icon yet, but based on her track record of running into high-profile celebrities like Barbara Streisand and Taylor Swift, I wouldn't bet against her meeting Oprah in the near future.