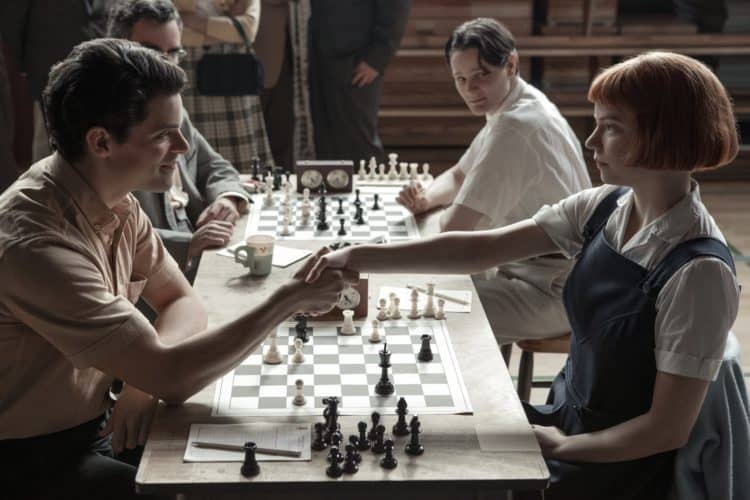 Is it just us or is "The Queen's Gambit," taking on a life of its own? The Netflix series is a new one, and it's taking the world by storm already. About the art of playing chess through the life of young Beth, this is something that people may not have thought they'd enjoy, yet here they are talking nonstop about it. The breakout star of the series is absolutely Moses Ingram, who plays Jolene, but Jacob Fortune-Lloyd is no slouch. He's taking on his role in the series with abandon, and we cannot wait to get to know more about him.
1. He's English
He was born and raised in London. To be more specific, he's from West London from the borough of Hillingdon. He spent his life there, he learned there, and he even stuck around to go to college nearby. He's clearly a man who loves where he is from, and that's a refreshing bit of information.
2. He Graduated College
This is a young man who knew that his education was important, and so he went to college. He attended Oxford University. He studied hard and ended up with a bachelor's degree in English literature. It's a helpful degree to have when you want to work in the arts, and he's probably not too upset that he chose that route.
3. He Also Studied Acting
More in line with what he is doing now, he attended the Guildhall School of Music and Drama. He graduated in 2014 from there. He was able to spend his time there learning his craft, starring in wonderful productions, and really refining his skill. It shows, don't you think?
4. He's A Stage Actor
Most of his acting career has been spent on stage thus far. He's been in many UK productions, and they are all seemingly better than the next. However, he's been working hard to star in movies and on television, and it seems that he's adding a lot of that kind of work to his professional resume. We love that he is so well-rounded. Acting live in a theater production is no easy feat, and then turning that around to act in a movie is a drastic change.
5. He's Got a Lot of Talents
If you thought acting was it, you'd be mistaken. He's a young man with a varied interest when it comes to things he likes to do. He sings (though that's not a surprise from a stage actor). He also loves to ride horses and swim. He's a man with many dimensions.
6. He's Got a Fun Musical Talent
We are always in awe of anyone who can play musical instruments, and he's a guy who can do just that. Not only is he able to play the piano – such a lovely instrument – he also plays the harmonica. While that one doesn't strike nearly the shame chord for us, the fact that he is an accomplished beatboxer really does. That's such a cool thing to be able to do.
7. He's A Chess Player
He might play a chess player in his new series on Netflix, but he's not just learning as he goes. He's actually a good chess player, which is another thing that many people don't have the patience for. It's a fun game for many, but it's a lot of work and concentration if you really want to be good. Rumor has it, he's actually quite good.
8. He Loves Soccer
In America, we call it soccer. In the UK, they call it Football. It seems he's got a love for the sport, and he still dreams of one day being a famous footballer. We have no idea if he's any good at the sport or if it's just a dream, but we like that he has goals.
9. He's Good with Accents
To the regular Joe, an accent is an accent. To a person like Jacob Fortune-Lloyd, it is anything but. He's able to take accents and turn them around completely so that they are accurate and good. He's rumored to have an excellent ear for them, and that's why he's able to take on so many roles and spend his time perfecting his craft. It's an art, and we aren't even sure where you learn this kind of thing.
10. He's Bringing Sexy Back
To chess, that is. He posted a photo to his social media account not too long ago saying that chess has always been sexy but the world is only just starting to realize that. He seems like a guy with a great sense of humor, which just rounds out the entire situation he's bringing to the table.