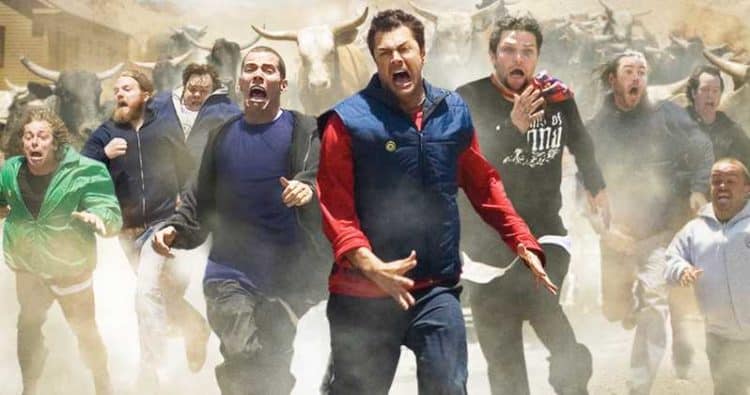 "Jackass" has held a special place in many people's hearts from the very beginning of the "Jackass" television show on MTV to the many movies and spin-offs in television and movie form as well. "Jackass" itself has had a few movies throughout the years but since the passing of Ryan Dunn Jackass slowed down tremendously. However, since "Jackass 3" we've gotten "Bad Grandpa and shows such as "Wildboyz" and "Loiter Squad", produced by Jeff Tremaine and Johnny Knoxville owned Dickhouse. If you haven't watched Jackass before, it featured a set of longtime friends and more than a handful of professional athletes from various extreme sports performing dangerous, outrageous stunts and pranks. "Jackass" featured the previously mentioned Ryan Dunn, Johnny Knoxville and others such as Wee-Man, Preston, Bam Margera, Steve-O, and many others. However, since the passing of Ryan Dunn, there has been a steady and deadly decline in the life of Bam and recently it was announced that Bam would no longer be partaking in Jackass Forever. Below we've discussed "Jackass Forever" and the future of the series without Bam Margera and his trademark antics.
"Jackass" and its Spin-offs
As stated above, "Jackass" has had a number of spin-offs in the form of movies and shows that were inspired by "Jackass" such as "Bad Grandpa" and "Wildboyz". Since the lack of "Jackass" brand material has remained lacking over the years, films starring Knoxville such as "Action Park" and "Bad Grandpa" kept the classic pain and action and brought it to the big screen in a new way. Both featured outrageous and dangerous stunts but "Bad Grandpa" specifically featured Johnny Knoxville performing those stunts as his old man persona that was seen throughout "Jackass" scenes. "Wildboyz" on the other hand featured Jackass favorites Steve-O and Chris Pontius traveling the world and allowing themselves to get attacked, bitten and straight up abused by nature's violent secrets. On "Jackass", the guys regularly had animals of all varieties throughout the years. Over an other animal however, real or fake, the gang almost exclusively had snakes with them and for very good reason. The "Jackass" crew would use these snakes to scare the absolute hell out of Bam due to his huge fear of them but even when using fake snakes, Bam would cry.
Bam Margera
Bam Margera, who recently was issued a restraining order, has had his own share of television shows as well such as "Viva La Bam" and "Bam's Unholy Union" that were quite different from each other. "Viva La Bam" was most similar to Jackass as it featured a somewhat behind the scenes look at Bam's every day life and events such as "Jackass" styles scenes and skateboarding events, as Bam was once a favored professional skateboarder. "Bam's Unholy Union" however was much more into the personal life of an older Bam Margera that was handed much more responsibility with the show cataloging his upcoming marriage, at the time, to his now ex-wife Missy Rothstein. Bam has since remarried but there was nothing such as Bam's Unholy Union 2 or anything of the sort as Bam has been struggling with drug and depression issues since the passing of life long bestfriend Ryan Dunn.
"Jackass Forever"
"Jackass Forever", the 4th main entry in the series of "Jackass" movies was announced some time ago but now with movies slowly becoming more streamlined since COVID, movies appear to be coming out at a normal pace again and the movie is expected in February. While Bam unfortunately won't be making an appearance in the movie, due to his own behaviors, we're getting a set of new faces as long as some of our long time favorites. Bam's struggles with depression and drugs stated above may have started with the passing of Ryan Dunn but the erratic behavior of the television personality was always a cocktail waiting to get shaken.
The skateboarder has been sent to rehab and behavioral facilities but so far it hasn't seemed to make any sort of difference. When it came to "Jackass Forever", the friends of Bam came together, worried about their long time friend and his current situation and opted to get him onto the movie, at a cost. While the cost of cutting out alcohol and drugs from his system should have been a push in the right direction, it only ended up causing more weight between the friends causing Bam to sue Paramount and the "Jackass" team. So while we may not get Bam Margera with the rest of our favorite pain inducing group in "Jackass Forever", he will be missed in the on-screen antics but compared to the stunts performed by the gang that is still present, I think we'll be just fine.